Hîlala Zêrîn Women's Cultural Movement: Training children in the creation of a free culture
Hîlala Zêrîn Women's Cultural Movement promotes the education of children in the creation of a free culture, and aims to preserve historical memory by training the child painters of the revolution.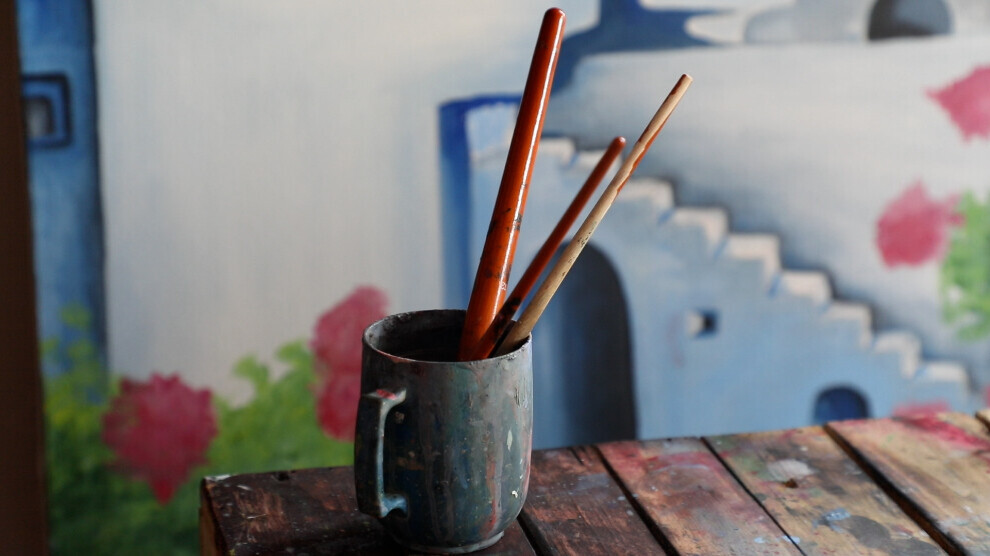 Hîlala Zêrîn took over the work of Kevana Zêrin Women's Cultural Movement in 2020. It was organized in Qamishlo in 2016 and strengthened cultural and artistic education for the development of children. The organization contributes to child development by offering training courses in Qamishlo, Hesekê, Shehba and the Euphrates region. In the Rojava Revolution, which was a cultural and artistic revolution as well as a political and social revolution, children were raised in a versatile way.

Hîlala Zêrîn provides art education to 13 children at the culture and art center in Qamishlo. Children who receive education for one to three years continue to specialize in this center. Children receive two hours of art training two days a week and are trained in drawing techniques such as oil, pastel, charcoal and square pencil. After basic training, each child gradually improves in drawing and moves up a level according to his/her skills.
Warm and strong relationships are established
Drawing, which enables children to develop mentally, emotionally and socially, also helps them to have a successful personality both in society and in the family environment. Hîlala Zêrîn goes from house to house and collects children two days a week, to bring them to its educational institutions.
Waking up to the green area in the garden of the center, children not only spend time drawing pictures, but also have the chance to come together in the gazebo in the garden and engage in different activities such as music, folklore and theater, in an atmosphere of solidarity.
Through painting, which is also seen as a social activity, children are able to make new friends outside of the family and school environment.
Historical memory is kept alive
Painting strengthens memory and increases attention and concentration. It also provides dexterity, the ability to overcome difficulties and new abilities. Painting also supports children in revealing their skills and discovering their talents. Children who feel a sense of success by transferring their imaginations to paper begin to act more confidently in life.
Hîlala Zêrîn, who has trained dozens of painters in the past few years, synthesizes cultures by bringing together children growing up in different environments. It uses painting to create historical awareness while allowing children to grow up with their culture. Children who reflect the symbols of their culture in their paintings also preserve historical memory.
Exhibition in October postponed
Hîlala Zêrîn Women's Cultural Movement carried out many activities such as cultural weeks, festivals and theater events this year. It was also going to present the pictures drawn by 13 children in an exhibition that was supposed to open in October. However, the exhibition was postponed due to the attacks by the Turkish army in the region for security reasons.