Kurdish Internationalist Delegation at Basque Youth Festival
Representatives of the Diplomacy Committee of the Rojava Youth Movement and the Academy of Democratic Modernity have participated in the annual youth festival of the left-wing independence movement in the Basque Country.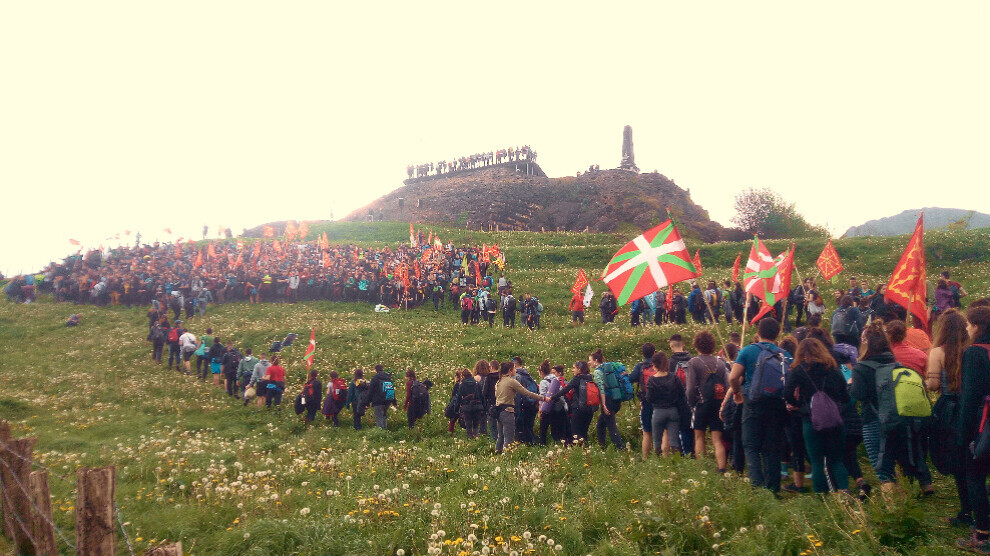 From April 14 to 17, the Gazte Martxa - the March of the Youth took place in the Basque Country. The tradition of Gazte Martxa dates back to the 1980s and since then has been held by left-wing Basque youth in the struggle for the independence of their homeland. Today, the organization of the festival is taken over by the Ernai, the youth organization of the left-wing Basque Sortu, which, after the dissolution of the armed ETA, now wants to follow the parliamentary path to independence and socialism in the Basque Country. In addition to Basque youth, youth delegations from abroad were also invited.
The format of the youth march always adapts to the circumstances and so this year the event, with hiking, seminars, concerts and demonstrations, focused on the five hundredth anniversary of the crushing of the Basque kingdom of Navarre by the Spanish kingdom of Castile. To mark the occasion, more than 1,500 young people hiked through the mountains that were fought over at the time, to the place where Basque fighters had resisted the occupiers to the last.
On the second day, the march continued and reached the city of Elizondo, where a program of political talks, panels and concerts was organized until Holy Saturday. Since the last day, Easter Sunday, fell on the National Day of the Basque Country, the youth marched together to the city of Iruña for the central demonstration through the city.