Last preparations underway for 31st International Kurdish Cultural Festival in Frankfurt
On Saturday, the 31st International Kurdish Cultural Festival will take place in the Rebstockpark in Frankfurt am Main.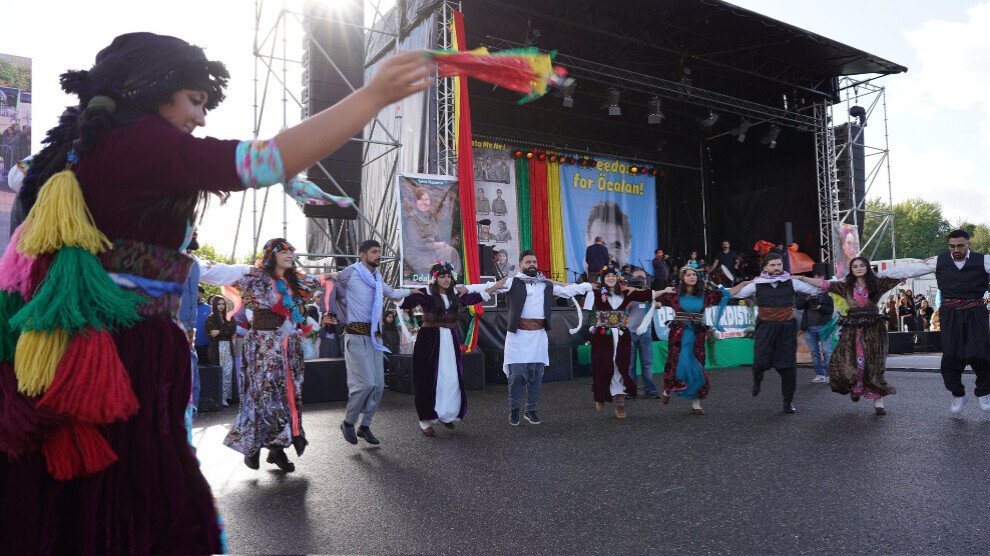 The 31st International Kurdish Cultural Festival will take place in the Rebstockpark in Frankfurt am Main on Saturday 9 September. The slogan for the event is "100 years after the Treaty of Lausanne: Solution to the Kurdish question, freedom for Öcalan, status for Kurdistan". The festival is dedicated to the memory of Evîn Goyî, Mîr Perwer and Abdurrahman Kızıl, who were murdered in Paris on 23 December 2022. The festival is organized by the FCDK-KAWA association.
Under the patronage of Elfriede Jelinek and Konstantin Wecker
The Austrian Nobel Prize winner for Literature Elfriede Jelinek and the German songwriter Konstantin Wecker have taken over the sponsorship of the festival. "A better life for everyone in our world is possible - to dream about it, to write about it, to sing about it, to insist on it and to commit to it together, that is what we all want to do individually and together: today, here at the Kurdish Cultural Festival in Frankfurt, and everywhere and every day worldwide," declared Jelinek and Wecker in their call for Global Anti-War Day on 1 September.
Tens of thousands of participants expected
FCDK-KAWA expects tens of thousands of participants from several countries. co-chair Münevver Altınışık told Yeni Özgur Politika: "Buses have been rented for the festival in Austria, Switzerland, France, Luxembourg, Belgium and the Netherlands. So far, around 230 buses have been reserved. In addition, participants will also travel by train and private cars."
According to KON-MED, buses will travel to the festival in Frankfurt from over ninety locations in Germany. The provisional departure times were published on X (formerly Twitter).
Rich cultural program
A rich cultural program has been announced. In addition to speakers from Kurdistan, Turkey and Europe, Silbûs û Tarî, Hossein Safamanesh, Kevana Zêrîn, Jale, Göksel&Ensemble and Sherif Omeri will appear, among others. The festival will have books stands, Kurdish clothing, traditional tents and a separate area for children.
Call from KCDK-E: Defend Kurdistan!
The European association KCDK-E also invited everyone to take part in the festival and said it will be an interesting insight into Kurdish culture. "Despite the policies based on assimilation, oppression and a physical, cultural and historical genocide, our people remain determined to protect their culture and their values, fought for at great cost and with great sacrifice," said the KCDK-E.
The festival will take place as an international cultural festival with participation from all four parts of Kurdistan and will at the same time promote a national stance against colonialism throughout the world under the premise "Defend Kurdistan!"