Making theater in Maxmur Refugee Camp
Sîrwan Kanat is a theater actor in Maxmur Camp. Seven plays have been created and performed in Maxmur Camp, says Kanat, adding that national unity will be important for art as well.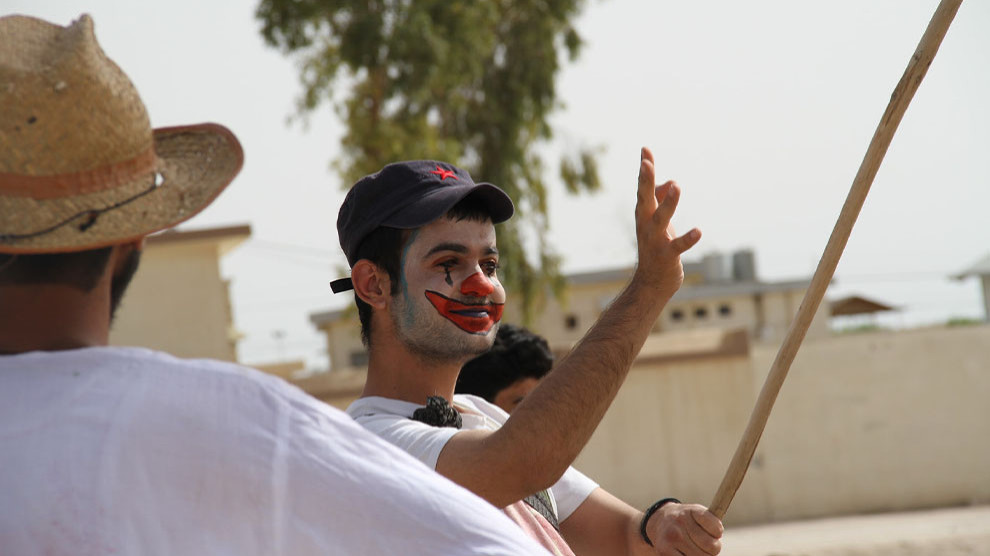 The people of Botan, who did not accept the Turkish state's' 90s pressure and imposition, settled in the refugee camp in Maxmur after a long resistance… The camp on the skirts of Karaçox Mountain, is located in the middle of the territories of Hewlêr, Mosul and Kirkuk, and has witnessed a great pain for many years.
Maxmûr with its desert climate, is home of snakes and scorpions, and is still facing many attacks by ISIS and the Turkish state. The people of Maxmûr have struggled for years against all odds and today the camp turned into heaven with labor and sacrifice.
Last but not least, the ongoing embargo caused serious problems to the economic life of the refugees, but they survived with their schools, cooperatives, councils and actions in their own language. Looking at the future with hope, refugees from Botan are warming up with art on cold winter days!
ANF talked to Maxmûr's young theater artist Sîrwan Kanat about his work.
First of all, can you introduce yourself?
I am 23 years old, I was born in the Ertûş camp. I currently live in Maxmûr Camp. I studied primary, middle and high school in Maxur. Then I was educated in the field of philosophy. I have been teaching philosophy in the camp, and at the same time, I have been working in the theater group at Maxmur Culture and Arts Center, of which I have been part since childhood.
Kurdish language, philosophy and theater: all of them complement each other and are very important in my life. Philosophy, language and art were the first steps for me on the right track.
You have a theater group. How was this group formed and what have you produced so far?
We performed a short and beautiful play called "Hêvi Yekta", by adpating to the stage a story written by the immortal Kurdish theater artist Hêvî Şanoger. She lost her life in an accident on the way to the theater festival in Kirkuk in 2004. The grave of Hêvî is in Maxmûr. Yekta Herekol is another revolutionary who carried out culture and art studies in the camp. We called the play 'Hêvi Yekta' because it is both in memory of these two artists and it was a good name for one of our first plays ...
There have been theater work here for many years, but the group was formally established at the end of 2016.
How many people does your group consist of and what plays have you performed so far?
Our team is made up of 6 people, but in some of our plays, we are more actors and we call some of our friends from the cultural center.
In the last 3-4 years we have performer plays called Hêvi Ykta, Democracy, Evîna Gul û Masî, Xwedawend, Windabûna Wateye, Zîlan, and finally Kurdistan, an adaptation from Antigone. We went on a tour in Rojava with one of these plays Legerîna Heqîqatê. We had the chance to get to know the Rojava theater and show our play in many cities.
Our main screenings are in Maxmûr. When a play is prepared, it is performed at least three times. We don't have a big hall, but there are a few indoor venues where we can perform.
How are the people of Maxmûr reacting to your plays?
The people love theater. We meet with the audience as regularly as we can and perform our plays. The camp is already in a small area, when a play comes out, it immediately becomes a news, spoken and criticized for days. We perform each of our plays to at least a thousand people. We usually play for free. The cultural center or our group try to meet our needs.
Do you have any new work in mind?
We can say that we are ready for a new beginning and we are getting ready for spring. The name of the new play is 'Bûka Axê' (Bride of the Land), the last of the plays written by Şanoya Çiya theater group. A powerful game on patriotism and love of land. It is set in Kurdistan in the '90s. 
When would it be performed?
We aim to complete the play by the end of February. It will make sense for us to be able to perform it after 15 February.
The group is busy with the play but also participates in workshops which always attract a large number of people. 
What do you do in the workshops?
Workshops last 2-3 months like a training program. A day a week normally. We work on voice, diaphragm, gesture-mimic, basic acting lessons. We accept both those who are interested in theater and those who think more or less of theater professionally. Some of them join because it is something to do in their spare time, but it is not a problem because the workshop is a social activity whose purpose is to create an interest in acting. The training of the group is different, and apart from these courses, theoretical and technical trainings are given to the group specifically. 
You do workshops and have performed many plays. You went to Rojava again and you are performing your work in Maxmur Camp. What are the difficulties, what are your aims?
After all, we live in a camp that lacks certain possibilities, there are borders and embargoes. But we keep our spirituality strong. We are hopeful. For example, we are following the valuable work of our artist friends to establish Kurdish national unity in Europe. As artists and residents of the camp, we also support these works, and even want to participate. Our artists will come to the South and give a concert and call for the Kurdish national unity.
We need to work for the embargo on the camp to be lifted. Because the solution of the problems of this place depends on national unity. If Kurdish unity is to be ensured, political pressures on the camp should also be removed. 
Have you ever staged a play in the South?
We haven't performed in the South so far, but we should. Festivals are held in Sulaymaniyah and Hewlêr. There are even international festivals. We know both dialects, Sorani and Kurmanci. If political obstacles disappear, we would like to participate to those events. There should be no political obstacles in front of art.
Finally, do you want to say anything else?
Art work has been carried out in the camp for many years. We are also working for and with children. Last year we released a children's game called 'HEYTÛN'. Trainings for children continue. Currently, about 50 children are being trained in theater. I would like to mention this.
Those who want to support, communicate and meet us can contact us on our Facebook address called Koma Hêviyekda.