Paris Kurdish Culture Festival ends with dedication to guerrillas
Closing with an impressive concert, the First Paris Kurdish Culture Festival was dedicated to the guerrillas.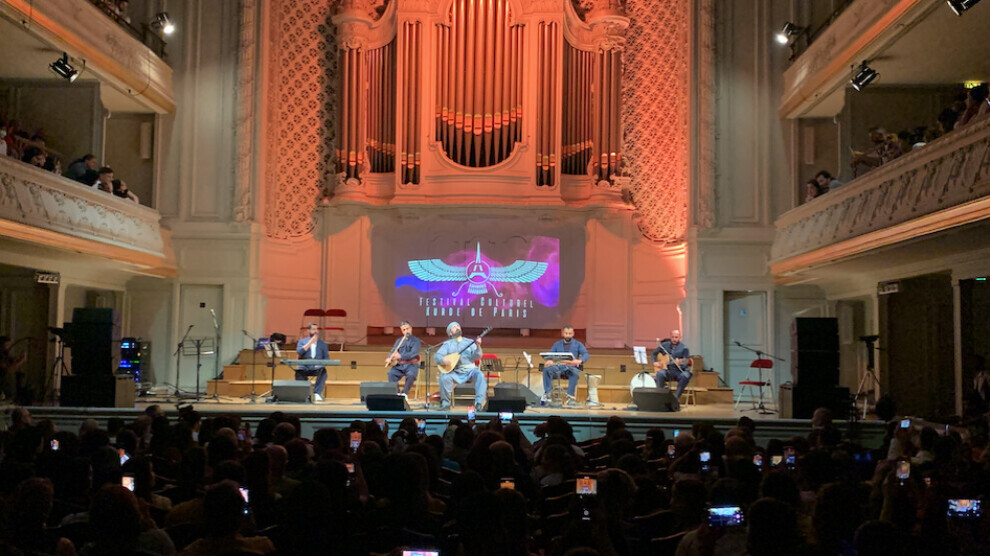 The First Paris Kurdish Culture Festival completed its 14-day marathon with a final concert.
Ayfer Düzdaş, Diyar Mehrovi, Farqin Azad and Şivan Perver took the stage at the concert held at Gaveau Concert Hall on Saturday.
The Paris Kurdish Culture Festival, jointly organized by the French Democratic Kurdish Council (CDK-F), the Institute for Thoughts and Research on Kurdistan (IREK), the Kurdistan Art and Culture Association (ACK) and the Danielle Mitterrand Foundation, started with a cultural march on Saturday, 14 May.
As part of the festival, a model of Kurdistan was installed in the Paris Democratic Kurdish Community Center building, while events such as the dengbêj meeting, theater screenings, painting and photography exhibition, children's workshop, street festival, food promotion were organized.
Diyar Mehrovi was the first guest of the final concert. While the young artist from Botan warmed up the concert hall with pieces from the Botan region, Farqin Azad, who continued his musical activities for years in Amed and then in Paris, took the stage.
The female artist of the final concert was Ayfer Düzdaş, a member of the Koçgiri tradition. While Düzdaş attracted great attention in the concert hall with her songs, Şiyar Perver was the final guest.
Many Kurds as well as Armenians, Chaldeans, Assyrians and French attended the concert.
At the end of the concert, the festival committee took the stage to thank the public, and on behalf of CDK-F, CDK-F spokesperson Ağit Polat thanked all those who participated in the festival and contributed to it.
Expressing his belief that these young people will continue to work, Polat underlined that the festival was the right decision, despite all problems and difficulties and also despite happening while war is raging in Kurdistan. Considering the goal of the festival and the gathering of thousands around Kurdish culture, Polat said the organisers were very happy.
The festival, said Polat, "can only be dedicated to the resisting guerrillas."