Paris Kurdish Culture Festival begins with traditional music and dance
The Paris Kurdish Culture Festival kicked off on Saturday.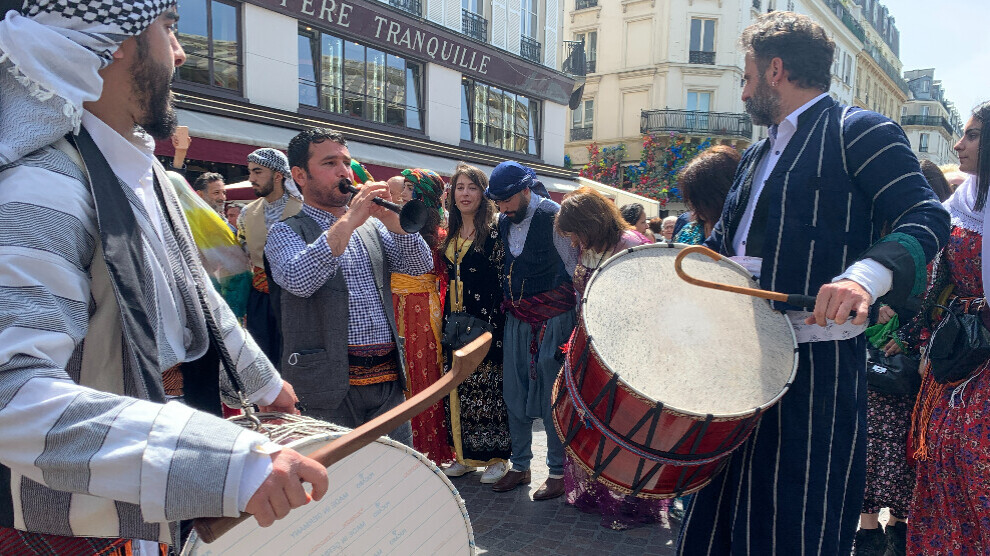 The first edition of the Paris Kurdish Culture Festival, which is jointly run by the French Democratic Kurdish Council (CDK-F), the Institute for Thoughts and Research on Kurdistan (IREK), the Kurdistan Art and Culture Association (ACK), and the Danielle Mitterrand Foundation, kicked off on Saturday.
The festival began in front of the Ahmet Kaya Kurdish Cultural Association with music and dance in the borough. TEV-ÇAND artists accompanied the coloured crowd with their songs throughout the march. French leaflets prepared for the festival were also distributed during the march.
PARIS - La première édition de la festival kurde de Paris a débuté aujourd'hui avec un défilé en tenues traditionnelles depuis le Centre kurde jusqu'au Forum des Halles.

Du 14 au 28 mai, voyager à travers le Kurdistan lors du Festival culturel kurde de Paris#TwitterKurds pic.twitter.com/pwl7Iw9L26

— Kurdistan au féminin (@KurdistanAu) May 14, 2022
While walking towards Les Halles, the Kurds chanted "Bijî berxwedana guerrilla" and greeted the guerrillas resisting the attacks by the Turkish state in Kurdistan.
Arriving at the Les Halles-Forum des Images hall, speeches were made and then, a short documentary prepared by journalist Ali Güler on the Kurdish diaspora in France was screened.
The day continued with the instrumental music concert of the Aheng group and a govend (folk dance) performance.
Teatra Arîn's play "Gul bê strî nabe" will be staged today at the Sydney Bechet Cultural Center at 2-10 Place Henri Barbusse, 91350 Grigny, at 3 pm.
The festival will continue until 28 May and today's program can be found here.