Play about poets Ahmed Arif and Cemal Süreya in London
This year, a theater play was staged at the London Cemevi, as part of the British 11th Alevi Festival, which was organized with the slogan "Peace and Justice".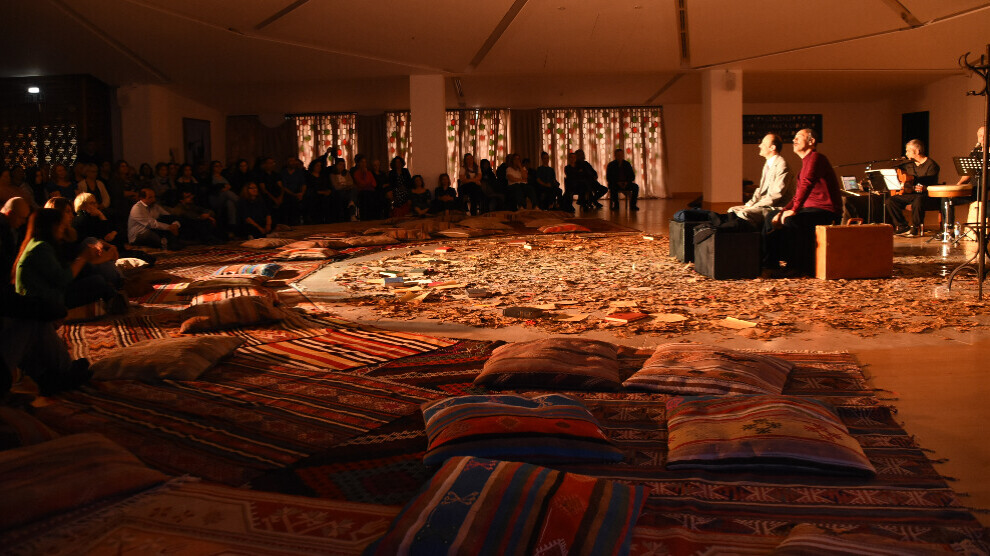 As part of the British 11th Alevi Festival, the play "I Don't Die Easily", written by Kurdish lawyer Ali Has which brought together two great poets, Ahmed Arif and Cemal Süreya, was staged at the Cemevi.
Cemevi co-chair Filiz Koç, representatives of democratic organizations and many people attended the play. Göktay Tosun plays the character of Cemal Süreya, while Cüneyt Yalaz played Ahmed Arif. Directed by Nesimi Kaygusuz, the play was accompanied by a live performance on the stage by Vedat Yıldırım from Kardeş Türküler and Cansun Küçüktürk from Bajar Group with their specially composed music.
Bringing together the lives of the two poets and the bloody processes of Turkey in recent history, the play impressed the audience, especially during the lines and poems about the massacre of 33 Kurds by Turkish soldiers in 1943 and the Dersim massacre.
I don't die easily
Written by the Kurdish lawyer Ali Has, who lives in London, the play "I don't die easily" has emerged as a result of intense research by accessing many autobiographical documents, memoirs, interviews and letters by both poets.
The play begins with a journey of Ahmed Arif and Cemal Süreyya, two important members of the Kurdish and Alevi peoples, who meet in a train. In the journey where the intersecting lives, friendships and struggles of both poets are told, it is emphasized that Cemal Süreyya is one of Dersim people in exile, and Ahmed Arif is the poet of the mountains, the plains and the streets.