Purple Meridians: Women making cinema meet in Amed
To stress the importance of reclaiming spaces and getting together, Rosa Kadin together with the 6 directors involved in the project will also organise a panel (in presence) before the screening to which both Ovni and Streeen representatives will particip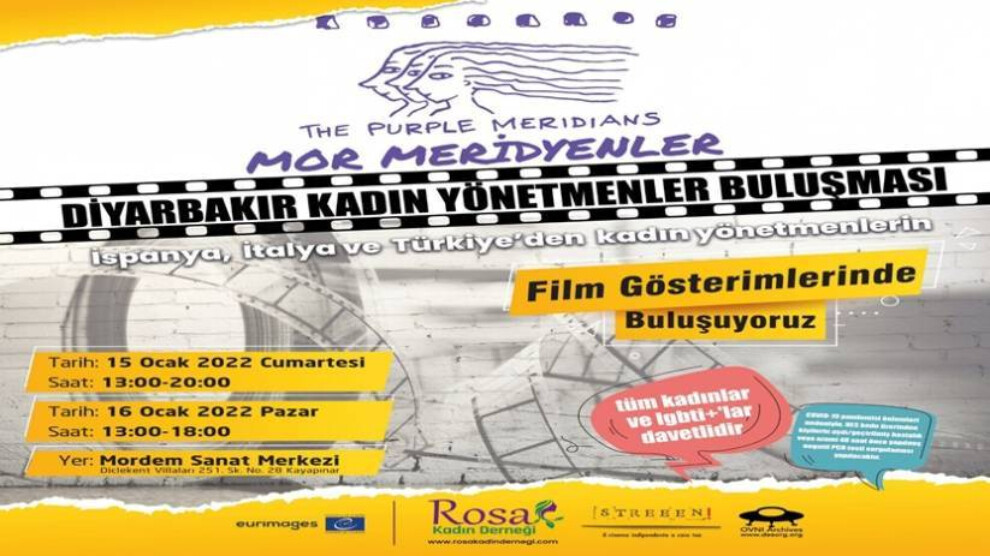 Five meridians are drawn on the map between Barcelona (Catalonia) and Turin (Italy). A person walking from Turin to Diyarbakır (Amed) would cross thirty-five more. Three cities and countries distant in space yet sharing the desire for a fairer distribution of opportunities for women and non-binary people in the film industry.
Three organisations from these cities, The Observatori de Vídeo No Identificat (Barcelona), Streeen.org (Italy) and Rosa Kadın Derneği (Amed),  decided to respond to that desire by creating The Purple Meridians.
The project, sponsored by Eurimages, brought together 18 filmmakers, 6 from each country, to discuss the hurdles that female-identifying professionals face in the industry, share tools and advice for pre-production, production and distribution, and create a network for future collaborations.
The project was developed for five months, starting at the Venice Film Festival in September and ending in Amed today and tomorrow at Morden Cultural Centre.
To stress the importance of reclaiming spaces and getting together, Rosa Kadin together with the 6 directors involved in the project will also organise a panel (in presence) before the screening at which both Ovni and Streeen representatives will participate online. The Panel will address the content of the Purple Meridians Project as well as the situation of women in cinema in Turkey.