Spectacular concert for Öcalan and the Kurds in Rome
A spectacular concert was organised on Sunday by Kurdish and Italian institutions in Rome, Italy. Thousands of people attended the concert dubbed "Time of Hope and Freedom for Abdullah Öcalan", where dozens of well-known local artists took the stage.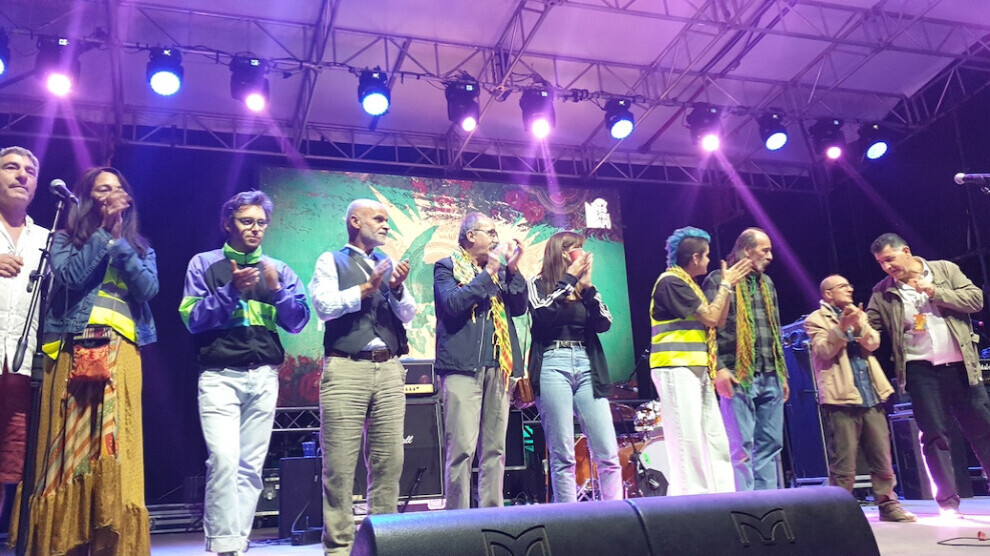 On Sunday, 18 September, at the Schuster Park, in Ostiense, in Rome, several Italian artists and a Kurdish musical group played, in support of the history, tradition and social model that the population of Kurdistan preserves and proposes.
Daniele Silvestri, Fiorella Mannoia, Elio Germano, Giacomo Bevilacqua and Michele Zerocalcare (+ special guest), Pierpaolo Capovilla and the Bad Masters, Hani Mojtahedy & the Moon, Punkreas, The Andre, Anna Favella took the stage.
A day of celebration, of aggregation, of culture and music which, however, had to denounce, once again, the injustices, carried out by nation states as well as terrorist organizations such as the Islamic State, against the populations living in Turkey, Iraq, Iran and Syria.

The participants demanded that Kurdish leader Abdullah Öcalan and the other PKK prisoners be released after more than 20 years of imprisonment, convinced that a dialogue of peace can be opened in an area where war has been present for too long.
The concert was organized by the Committee for Freedom of Abdullah Öcalan, the Rete Kurdistan, the Kurdistan Information Office and the Ararat Kurdish Cultural Centre.
Thousands of people attended the concert dubbed "Time of Hope and Freedom for Abdullah Öcalan", where the opening speech was delivered by Amedeo Ciaccheri, mayor of the eighth district of Rome.
Amedeo commemorated those who lost their lives in Europe during the ISIS attacks, praised the struggle of the Kurdish people and called for freedom for the Kurdish leader Öcalan.
Renowned actor Anna Favella read out passages from the plea of Öcalan on the stage. Favella put emphasis on the parts where women's struggle is addressed.
The father of YPG martyr Lorenza Forseretti said in a speech that his son had fought for and dreamt about another world.
A live performance by famous cartoonist Zero Calcare attracted great attention. Artist Jacomo accompanied Calcare while the cartoons were drawn on the stage. Calcare animated the organization of the concert with his cartoons.
Award-winning actor Elio Germano read out passages about Öcalan and the Kurdish freedom struggle.
The Kurdish musical group Hani Mojtahedy & the Moon drew intense interest from the audience.
In a speech, Kurdistan Information Office Coordinator Yılmaz Orkan emphasized the importance of Öcalan's freedom for the Kurds and the entire region.
Famous singer Fiorella Mannoia, musical band Punkreas and artist The Andre also took the stage during the concert.
The organizers of the concert demanded the immediate release of Öcalan at the end of the event.