Stêrka Rojê, a collective music group in which children are both students and teachers
Stêrka Rojê, affiliated to the Mihemed Şêxo Culture and Art Center, is a music group consisting of 9 children. The band members, who receive vocal and instrument training, both perform and contribute to the training of newcomers.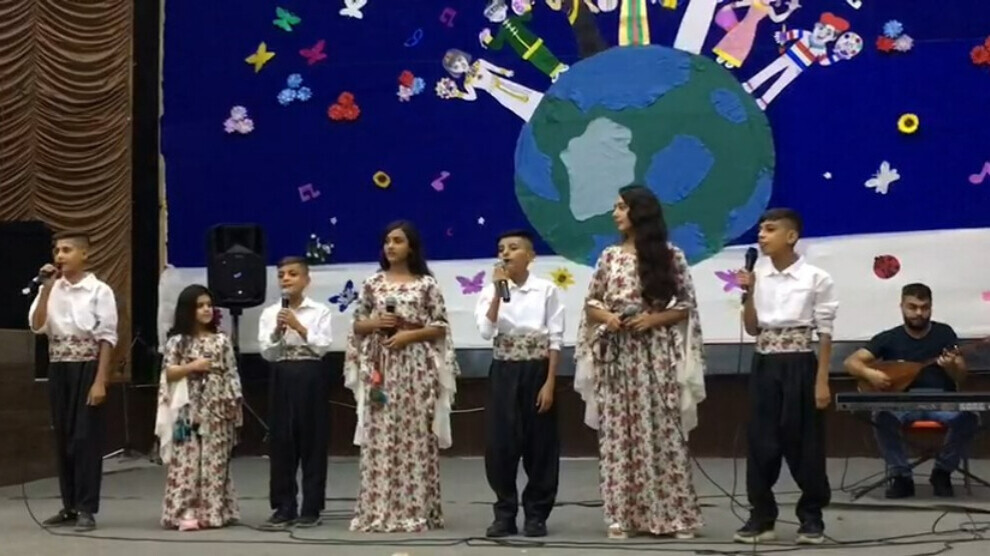 Stêrka Rojê, a children's music group, is one of the 6 groups in the Mihemed Şêxo Culture and Art Center. The center was founded by artists from Qamishlo in the borough of Qudurbeg in the city in late 2011.
Founded in 2018, the Stêrka Rojê Children's Group has been teaching children to play and sing for more than three years.
There are 9 children in the group and they receive kajo, erbane and saz training. Children also have the right to choose more than one instrument according to their level.
The youngest member of Stêrka Rojê is 9 years old, and the oldest is 15 years old.
Two-stage education
Stêrka Rojê offers a two-stage education. The children first receive voice lessons. Children who have made progress in voice education go on to the reading stage. Books are prepared for the training process of new members.
Then the musical instrument training begins. Every child decides which instrument to play and has the right to be trained in more than one instrument.
There are three teachers for each child, one teaches voice and the others instruments.
Collective work
Stêrka Rojê member Êva Eli said that their training is very effective and added that Stêrka Rojê carries out collective work.
Noting that the group comes together on certain days, Êva Eli continues: "We get each other's opinions, we determine our songs as a result of joint decisions and we distribute tasks."
Every child should receive education in culture and art
Elî, one of the oldest members of the group, said that every child should be educated in culture and art, because this will ensure the preservation of the culture.
Students learn and teach newcomers
Nuh Mihemed, who joined Stêrka Rojê in 2018, plays the darbuka in the group and said that he wants to learn to play the saz.
Nuh Mihemed is also teaching newcomers what he learned.