Tearing Walls Down begins screening tour in Hamburg on 2 September
After the premiere in Cologne, the film "Tearing Walls Down" will be shown in many other cities. The documentary portrays opposition politicians from Turkey. The opening of the autumn tour will be in Hamburg City Hall at the beginning of September.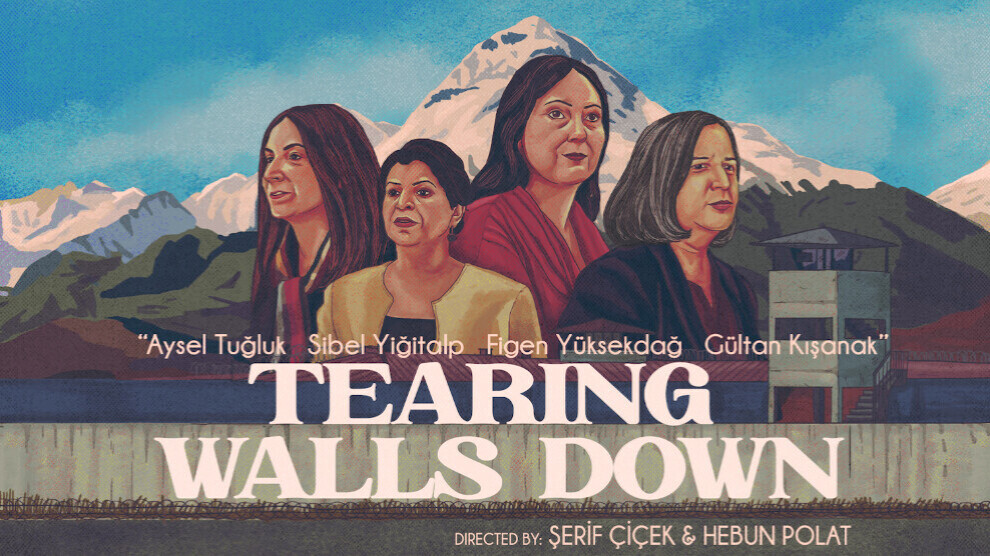 The documentary "Tearing Walls Down" by Şerif Çiçek and Hebun Polat will be shown on 2 September at 4pm in the Kaisersaal in Hamburg City Hall. The organizer is the left-wing group in the Hamburg Parliament. The moderation will be in charge of the co-chair of the parliamentary group, Cansu Özdemir. Director Şerif Çiçek and producer Adil Demirci as well as former HDP deputies Sibel Yiğitalp and Selma Irmak will attend the screening.
The film portrays the life and political work of Aysel Tuğluk, Figen Yüksekdağ and Gültan Kışanak - three democratically elected politicians from the HDP and BDP who were imprisoned in 2016 in the wave of repression after the peace process with the Kurdish movement was ended unilaterally by the Turkish government. The fourth protagonist of the film is the former MP Sibel Yiğitalp, who lives in exile and is still fighting for her acquittal and the release of her imprisoned comrades. The documentary is a sequel to the film "Prison or Exile" and impressively conveys the pressure and repression the opposition in Turkey is under and yet does not give up.

Thirty more scheduled screenings through the end of the year
The premiere of "Tearing Walls Down" (which takes its title after a book of poems by Figen Yüksekdağ), was in Cologne in May. The film was then also shown in Frankfurt, Bochum, London, Brussels, Karlsruhe and Leverkusen.
The autumn and winter screenings will start with the screening in Hamburg on 2 September. Around 30 screenings are planned by the end of the year. Some of the scheduled screenings are as follows: 30 September, in Stuttgart, 1 October in Tuebingen and in Boeblingen, 15 October in Frankfurt, 29 October in Zurich, 30 October in Berne, 31 October in St. Gallen, 1 November in Basel and 17 November in Paris.
The film will also be presented at a Kurdish film festival in Berlin in October, as well as at festivals in Amed, New York and Gothenburg.