The Cell Without a Night premiered in Donostia/San Sebastian
The play "The Cell Without a Night", which tells the story of the imprisonment of Kurdish People's Leader Abdullah Öcalan, premiered in Donostia/San Sebastian, in the Basque country.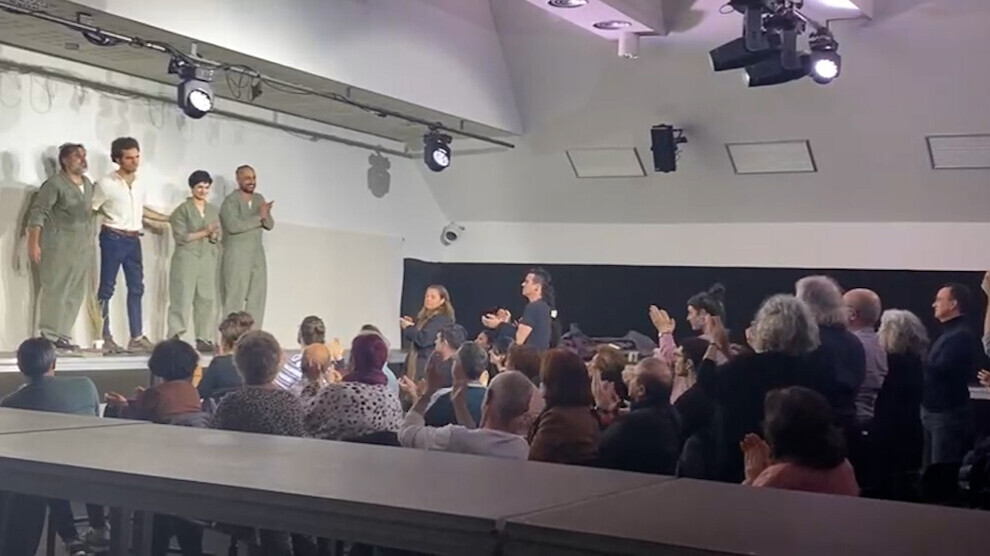 The European premier of the play "The Cell Without Night", by Galder Irusta, was held on Sunday at the Viktoria Cultural Center in San Sebastian.
Written by Galder Irusta in 2019 and put on stage by director Mireia Gabilondo, the play shows how the four walls of an isolated cell can be used for unlimited human rights violations like a never-ending light, and being imprisoned in a tiny space for 24 hours a day.
"The Cell Without a Night" (La Celda sin noche) is the debut play of Irusta, a young playwright, film and theater director born in Bilbao, in 1995.
Irusta tells the story of Abdullah Öcalan's imprisonment, the evolution of his political thought and political proposals. The play deals with the ideas that he developed under heavy isolation.

Instead of a simple oral narrative, the play takes the audience on an emotional journey through narratives reflecting the Kurdish people's Leader, Abdullah Öcalan's own ideological journey.
Artistic freedom of expression alone allows for an innovative representation of what goes on inside a cell. Three characters representing the thinking of Abdullah Öcalan, guide the audience through the intricacies of complete imprisonment and honest political transformation. The audience follows the discussions between these three characters and falls under the spell of the freedom of thought that remains unlimited despite the limitations of the prison.
Although this story is the story of the struggle of the Kurds, Irusta and Gabilondo actually bring a human rights advocacy story to the stage by telling it through the imprisonment and resistance of Kurdish people's Leader Abdullah Öcalan. He sheds light on the possibility of a democratic future in the Middle East, and one that could also have implications for the entire world, if we listen carefully.
"The Cell Without a Night" was developed and selected by the "New Dramaturgies" program (Nuevas Dramaturgias / Antzerkiginzta Berriak) organized by the three municipal theaters of the Basque cities of Bilbo/Bilbao, Donostia/San Sebastian and Gasteiz/Vitoria. The play is a joint production of these three theatres, Antzerkiz and the Costa Rican Ministry of Culture.
The play is brought to the stage by Basque and Costa Rican artists: Mireia Gabilondo (director), Fernando Bernués (scenography and costumes), David Bernués (lights and audiovisuals). The actors are Andres Montero, Noelia Campos and Roberto Bautista. Assistant director Natalia Regidor, sound director Daniel Alarcón. The production team from Costa Rica consists of Rafael Ávalos, Sally Molina and Arlette Arroyo.
The play will be presented in Bilbao on Wednesday 15 March.