Yazidi cultural festival held in Celle
The second "Festîvala Çand û Hunera Êzdîxan" took place in Celle. The motto of the cultural festival was: "Preserving the heritage of Mam Zekî - Defending the autonomy of Şengal and the culture of Êzîdxan."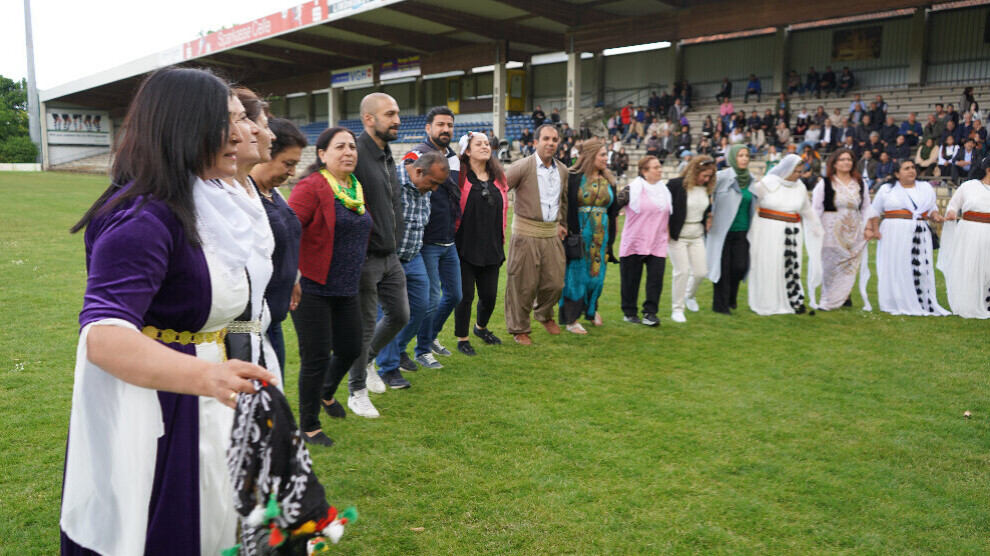 The second "Festîvala Çand û Hunera Êzdîxan" [Yazidi Culture and Art Festival] took place in Celle this Saturday. The cultural festival, jointly organized by various Yazidi organizations, was dedicated to Mam Zekî and had the motto "Preserving Mam Zekî's legacy - Defending Şengal's autonomy and Êzîdxan culture". Mam Zekî, whose civil name was Ismail Özden, lived in Germany for a long time and, from 1999 onward, worked to organize society in Êzîdxan, the land of the Yazidis. There he was a member of the Şengal Yazidi Coordination and was among the first people to help build autonomous structures after the ISIS genocide in 2014. In 2018, Mam Zekî was murdered in a targeted drone attack by the Turkish state in Şengal.
The first Yazidi cultural festival in Celle took place in 2017. The aim of the event is to bring the history and culture of the Yazidi population closer to the public. As part of the program, there were music, dance and theater performances by Koma Zarokên Rojê, Îlona Avesta, Dîlan Dilsoz, Azad Bedran and Koma Laliş, among others. Yazidi specialties were also served.

Political contributions on the festival stage included Yüksel Koç, co-chair of the Kurdish Democratic Societies Congress in Europe (KCDK-E). The politician commented on Turkey's attacks against southern Kurdistan (northern Iraq) and criticized the ruling party KDP for its support in the Turkish invasion of Zap and Avaşîn, which has been ongoing since April. Armenian journalist Hayko Bağdat recalled the history of suffering shared by the Yazidis with his nation. "Both societies are wanted to be completely wiped out by genocides," Bağdat said, conveying solidarity greetings to the Yazidi community "from the Armenian resisters and revolutionaries."
Celle largest Yazidi community in Germany
With an estimated 200,000 members, the Yazidis in Germany form by far the largest diaspora of the Yazidi community. Larger Yazidi communities in exile in the Federal Republic are represented in Lower Saxony and North Rhine-Westphalia. In the city and district of Celle, the Yazidis have their largest community outside their countries of origin, with more than 10,000 members.