AKP's desperation: Forest fires in Kurdistan
The AKP regime continues to burn through Kurdistan's lands.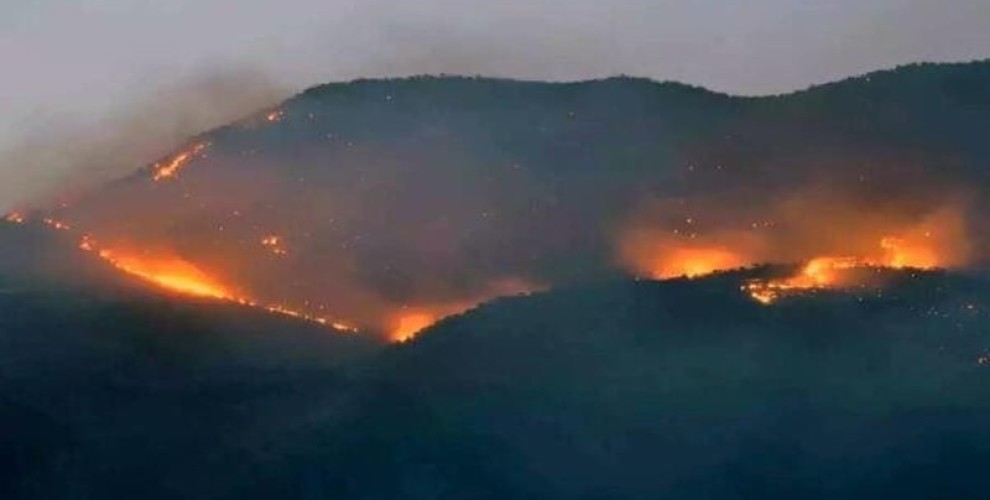 The AKP-MHP regime also targets the lands of Northern Kurdistan in their genocidal colonialist attacks. State authorities prevent the people from fighting the forest fires deliberately started in Kurdistan's provinces during military operations. Many fields that belong to the people have also been set on fire, while the fires spreading to residential areas brings about the question: Is the state aiming to depopulate the region? Ecologist groups say the fires in Kurdistan are not caused by the climate, and that they haven't come across a potential for fires.
The AKP regime said they were "ready to help" about the fires in Greece, but when it comes to the forests they burn in Kurdistan they say their helicopters are not ready or sufficient.
As the AKP deliberately burns down forests and prevents interventions, they try to deny apparent facts. When showed photographs from the forest fires in Dersim, Tunceli Governor Tuncay Sonel said they are not from "their province". But Sonel's lie was exposed by artist and activist Ferhat Tunç when he went to the area to livestream.
The fires destroy both residential areas and the livelihood of villagers. AKP knows economy is tied to ecology, and tries everything to victimize the people in all aspects with their colonialist character.
Some of the recent fires in Kurdistan are as follows:
- F-16 fighter jets, UCAVs and Kobra type helicopters bombed the Sincik Mountain in Dersim's Hozat district on August 14, starting a forest fire. The fire has raged on for days as only the locals are trying to put it out. Thousands of acres of land have been damaged in the fire.
- A forest fire broke out on August 16 in Bingol's Genc district in the Sivan, Doganli and Suveren villages which have been declared special security zones. Only the villagers intervened for two days, as the fire rages still.
- In Mardin's Midyat district on August 16, the fire that started in the municipality's landfill area spread to the forest. At least 20 hectares of land was damaged in the fire that burned for 3 days.
- In the Cudi and Gabar mountain areas in Sirnak center and district rural areas, several fires were started by Turkish army operations and dozens of hectares of land have turned to ashes. Arable land and vinyards of the villagers were severely damaged as the fire was not put out.
- A fire broke out on August 17 in the rural areas of the Asagidere (Gelejer) village in the Beytussebap district. The fire was started by the special operations unit known in the region as the Mete Team. A wide area was affected by the fire.
- On August 18, a fire broke out in the morning in the rural areas of the Unal neighborhood in Amed's Kulp district. The fire was taken under control after the villagers and municipal units intervened.