Ecology Platform: Forests are burned for "security reasons"
Most fires are listed as started by 'unknown'.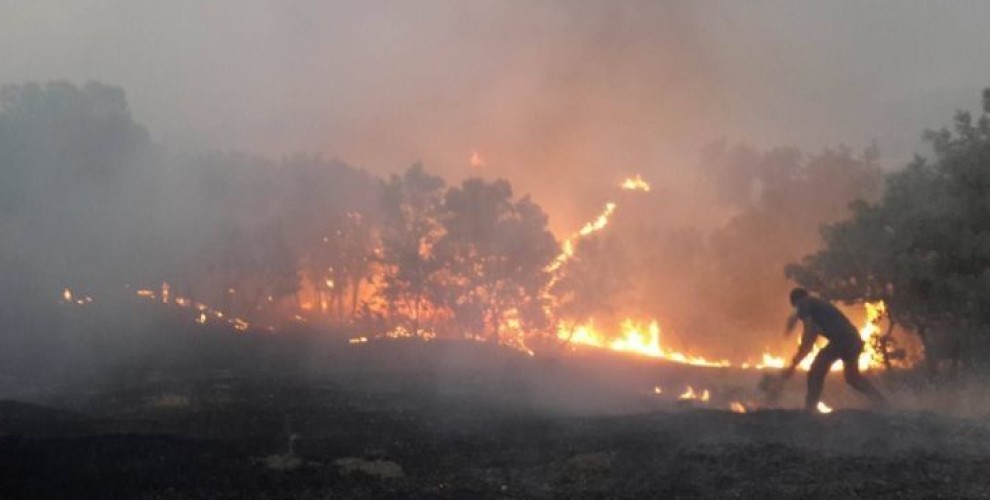 The Ecology Platform in Amed has been responding to forest fires in the region set on fire either by human hands or for security reasons with an initiative at Dagkapi, where a statement was read.
The initiative was attended by many people and representatives from the Peoples' Democratic Party (HDP), Democratic Regions Party (DBP), Republican People's Party (CHP), Socialist Party of the Oppressed (ESP), Free Women's Movement (TJA), Union of Chambers of Turkish Engineers and Architects (TMMOB), Ecology Association, Confederation of Public Workers Unions (KESK), Democratic Society Congress (DTK), Pir Sultan Abdal Association, '78s Association, Peace Mothers, Dicle Amed Women Platform (DAKAP). HDP Amed deputies Remziye Tosun and Selçuk Mızraklı also attended.
Reading the statement on behalf of the Ecology Association, executive member Necdet Sezgin said that in recent years forest fires have caused high damages both in terms of life and property losses, in Turkey.
Sezgin quoted the report prepared by the General Directorate of Forests on forest fires. According to this report 2,411 forest fire cases were recorded in 2017 causing damage to some 11,993 hectares of land.
The number of fires listed as caused by 'unknown' is 1,280, while 4,136 hectares of land were burned.
Sezgin said: "Forest fires in our region are listed in the category of caused by 'unknown'. We know that the forests are not burning by natural causes, they are burned by men and sometimes for security reasons".
Emphasizing that the forest fires in the region are not caused by the climatic conditions, Sezgin continued: "There is a wide narrative of climatic conditions as providing a very high cause for potential forest fires. This connection is the basis for all fire behavior models. Climate and weather conditions change the physical and chemical properties of burning. Climate, vegetation and fire are constantly interacting dynamically in the same process".
Yet, said Sezgin: "When you look at the tree and plant pattern that grows in the region, we cannot find all this natural potential for fire. Therefore, when we evaluate the plant vegetation in our region, there is no possibility of the fire happening for natural causes".
According to the law, reminded Sezgin, "burning forests in areas close to police stations is also considered a crime. But this law has never been implemented in our region. The competent authorities do not carry out maintenance operations nor work to look after the land, when a fire occurs. This is a clear abuse of duty".
Sezgin demanded the opening of investigations about forest fires in the Kurdish region, the punishment of the criminals and that the necessary maintenance and repair of the areas exposed to fire are carried out.
"If necessary steps are not taken, - Sezgin said - citizens will take things in their hand to make sure burned areas are cleared and reutilised."