"Let the Munzur river flow freely"
Member of the 'Let the Munzur river flow freely' Council Meral Uç pointed out that Turkey intends to execute 27 Hydroelectric Power Plant (HES) and Dam projects in Dersim, which will submerge half of the whole district Ovacık and eight villages once done.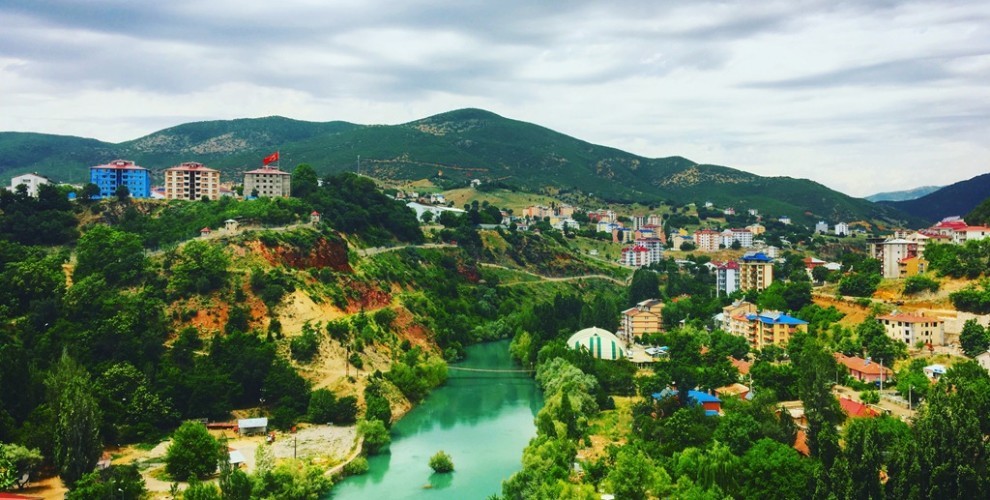 Approximately 50 dams have been constructed to supply water and electricity for the cities in Northern Kurdistan so far. Preparations have been already started some years ago for the installation of 30 more dams and their foundations have been set yet. Particularly in the areas of Dersim, Bingöl, Şırnak, Hakkari, Batman, Mardin and Amed that possess the most fertile habitat and diverse flora and fauna dams are being built systematically. Despite all protests from citizens and environmentalists, the constructions of hydroelectric plants and dams continue. Those dams being built in Kurdistan destroy on the one hand the nature and extinguish on the other hand also various animal and plant species. It was in the nineties when the Turkish state burnt down and emptied Kurdish villages. But now instead of scorching they utilize dams through which they once again force the people out of their villages. Because of these dams emigration is being caused over again and countless villages will submerge in water.
The Turkish state desires to turn especially Dersim to an island by creating 27 dams on the valleys of Pülümür, Munzur and Ava Perî. Because of the construction of six dams on Dersim's valleys, the snowfall last year diminished remarkably which led to a drying up of some water springs. Meral Uç, member of the 'Let the Munzur river flow freely' Council, spoke with ANF about the hydroelectric power plants and dams built in Northern Kurdistan.
DERSİM, TARGET OF THE AKP'S HYDROELECTRIC AND DAM INDUSTRY
Uç explained that there are efforts being made to build 27 hydroelectric plants and dams in Dersim alone and said that many of those projects derive from the proposals given by the General Directorate of State Hydraulic Works (DSI) back in 1980 on the river Munzur. Meral Uç furthermore stated that there are now five dam construction plans for Dersim, saying: "There is a dam in the city's centre in Uzunçayir, in Ovacık's Mercan district there is a hydroelectric plant, in Tatar there is a dam and a hydroelectric plant, in Seyrantepe there is a dam, in Pembelik a dam as well as a hydroelectric power plant. Three more hydrolectric power plants and some other dams are planned to be built on the border of Dersim to neighbouring towns. In Dinar, the crossway between Dersim and Elazığ, another hydroelectric power plant is sought to be constructed. The currently most critical one is the construction plan of a dam in Konaktepe, above the conservation park of Munzur. However in Konaktepe there are still five more dam constructions pending. Another factor is that Turkish officials have opened the hydroelectric power plants HES-1, HES-2 and HES-3 to the private market and are bargaining on that basis."
DAMS AND HYDROELECTRIC PLANTS DESTROY THE NATURE
Meral Uç pointed out that as for its ecology the nature of Dersim is unique in whole Turkey, saying: "There are about 1600 different plant species growing in Dersim, this nature with all its plants and creatures must not be touched. When the constructions of the dams and hydroelectric power plants are finished, all the flora and fauna in the region will be exterminated. 32% of the plants growing here are also used as herbal medicine. The dams and hydroelectric plants do not only kill the nature. Dersim is an area of high snow fall and the building of those power plants will wipe out the entire living space. The most evident example is the dam that has rendered Kevane and the whole region absolutely inaccessible. The hydroelectric plants and dams eliminate all kinds of species of animals and plants. There are many different endemic species living in the conversation park of Munzur, but not only animals and old forests exist there. All kinds of interference will destroy the nature."
OVACIK AND 8 VILLAGES WILL BE SUBMERGED
Meral Uç emphasized that should the hydroelectric plants and dams get finished, many villages in surrounding will submerge, saying: "If the dam in Konaktepe gets built, the unprecedented nature, the Kuş and Ilgîn trees will be gone forever. Nowhere in this world do these sorts of trees exist and are seen next to each other. This gorgeous nature will unfortunately remain under water after the completion of the projects. 35,5 kilometres of Ovacık district, including seven to eight villages will completely remain under water. Over and above that, with the completion of the hydroelectric power plants HES-1 and HES-2, an area of around 127 km will be put under water. All the living spaces, touristic sites, forests and several villages will be submerged."
LAKE MUNZUR A SPECIAL PLACE FOR THE ALEVI COMMUNITY
Meral Uç made the following comment about the hydroelectric power plants and dams built on the river Munzur: "The flow of the river diminishes more and more due to those hydroelectric plants and dams. Leave the river Munzur alone, let Munzur flow freely again. They want to stem the flow of a streaming river. In our Alevi religion the river Munzur harbours a special and important role. In its cold water many sorts of fishes exist, which have a special place in our religion. These fishes have also a certain spawning time. But with the dams and hydroelectric power plants they will be wiped out completely."
The Hydroelectric power plants (HES) and dam projects planned for Dersim are as follows:
*HES and Mercan Dam
*Akyayık Dam and HES
*Konaktepe Dam and HES-1
*Konaktepe Dam and HES-2
*Kaletepe Dam and HES
*Bozkaya Dam and HES
*Pülümür Dam HES
*Uzunçayır Dam HES
*Tatar Dam and HES
*Seyrantepe Dam and HES
*Pembelik Dam HES
*Dinar HES
*Gökçeköy Regulator and HES
*Armağan Regulator and HES
*Abdalan Regulator and HES
*Tagar HES
*Derman HES
*İnköy Regulator and HES