Turkish army attacks mountain goats with Katyusha in Zagros
The Turkish army targeted a pezovî (mountain goat) herd in the Zagros Mountain. Only one pezkovî kid survived the Katyusha attack.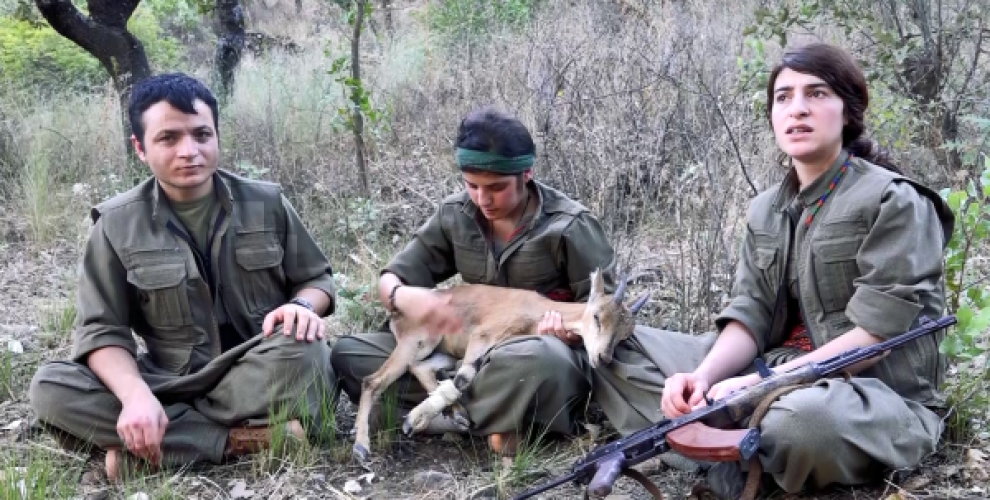 Turkish forces in the Zagros Mountains, one of the places where the war is most intense, target nature and all living things. A group of pezkovîs (mountain goats) were even attacked by Katyusha as they moved about around them.
A group of pezkovî were targeted recently by the Turkish state around their encampments because the mountain goats were "distracting". Guerrillas who control the area rescued the only surviving pezkovî kid after the attack and took the baby goat to the medics to be taken care of.
NOT IMPORTANT FOR THE TURKISH ARMY
Guerrilla Berivan has taken over the care of the pezkovî kid: "This is one of the animals we rescued from their atrocity. There they are positioned on a hill, and these animals were apparently interfering. For them it's not important to kill these innocent, harmless animals. Many animals died in their attacks, it was just this little pezkovî that survived. We did all we could. We cleaned its wound."
Berivan pointed out that it is not important for the Turkish army whether they kill a child, an old person or an animal.
THEY ARE ENEMIES OF NATURE
Another guerrilla said the Turkish army is an enemy to nature and animals as well, and added: "They oppress our people with the excuse that the people help the guerrilla. They see Kurdistan's natural environment as an enemy as well. They even enjoy killing animals on Kurdistan's lands. Sometimes they set forest areas on fire. According to the Turkish army, all these trees and animals are aiding and abetting us."