Turkish army prevents firefighting measures in Dersim
Since Friday, there has been a fire in Dersim as a result of helicopter fire in a rural area near the Hozat district. The flames threaten to spread to populated villages, yet the Turkish military is preventing firefighting measures.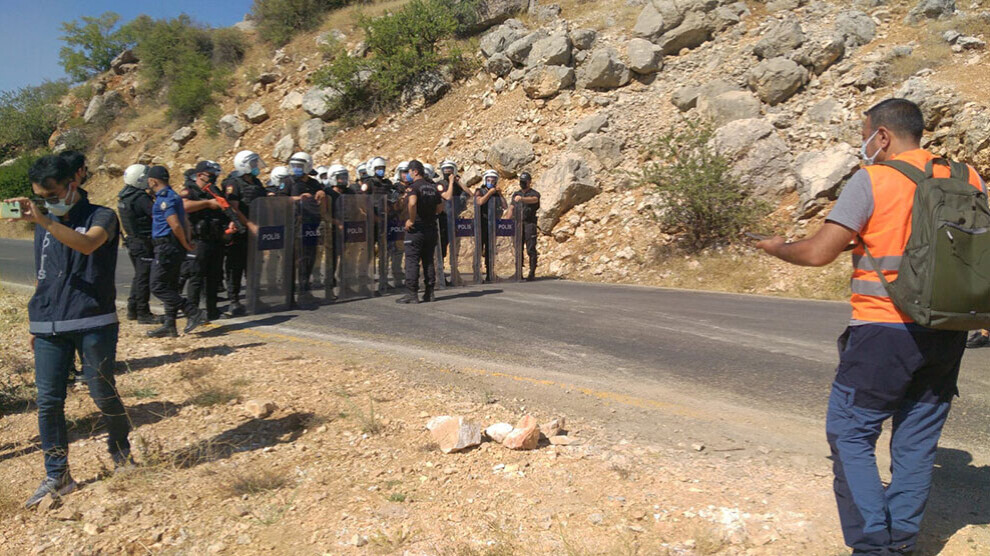 A wildfire that has been raging for days in Dersim threatens to spread to populated areas. Nevertheless, fire extinguishing measures are prevented by the Turkish military. Soldiers have set up a roadblock along the route and are not letting anyone through. The action is justified with "security reasons".
The fire in the district of Hozat had been ignited on Friday by artillery fire from helicopters in a rural area between the villages of Dereköy and Gedikler. Earlier, a guerrilla action against an armored vehicle occurred near the Amutka military barracks. The People's Defense Forces (HPG) had said that the Turkish army had carried out both air and ground attacks in the region in response.
In the meantime, the fire that has been raging for three days has now spread to the villages of Ormanyalı, Boydaş and Çakmaklı.
On Sunday, a delegation including representatives of the political parties and NGOs in Dersim, accompanied by local people, has left for the villages affected by the fire to extinguish it. The group was stopped by the police at the entrance of Hozat. Following a dispute with the police, the delegation managed to make it to the district. After talks between CHP deputies with the governor's office, the delegation was finally allowed to head to the area affected by the fire. The delegation, however, was stopped by soldiers near the village of Çaytaşı. Soldiers denied the delegation access to the region on the grounds that it was a "military restricted zone". The delegation had to leave the area in the wake of the obstruction.
Local people say that the fire was started deliberately by soldiers, noting that the affected area houses villages that were evacuated by the state during the notorious 90's and access to the region has been restricted for many years.