Turkish army preparations to use chemical weapons captured on video
The preparations of the Turkish army to use chemical weapons were captured on video on Werxelê Hill. Turkish soldiers are seen laying hoses that spray compressed air to release chemical gases into the war tunnel.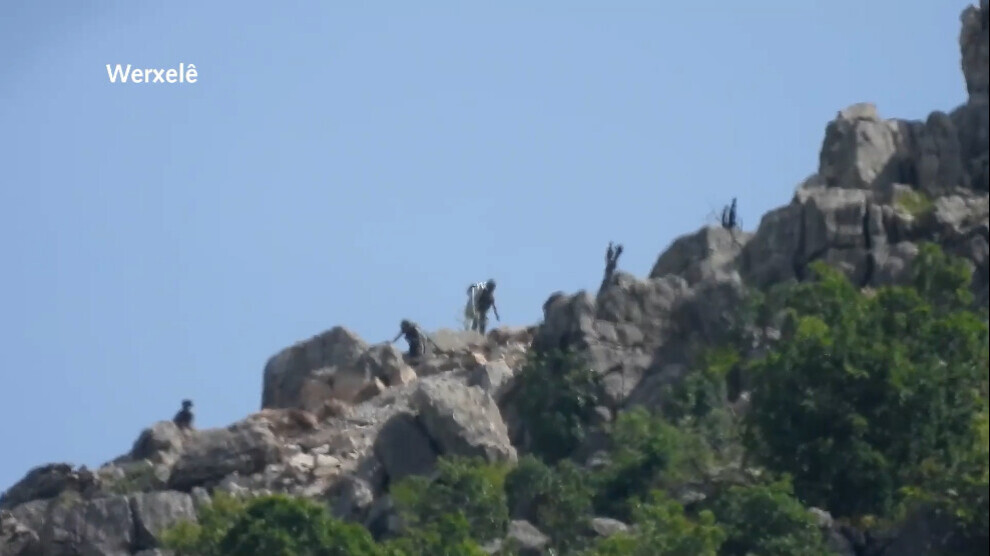 The Turkish army is using all kinds of chemical weapons in the invasion attack launched against the Kurdistan Freedom Guerrillas on Zap, Metina and Avaşîn on April 2022.
The invaders, who could not enter the war tunnels due to the resistance of the HPG-YJA Star guerrillas, use chemical weapons as well as rockets and bombs containing chemical gas.
The Turkish army ignores the rules of international war and uses these prohibited weapons. Soldiers were once again seen by the guerrillas in the region. In the new footage recorded under difficult conditions by the guerrillas, soldiers are seen preparing to use chemical weapons in the Werxelê War Tunnels.
Chemical gas used
While a few Turkish soldiers throw their bags near the entrance and openings of the resistance tunnels made by guerrillas, another Turkish soldier goes to the place where the bags were thrown, with a hose spraying compressed air in his hand. The soldier behind is following him with a large tube that he carries on his shoulder, which seems to be meters long. Then, the soldiers went behind a rock, prepare the materials in their hands and extend the hose downwards.
The soldiers are laying the hose to fill the guerrilla's positions and tunnels with chemical weapons. These images, taken while one end of the hose was extended into the tunnels and the other end on Werxelê Hill, is the most concrete document of the invading Turkish army's preparation to carry out a brutal massacre.
Every weapon used
Unlike previous years, the Turkish army used more intense and more diverse chemical weapons in this year's war, targeting the Zap region. These gases, which have the smell of bleach and chlorine after the explosion, are white or grey in colour and consist of chemical components that emit detergent smell.
According to the narrative of the guerrillas resisting in the tunnels, the Turkish army also uses another chemical weapon that sticks to the tunnels after firing and is reactivated when moved. The gases ignited by this chemical on hair and clothes leave a heavy smell and leave the inhaling guerrillas breathless.
In another video published in the ANF recently, a guerrilla speaking at the Martyr Berxwedan War Post said that the chemical gases used by the Turkish army here become active by mixing into the air again in the form of dust when the wind blows. According to the guerrillas, another yellow chemical gas in addition to pepper spray is used. Unlike others, this odourless gas causes exhaustion.