16 journalists arrested in Amed remain in prison
The 16 journalists arrested in Amed remain in prison as requests to have the arrest warrants lifted have been rejected. Lawyer Resul Temir says that the European Convention on Human Rights and the Turkish Constitution have been violated.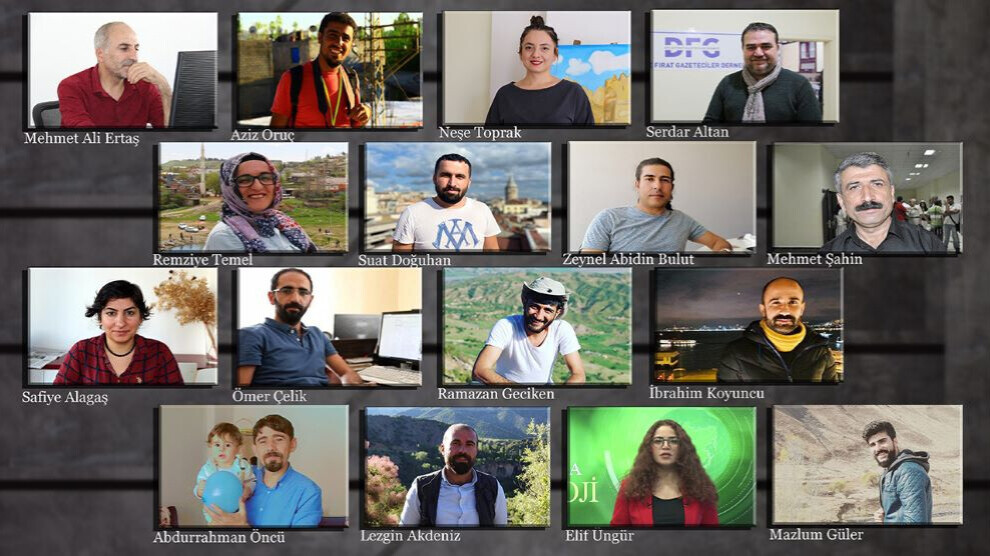 The district court of Diyarbakir has extended the pre-trial detention of the journalists arrested in mid-June for the second time. The decision was taken at a hearing of the 16 Kurdish journalists in front of the 5th criminal department of the district court.
Lawyer Resul Temur, who represents the journalists, called for the arrest warrants to be lifted and pointed out that the investigation file was only partially accessible after his clients' arrest, although no legal order had been issued. Accordingly, a complete examination of the files was not possible, which also contradicted the right to a fair trial as laid down in the European Convention on Human Rights.
The six-page arrest warrants were ready just a few minutes after the public prosecutor's hearing, says the lawyer. It was obvious that they had already been created before his clients appeared in front of the public prosecutor. The accusation made against the journalists that they would appear to be working for media outlets "in order to achieve the ultimate goal of the illegal organization" does not occur in criminal law and has no legal basis.
Those arrested are the director of the women's news agency JinNews, Safiye Alagaş, the co-chairman of the journalists' association Dicle-Firat (DFG), Serdar Altan, the editor of the MA news agency, Aziz Oruç, the two editors of the Kurdish-language newspaper Xwebûn, Mehmet Ali Ertaş, and Zeynel Abidin Bulut, presenter and former MA editor Ömer Çelik, presenters Neşe Toprak and Elif Üngür, cameramen Mazlum Doğan Güler, Ibrahim Koyuncu, Abdurrahman Öncü, Suat Doğuhan, Ramazan Geciken, Lezgin Akdeniz and Mehmet Şahin as well around Remziye Temel, accountant of Piya Production.