46 organisations demand freedom for Kurdish journalist Türfent
The International Press Institute (IPI), PEN International, Media and Law Studies Association (MLSA) and 43 other organisations marked the 1,500th day of Kurdish journalist Nedim Türfent's imprisonment calling for his immediate and unconditional release.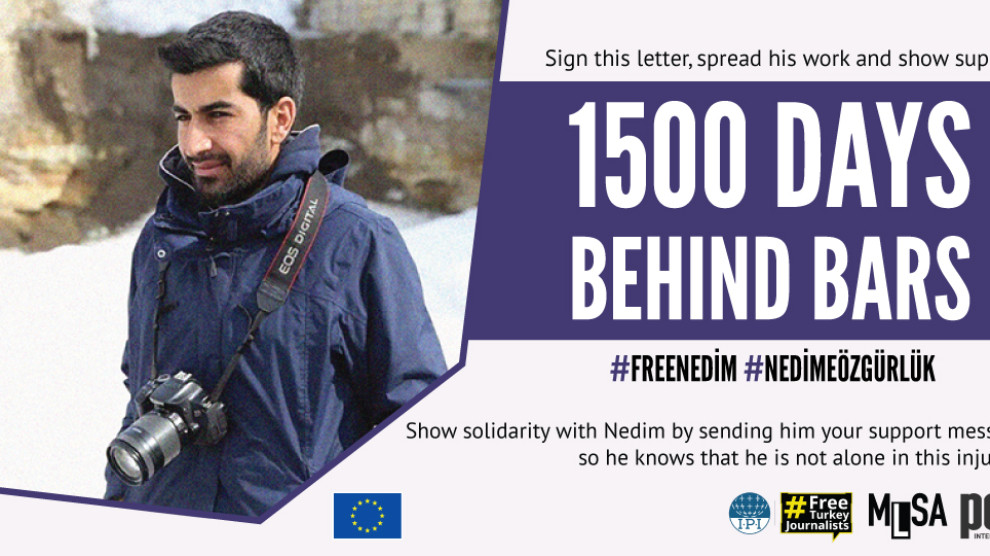 Journalist Nedim Türfent, who was predominantly reporting on the Kurdish issues, was detained on May 12, 2016, shortly after reporting on Turkish special police forces' ill-treatment of around 40 Turkish and Kurdish workers.
They were handcuffed behind their backs before being forced to lie on the ground in the south-eastern city of Hakkari in Spring 2016.
In video footage taken by Türfent and published by the now-shuttered pro-Kurdish Dicle News Agency, a police officer was seen shouting to the workers: "You will see the power of Turks!"
Right after the release of the footage, Türfent began receiving death threats from the police in the form of funeral photos. An online harassment campaign was launched against him in April 2016 including death threats and insults and anonymous or bot accounts asking about his whereabouts. 
One day after his arrest on May 13, 2016, Türfent was charged with "membership of a terrorist organization". The indictment was first produced 13 months after his arrest, at the first hearing on June 14, 2017. By that time, Türfent had already been jailed for 399 days.
Of the 20 witnesses called in the ensuing trial, 19 said that their initial statements against Türfent had been obtained under torture. Yet the court sentenced him to eight years and nine months in prison in December 2017. The judicial proceedings were quick by Turkish standards and amounted to a show trial intended to punish Türfent immediately for his truth-telling journalism. Türfent was denied the right to attend his own trial in person, one of many fair trial violations. On May 21, 2019, Turkey's Supreme Court of Cassation upheld his sentence. His case is now pending before the European Court of Human Rights.
June 21 marks 1,500 days that Türfent has spent behind bars, said the organisations calling "on Turkish authorities once again to stop this injustice."
Salil Tripathi, Chair of PEN International's Writers in Prison Committee said: "Nedim Türfent should never have been detained in the first place. Evidently, he is imprisoned for simply doing his job as a journalist, and he must be released, unconditionally and without delay."