DİSK Press organises journalists march from Ankara to Amed
DİSK Press organised a march from Ankara to Amed attended by many journalists to show solidarity with their arrested colleagues.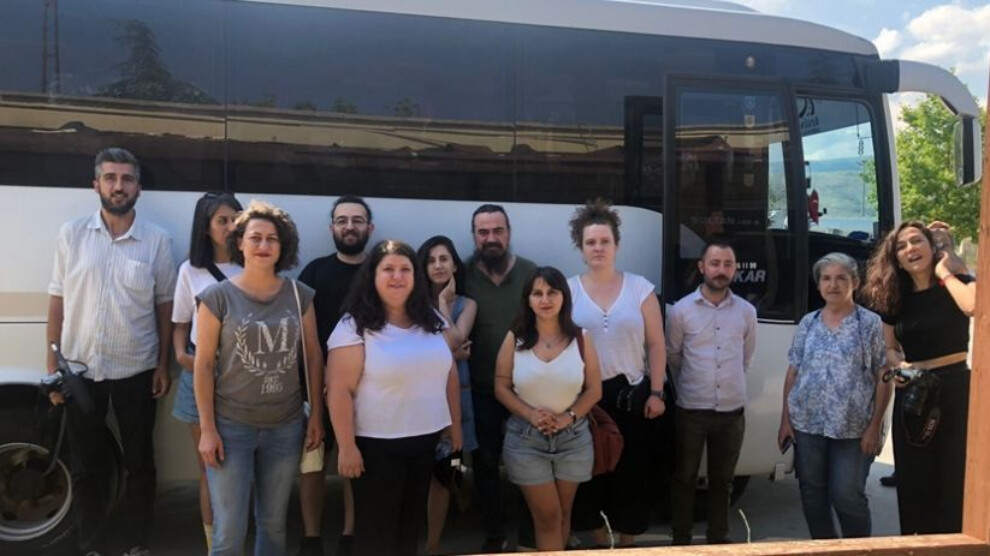 The journalists made a statement and said that the arrested journalists were not alone.
JINNEWS News Director Safiye Alagaş, Dicle Fırat Journalists Association (DFG) Co-chair Serdar Altan, Xwebûn Newspaper Editor-in-Chief Mehmet Ali Ertaş, Mesopotamia Agency (MA) editor Aziz Oruç, Ömer Çelik, Suat Doğuhan, Ramazan Geciken, Zeynel Abidin Bulut, Mazlum Doğan Güler, İbrahim Koyuncu, Neşe Toprak, Elif Üngür, Abdurrahman Öncü, Remziye Temel, Lezgin Akdeniz and Mehmet Şahin were taken into custody on 8 June and sent to prison on 15 June, while Gülşen Koçuk, Esmer Tunç, Mehmet Yalçın , Kadir Bayram, Feynaz Koçuk and İhsan Ergülen were released under judicial control measure.
After the arrest of the 16 journalists, many reporters attended the march organised by the Revolutionary Confederation of Workers' Unions (DİSK) Press. The journalists set out for Diyarbakır on Friday morning to show solidarity with their colleagues.
Journalist Derya Okatan described the arrest of 16 of her colleagues as a great unlawfulness. She added: "We could not remain silent about this unlawfulness, so we are going to Diyarbakır. We will visit Kurdish press organizations there. Journalism is not a crime. With these arrests, they try to prevent the voice of the Kurdish people from being reflected to the public. We will raise our voice against this and we are in solidarity with our arrested friends and we are going to Diyarbakır to show it."