Dersim Labor and Democracy Platform expresses solidarity with newspaper Evrensel
The Dersim Labor and Democracy Platform protested the cancellation of the right to publish official advertisements of the newspaper Evrensel, and called on the BİK to abandon its decision.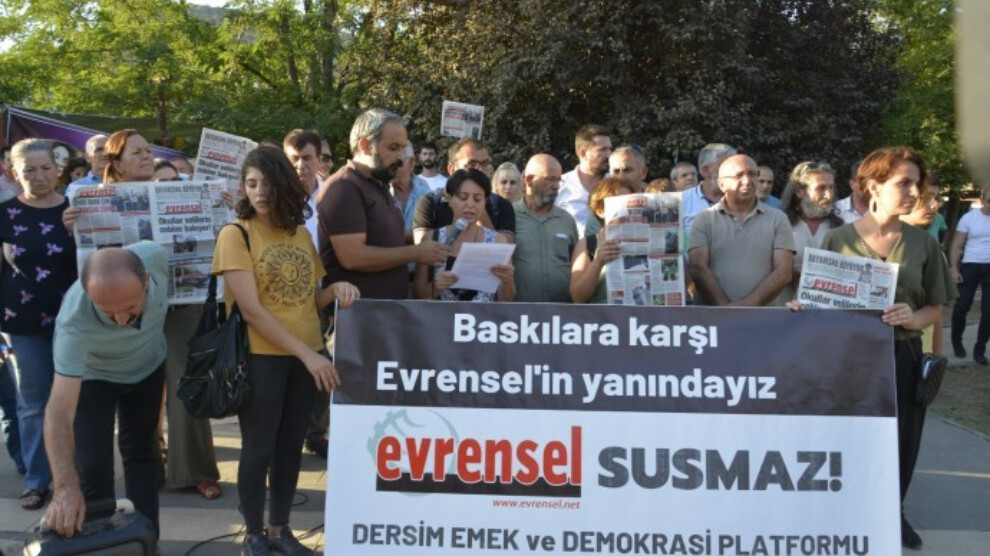 Dersim Labor and Democracy Platform made a press statement in Seyit Rıza Square regarding the Press Advertisement Agency (BİK) cancelling the right of the daily paper Evrensel to publish official advertisements. Peoples' Democratic Party (HDP) Dersim Deputy Alican Önlü and many people attended the statement.
Evrensel Newspaper's representative in Dersim, Orhan Kurul, drew attention to the solidarity given to the paper and said: "This solidarity is one of the most important things that keeps Evrensel alive. Since the first day we were founded, our newspapers were seized, our friends were arrested, our journalist, Metin Göktepe was murdered. But we, as Evrensel Newspaper, did not remain silent, and we will not remain silent now. We did not rely on the advertisement to live, and we will not rely on it in the future."
Suna Çelik, who read the statement on behalf of the platform, issued the following call: "If you think that you can silence the Evrensel Newspaper by cutting an advertisement, you are wrong! We call on the Press Advertisement Agency to abandon its decision, which causes a violation of rights against Evrensel Newspaper. We call on the public to support Evrensel even more, subscribe to it, and give a strong response to the BİK's attempt to strangle free press."