Diyarbakir 5th Criminal Court of Peace rules to keep Kurdish journalists in prison
Diyarbakir 5th Criminal Court of Peace decided to keep 16 Kurdish journalists who were arrested on 16 June in prison, following the monthly detention evaluation.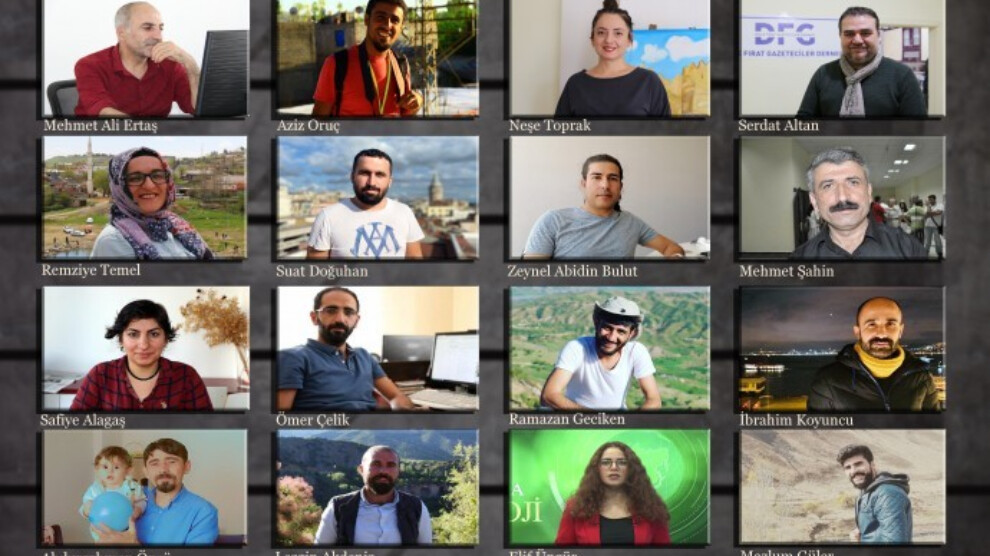 16 journalists who were sent to prison on 16 June on charges of "membership in a terrorist organization" are to remain in jail, said the Diyarbakır 5th Criminal Court of Peace, which made the monthly assessment.
Diyarbakir 5th Criminal Court of Peace found judicial control an insufficient measure for the journalists.
JINNEWS Editor Safiye Alagaş, DFG co-chair Serdar Altan, MA Editor Aziz Oruç, Xwebûn Editor-in-Chief Mehmet Ali Ertaş, Zeynel Abidin Bulut, Ömer Çelik, Mazlum Doğan Güler, İbrahim Koyuncu, Neşe Toprak, Elif Üngür, Abdurrahman Öncü, Suat Doğuhan, Remziye Temel, Ramazan Geciken, Lezgin Akdeniz and Mehmet Şahin were taken into custody in Diyarbakır on 8 June.
The journalists' lawyers later objected to the detention decision, stating that questions were asked about the reporters professional activities during the interrogation by the prosecutor's office and the judge's office, and that the journalists were arrested on charges of "being a member of a terrorist organization" when there was no concrete evidence.