Imprisoned journalists not released
None of the 14 journalists, 5 of whom were on remand, from the Ozgurlukcu Demokrasi newspaper were released in the hearing. Kibriye Evren, on trial in Amed, will remain in prison as well.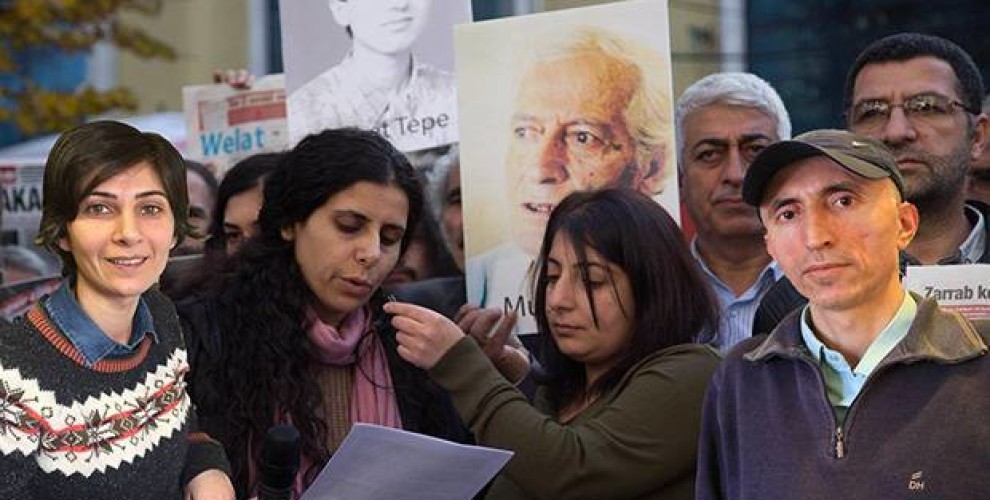 The second hearing for the case 14 journalists from the usurped Ozgurlukcu Demokrasi (Libertarian Democracy) newspaper was held in the Istanbul Heavy Penal Court No.23. Arrested journalists Hicran Urun, Reyhan Hacioglu, Mehmet Ali Celebi, Ishal Yasul and Ihsan Yasar attended the hearing, and Pinar Tarlak, Ramazan Sola, lawyers Muslum Kocaoglu, Ozcan Kilic, Nurensah Torunoglu and Tahir Enes Yosul were also present. Journalists, families, international committees and CHP Istanbul MP Sezgin Tanrikulu observed the hearing.
"WE WRITE THE TRUTH"
Reyhan Hacioglu said: "This is journalism on trial in our person. This is a blow against freedoms of thought and expression. All our articles are based on facts. We are journalists of truth.
Hicran Urun said: "When there is such terrorization of everything, I am led to believe that the government has a governance problem."
Ishak Yosul, Mehmet Ali Celebi, Ihsan Sayar and Ramazan Sola said they are on trial for being journalists and demanded their release.
After the defenses, Lawyer Ozcan Kilic spoke and said there is no evidence in the digital materials, and added that the case is unlawful.
The court council ruled for the continuation of the journalists' arrest, and set the next hearing for February 21, 2019.
CONTINUATION OF ARREST FOR EVREN AS WELL
Imprisoned JinNews editor Kibriye Evren had her first hearing on the case against her for "membership to a terrorist organization" and "terrorist propaganda" in the Diyarbakir Heavy Penal Court No.5. The court ruled for the continuation of Evren's arrest.