Journalists at JinNews: We will not be intimidated
After the arrests of several journalists and the raids of the news agency JinNews, media workers are determined not to be intimidated.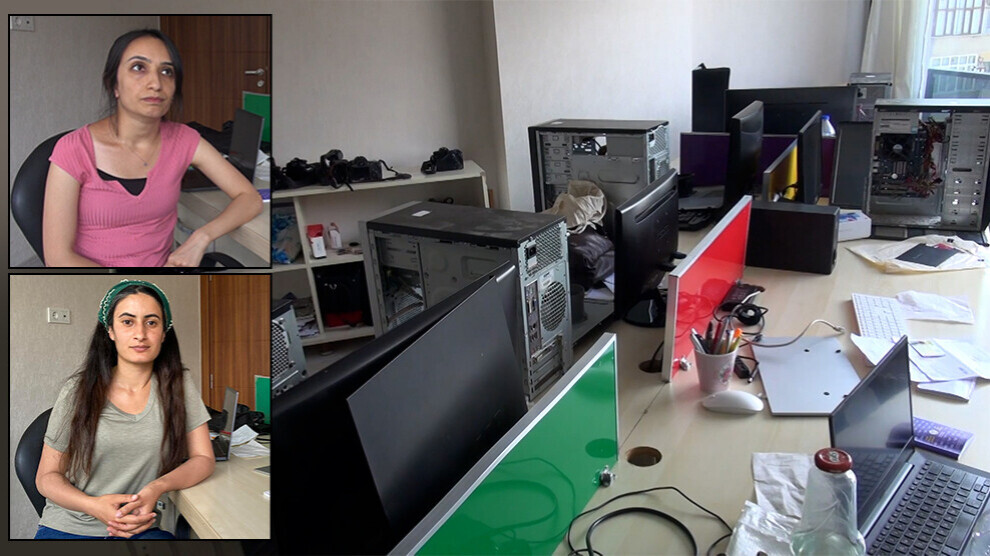 On Wednesday, the office of the women's news agency JinNews in Amed was raided and its director, Safiye Alagaş was taken into custody together with editor Gülşen Koçuk.
The repression was part of an arrest operation targeting the Kurdish press.
Also arrested in the raids were Serdar Altan (co-chair of the Journalists' Association Dicle-Firat, DFG), Aziz Oruç (Editor at Mezopotamya News Agency, MA) and journalists Ömer Çelik, Suat Doğuhan, Ramazan Geciken, Berivan Karatorak, Esmer Tunç, Neşe Toprak, Zeynel Abidin Bulut, Mazlum Doğan Güler, Elif Üngür, Ibrahim Koyuncu, Remziye Temel, Mehmet Ali Ertaş and Mehmet Şahin arrested in Amed.
Journalists Feynaz Koçuk in Gebze while Lezgin Akdeniz and Kadir Bayram were arrested as part of the same operation on their way to Amed.
Important technology confiscated
JinNews journalist Şehriban Aslan spoke about the raid. "The agency's door was opened by a locksmith in the presence of the janitor. When we went in, we saw that all of our computers had their hard drives and motherboards dismantled and taken away. Apart from that, the editions of the newspapers Xwebûn and Yeni Yaşam and the magazine Jineolojî were confiscated. Two computers used to edit were also confiscated. Such a picture presented itself to us when we got to the office early. We already know that it is not legal to raid an office without telling those in charge."
"We will never give in"
JinNews journalist Şirin Çınar said the repression is an attack on the women's press in particular. The government is disturbed by this. She said these attacks are not a new development either and explained: "Parallel to the attacks on the Kurdish people there is also repression and attacks on the Kurdish media. These attacks are not the first. There is not even any information on why the journalists were arrested."
Çirin added: "Dozens of times our website has been blocked. This repression continues. We, as JinNews journalists, will never give in. Repression will not intimidate us. As long as we exist, we will not put down the pen, and we will continue to unveil the truth for women along this path."