Journalists file a criminal complaint against violent police officers
Journalists Elif Bayburt (ETHA) and Doğan Kaynak (MA) filed charges in Istanbul for police violence they suffered while observing a rally. Both declared that they would continue to report on the resistance in Turkey.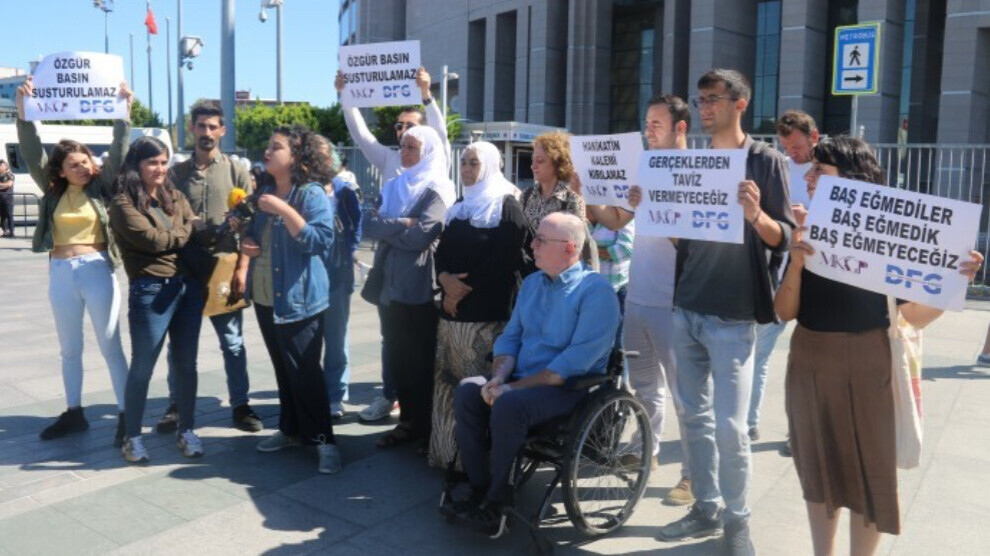 Journalists Elif Bayburt and Doğan Kaynak filed a complaint at Istanbul's Çağlayan Palace of Justice over police violence suffered while observing a rally. ETHA correspondent Bayburt was violently detained by prisoners in the Kartal district of Istanbul on 3 September, and her colleague Kaynak from the Mezopotamya News Agency (MA) was beaten by police officers.
Bayburt and Kaynak made a statement on their criminal complaint in front of the court building. They were joined by colleagues, the Dicle Fırat Journalists' Association (DFG) and the Platform of Women Journalists in Mesopotamia (MKGP), as well as by HDP MP Musa Piroğlu and the prisoners' relatives whose rally they had attended last week to report. The journalists and their supporters held signs calling attention to their cause: "The free media will not be silenced" and "We will not compromise on the truth".
"We will continue to report on the resistance in this country"
Elif Bayburt explained that this was not the first time she had experienced police violence. Especially recently, there have been massive attempts to prevent journalists from doing their work. The police are acting on behalf of the political rulers and are using violence, threats and arrests to prevent independent media workers from reporting. The events of the past week are just one example of the general trend in Turkey. "Dozens of our colleagues are in prison, we face arrests, violence and death threats every day at our work. However, we will never be intimidated by this. As long as there is resistance in this country, we will continue to report on it as free media professionals," said the ETHA journalist.
Doğan Kaynak also spoke about the increasing violence against journalists in Turkey and pointed out that the relatives of political prisoners are also regularly mistreated when they want to draw attention to the conditions in Turkish prisons that violate human rights: "In Amed, 16 of our colleagues have been arrested, but we will never give up and we will continue to report on the cause of the mothers of prisoners."