Journalists in Amed demand the release of 16 colleagues detained without charge for nine months
Journalists' associations in Amed demanded the immediate release of 16 colleagues who have been in pre-trial detention without charge for nine months.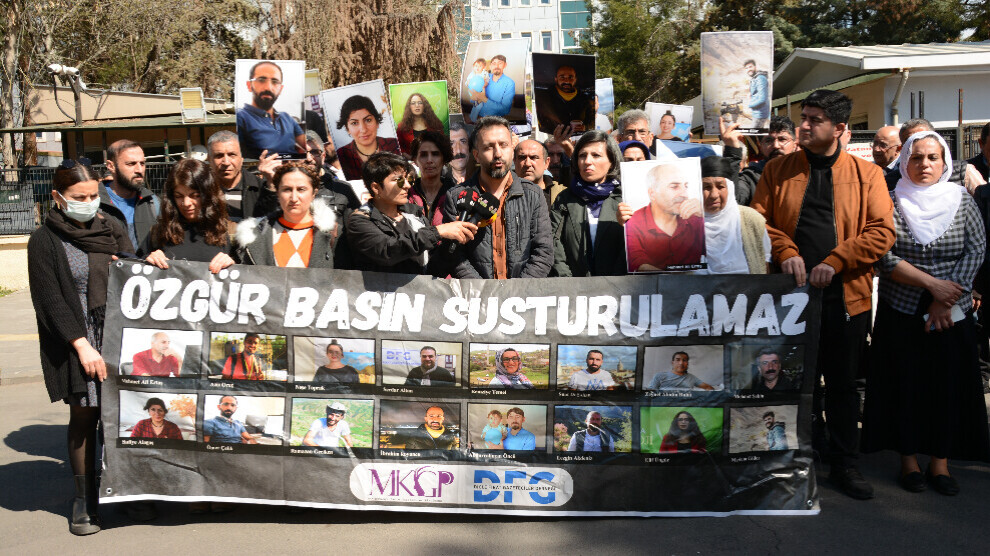 In Turkey, 16 Kurdish media workers have been in pre-trial detention without charge for nine months. Their colleagues called attention to this today in front of the court building in Amed (tr. Diyarbakir). The rally was organised by the Mesopotamia Journalists' Platform (MKGP) and the Dicle Firat Journalists' Association (DFG). Relatives of the detainees and HDP politicians Remziye Tosun, Gülistan Atasoy and Zeyyat Ceylan also took part in the protest.
Those detained are the director of the women's news agency JinNews, Safiye Alagaş, the co-chair of DFG, Serdar Altan, the editor of the Mezopotamya News Agency (MA), Aziz Oruç, two editors of the Kurdish-language newspaper Xwebûn, Mehmet Ali Ertaş and Zeynel Abidin Bulut, the presenter and former MA editor Ömer Çelik, presenters Neşe Toprak and Elif Üngür, cameramen Mazlum Doğan Güler, Ibrahim Koyuncu, Abdurrahman Öncü, Suat Doğuhan, Ramazan Geciken, Lezgin Akdeniz and Mehmet Şahin, and Remziye Temel, accountant of Piya Production. The media workers were arrested on 8 June 2022 in a large-scale operation. During police interrogation, they were accused of being members of the Kurdistan Workers' Party (PKK). To date, no indictment has been issued.
At Thursday's rally in Amed, a joint statement by the MKGP and DGF was read out in Kurdish and Turkish, denouncing the excessive length of pre-trial detention. The statement said that pro-government media reported after the arrests that the analysis of wiretap transcripts amounting to eighty hours had revealed a link to the PKK. "However, it is obvious that the prosecutor could not establish an organisational link from this and is now looking for other digital documents," the statement said.
"Our 16 colleagues must be released from pre-trial detention immediately. The nine-month detention period has become imprisonment without sentence. We know that this situation is not independent of the political rulers who have cracked down on people in the run-up to the elections. We appeal to the prosecutors and judges: stop following the orders of the government that exists today and will not exist tomorrow, turn back from this mistake and abandon this unjust and unlawful practice. Do not put journalists on trial just because they do not report in conformity with the government. Release our 16 colleagues immediately and prepare the indictment. The pen of truth must not be twisted by obstruction, arrest, investigation and trial. Journalism cannot be prosecuted," said spokespersons Cuma Daş and Roza Metina.
The protest ended with the slogan "The free press cannot be silenced".