Journalists rally in Istanbul for colleagues behind bars
Journalists staged a march hand in hand and shoulder to shoulder demanding the release of their jailed colleagues, with the support of HDP and CHP members of the parliament in the very forefront.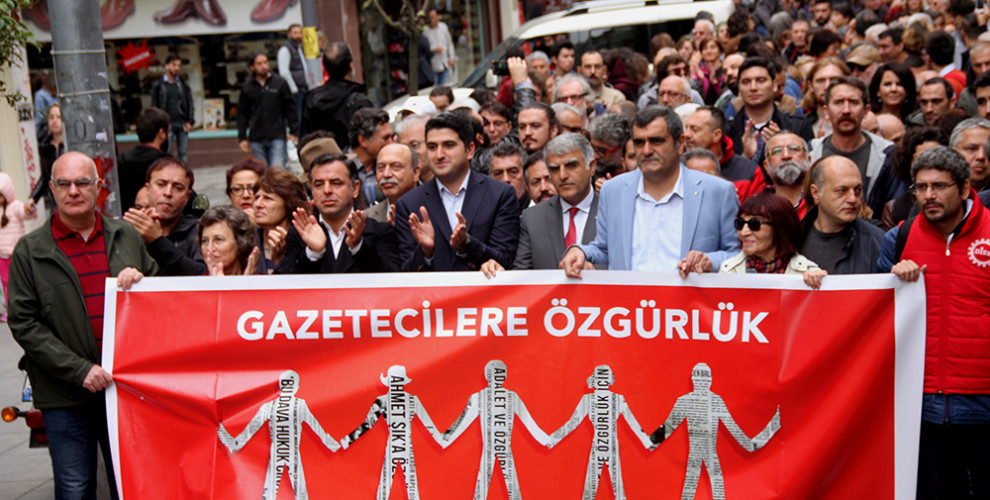 The 'Journalists Outside' group gathered in Kadıköy, Istanbul and staged a march in solidarity with journalist Ahmet Şık, who is imprisoned for 300 days, and all jailed colleagues.
Peoples' Democratic Party (HDP) MP Filiz Kerestecioğlu, Republican People's Party (CHP) MPs Barış Yardakaş, Ali Şeker, journalist Ertuğrul Mavioğlu, Evrensel daily chief editor Fatih Polat, DİSK (Confederation of Revolutionary Trade Unions) Press branch President Faruk Eren and theater artist Gülriz Sururi also joined the march in the very forefront. Banners raised by the demonstrators read "Free journalists", "Enough with the opposition hunt", "Journalism is not a crime", "Free press, free country", as well as photographs of journalist Ahmet Şık.
The statement on behalf of the journalists was read out by Gülşah Karadağ who stated that they have gathered and walked once again today, hand in hand and shoulder to shoulder for freedom and justice. Karadağ said they saluted their imprisoned colleagues "who are held behind bars for tearing down the curtains that are put up before the truth", proud of them and their existence.
Gülşah Karadağ stressed that; "Nobody will ever be free as long as dozens of journalists remain behind bars. The intention behind the imprisonment of journalists is to hide the truths, to prevent the lies to be exposed and brought to light, to trample rights, laws and justice, to pave the way for torture, to make it be forgotten why our children are being slaughtered, to not let the murderers to be brought to justice, to silence the scream of women, to cover up the corruptions."
Calling attention to the cases against Cumhuriyet and Özgür Gündem newspapers, Karadağ called on all journalists to continue to voice the demand for the freedom of dozens of jailed journalists.
Karadağ put emphasis on the importance of being hand in hand and shoulder to shoulder to stop tyranny and to achieve democracy, and called for solidarity with journalists during the hearing to be held at Çağlayan Courthouse on October 31.