Journalists working in South Kurdistan: We are threatened by the KDP and the Turkish state
Free press workers operating in South Kurdistan said that they were threatened by the KDP and the Turkish state.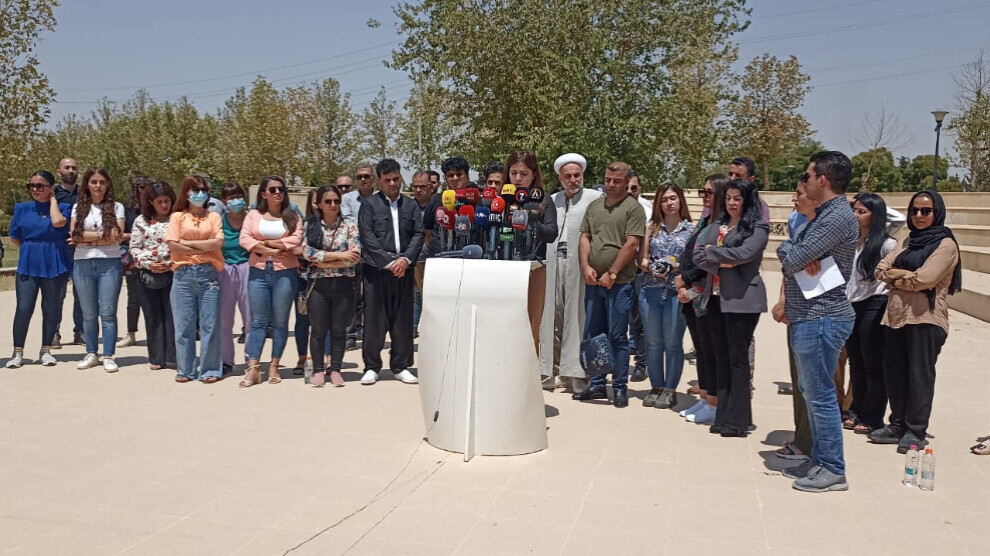 Free press workers operating in South Kurdistan for Rojnews and CHATR Media Group held a press conference with the Kurdistan Journalists Union and Metro Journalists Center to expose the threats they are subjected to by the Turkish intelligence organization MIT and KDP intelligence organization Parastin.
The press release was read by Sinur Rahman: "As free press workers living in South Kurdistan, we carry out journalistic activities within the framework of journalistic ethics and laws. The duty of journalists is to expose corruption, social service deficiencies, contradictions and conflicts affecting society, and to raise awareness by informing about the current [Turkish army] occupation.
More than 70 journalists work for Rojnews News Agency and CAHTR Media Group. They are permission documents obtained from the relevant ministries in both Iraq and the Kurdistan Region. No journalist has an official problem. All legal requirements for journalism have been met. Journalists face major obstacles in the Kurdistan Region, especially in areas under the control of the KDP. This is against human rights and Article 35 of the journalism law, which was drafted in the Kurdistan Region Parliament in 2007."
Threats and attacks against those who don't accept betrayal
The statement continued: "So far, 80 journalists and activists have been arrested in the Behdinan Region. Freedom of the press is being narrowed down in the Kurdistan Region. Journalists such as Vedat Hüseyin and Kawa Germiyani have been killed.
Parastin, the intelligence agency of the KDP, together with MIT (Turkish intelligence service) demand free press workers to sell their journalistic ethics in exchange for some money and material things. If they refuse, they are exposed to psychological violence. Free press workers do not accept betrayal. Just as the invading Turkish state threatens, kills and arrests journalists, today the government in South Kurdistan acts in the same way.
The main reason for the attacks and pressure against free journalists is that they expose the Turkish invasion attacks and the collaboration of the KDP in these attacks."
The statement added: "All public and media organizations should know that the pressure on journalists working for Rojnews and CHATR Media Group is an attack and threat against all of them. We inform the Iraqi government, the Kurdistan Region government, international organizations, and human rights institutions here: KDP, Turkish MIT, Kurdistan Region security forces and the Iraqi government are responsible for every threat to the lives of free press workers. KDP sources also targeted us."
The statement ended with the following words: "As free journalists, we say once again that no threat or attack can deter us from our path. The attacks will actually prompt us to expose more corruption, occupation and betrayal. The truth will never be hidden!"