Kurdish press will continue to work and speak out!
Almost in complete silence, 16 journalists have been sent to prison in Turkey as suspected terrorists. MA editor Sedat Yilmaz explains that the Kurdish media continue their work despite the repression.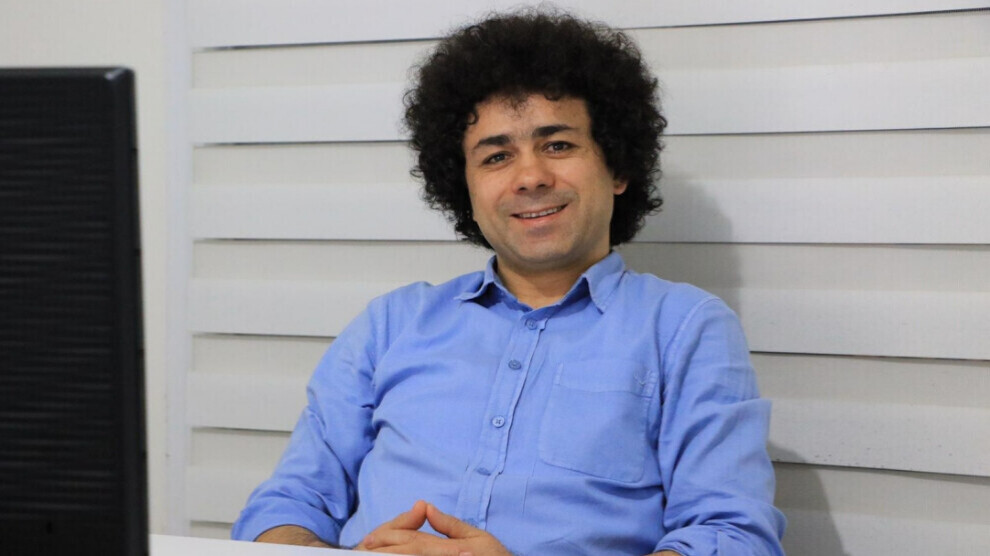 On 8 June, 22 people, including 20 journalists, were taken into custody in Amed. 16 of them were sent to prison. The chief editor of the women's news agency JinNews, Safiye Alagaş, the co-chairman of the journalists' association DFG, Serdar Altan, the editor of the news agency Mezopotamya (MA), Aziz Oruç, the editor-in-chief of the magazine Xwebûn, Mehmet Ali Ertaş, journalists Ömer Çelik, Zeynel Abidin Bulut, Mazlum Dogan Güler, Ibrahim Koyuncu, Neşe Toprak, Elif Üngür, Abdurrahman Öncü, Suat Doguhan, Remziye Temel, Ramazan Geciken, Lezgin Akdeniz and Mehmet Şahin were sent to prison.
JinNews editors Gülşen Koçuk and Esmer Tunç, as well as Mehmet Yalçın, Kadir Bayram, Feynaz Koçuk and Ihsan Ergülen were released under judicial control.
All journalists are accused of membership in a terrorist organization.
MA editor Sedat Yilmaz spoke to ANF about the arrests in Istanbul. He said there has always been repression against Kurdish media. Although this differed in its expression depending on the time and political period, in principle each period learned from the previous one. "The repression against the Kurdish press and institutions has only adapted to the different circumstances of the time, but basically every time it has simply repeated the violence learned from the previous periods. The reason for the current repression lies in the failure of the Turkish military operation in South Kurdistan and in the fact that they want to clear the way for a possible military operation in Rojava. The goal is to silence the Kurdish media. The voice of the Kurds should be silenced and Kurds should be isolated from the world. In addition, in the run-up to the next elections, the democratic bloc that supports the Kurds is to be silenced and smashed. They try to prevent the spread of news about femicide, labor exploitation and racism."
The arrested journalists were asked about their news
After a week in police custody, the journalists were questioned by the public prosecutor's office. Yilmaz said: "Our colleagues were asked about the content of the news they had written, about telephone calls to their sources, about the publishers' policies they work for and the language of their reporting. For example, one of our colleagues who works as a cameraman was asked what kind of programs he would record. A colleague who used to work as a cook was asked from whom and how she got the money."
Even a broadcast about a campaign by world-renowned musician Roger Waters for imprisoned Kurdish musician Nûdem Durak was classified as a crime, Yilmaz said, adding: "It was also alleged that reports about the KCK leadership included instructions which the journalists would have reported. The files also contain old allegations, such as reporting on the take-off of fighter planes in 2009. Ömer Çelik was asked why he covered topics such as the isolation of Abdullah Öcalan and the assimilation or suppression of the Kurdish language."
Kurdistan as a laboratory for anti-democratic practice
The anti-terror legislation has been hanging over the Kurdish media like the sword of Damocles for many years, Yilmaz said, adding: "No one wanted to hear or see our objection, because the Kurdish press is primarily affected. If a censorship law is passed in Parliament today, the last free voices will also be silenced. An attempt was made to create a 'rose garden without annoying thorns'. We said it in the past and we still say it today: Kurdish areas are used as a laboratory for anti-democratic practices, they are tested there and then deployed nationwide. And we are experiencing that now. Those who have always claimed freedom of expression only for themselves now realize that it is their turn, but now it is too late for them."
Sedat Yılmaz emphasized that despite the pressure, MA and the other Kurdish media will continue to publish news: "The Kurdish press comes from a tradition that has been through a lot of bad things. Not only arrests. More than 50 media workers have been shot dead, publishing houses have been blown up, but the unswerving tradition of resistance is finding its own way. If there is no way left, we will make a new one. Today we are up to the task and our experience makes us stronger against authoritarian regimes and anti-democratic practices. My colleague Ömer Çelik said on the way to prison: 'You now carry our burden.' These words guide us."