Morning Star editor tells of his Turkish detention ordeal
Steve Sweeney, the editor of the English newspaper The Morning Star, has written an article about his Turkish detention ordeal.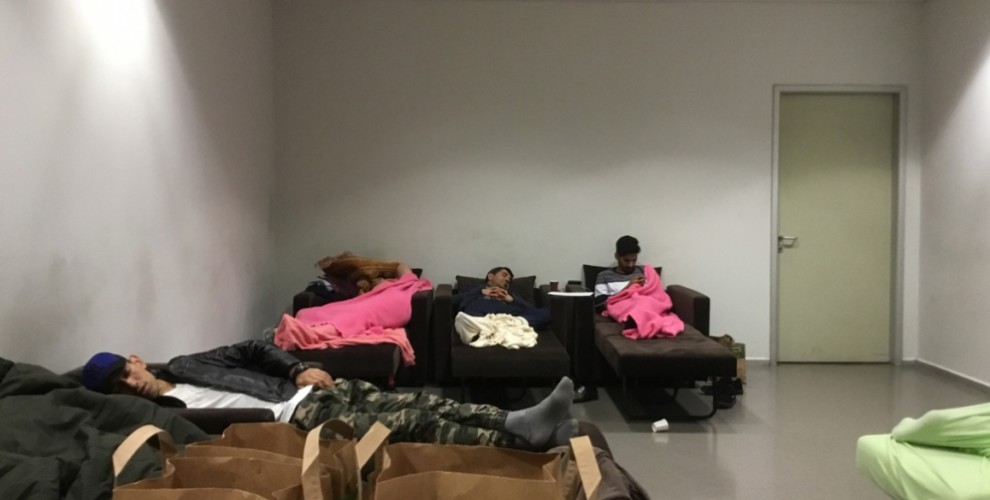 Sweeney wrote: "My anticipated detention came shortly after my plane landed at Istanbul's Sabiha Gockcen airport — named after Kemal Ataturk's adopted daughter.
A police officer grabbed my phone out of my hand and bundled me into a holding area next to their office. The tiny smoke-filled room was already packed when I arrived. The 18 men looked puzzled and surprised at my arrival — I was the only person of non-Turkish or Middle Eastern appearance."
Sweeney continued: "I was photographed and forced to unlock my phone, making me nervous for the safety of others, despite taking stringent security measures prior to leaving London.
But it made me feel violated and vulnerable. I am sure they have bugged my phone although I'm also sure that I have been monitored by Turkish security services for some time already.
I was at no stage informed as to the reasons for my detention, nor was I told what was happening. I was unable to communicate with anybody to let them know what was happening and was not allowed to contact the British consulate, despite it being my legal right.
Unbeknown to me, friends on the outside had contacted the consulate and lawyers in Istanbul. But they too hit a brick wall as police denied that I was being held.
They were alerted when friends from the People's Democratic Party (HDP) said I hadn't arrived on my plane to Diyarbakir. It was at this moment I was listed as a missing person."
The journalist continued: "My interrogation was brief and incompetent. After being asked some questions about what my intentions were in Diyarbakir, who I worked for and what my job was, they brought in a more senior officer to grill me further.
He opened by asking what I thought of Kurdish people. The subtext of his question was clear and gave an insight into the mindset of the Turkish state. I responded by saying that they were human beings, the same as everyone else and deserved to be treated as such."
Sweeney went on: "Later during the interrogation he asked me who Abdullah Ocalan was. I said most people know who he is and asked what he was getting at, knowing full well he was trying to link me to support for the Kurdistan Workers Party (PKK).
He told me it was a terrorist organisation, banned in Turkey and proceded to list its many crimes. The reality was he was trying to link the PKK with the HDP — exactly what Erdogan has done in an attempt to rally opposition to the party and encourage violent attacks against it, often successfully.
The officer said MPs from the HDP had attended the funerals of suicide bombers and were instructing them to carry out attacks on Turkish citizens — none of which was backed by evidence.
More bizarrely he claimed that the HDP was instructed by Abdullah Ocalan — I questioned this as he has been jailed in isolation since 1999. However he claimed that Ocalan was sending messages to them through his lawyers."
Sweeney was "then locked in a holding cell with around eight other men. Among their number included an Azeri, an Iraqi Kurd, three Turkmen, an Egyptian and two Saudi jihadists who seemed to want to kill me.
Finally I was called and told I was being sent back to London, again without being told why. I was escorted onto a Pegasus plane and boarded alone before the other passengers. I was still not allowed my phone or passport which were eventually handed to me by counter-terror police when I landed at Stansted airport in the early hours of this morning.
The paperwork said I was stopped from entering Turkey as I was deemed a national security threat — despite no evidence being offered as to the reasons for this decision. Turkish police had used Law No 6458, the same that saw two members of the French Communist Party suffer a similar fate last week.
My visa was also cancelled and I was told that I would not be able to enter Turkey again without permission from the embassy — effectively banning me from the country."
Sweeney ended his article by saying: "Despite the threats and intimidation, I will not be silenced. I will continue to speak out about the crimes against freedom and democracy committed by the Turkish state. As a journalist it is my duty to shine a light in dark places."
The full text of the article can be read here