Sputnik journalists go on strike
Workers at Sputnik went on strike against poor working conditions and layoffs.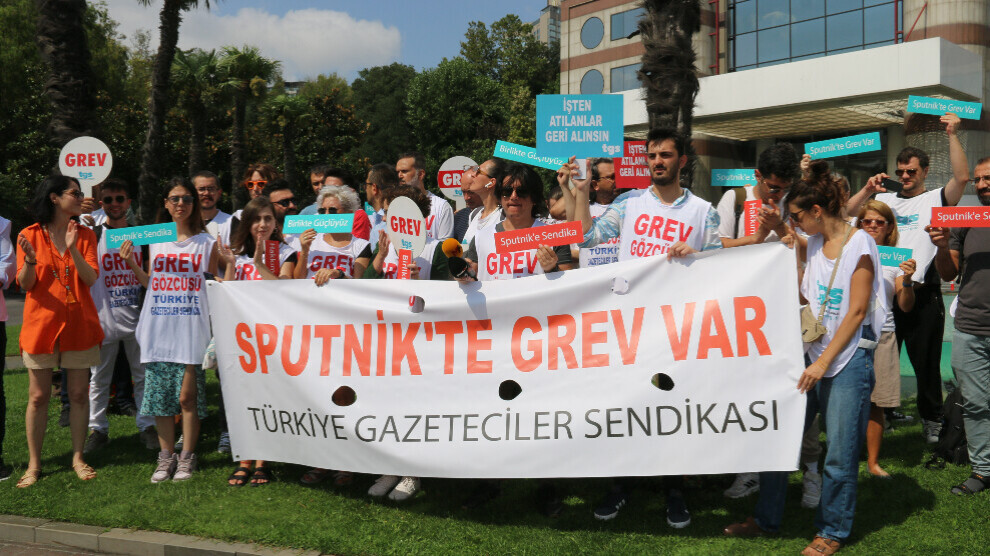 Workers at Sputnik went on strike on Thursday. The action was organized by the Turkish Journalists' Union (TGS), after the failure to reach an agreement in the collective bargaining negotiations between the TGS and Rossiya Segodnya International News Agency (Sputnik) Turkey Bureau.
The employees made a press statement in front of Süzer Plaza in Şişli. The executives of the Confederation of Turkish Trade Unions (Türk-İş) and many journalists attended the press statement.
TGS chair Gökhan Durmuş stated that they work to improve the conditions of their members. However, Sputknik dismissed 24 of their staff. Drawing attention to the economic crisis in the country, Durmuş said that the wages received by the journalists were so low that they could hardly cover two weeks' expenses.
'Nothing is more valuable than solidarity'
Addressing those who continue to work despite the bad conditions, Durmuş said: "Whatever you are given or offered has the only aim to break this strike. Your place is on the side of the working class, of your friends who are on strike. No office or money is more valuable than professional solidarity. I call out to my non-permanent colleagues who continue to work: Don't be a scab. This does not fit into morality, law, or professional principles."
Durmuş addressed Sputnik listeners and readers and called for solidarity by not leaving the journalists alone.