The State targets serious and real journalists
Speaking about the arrest of their colleague, Aziz Oruç, journalist organizations stated that the state targeted serious and real journalism.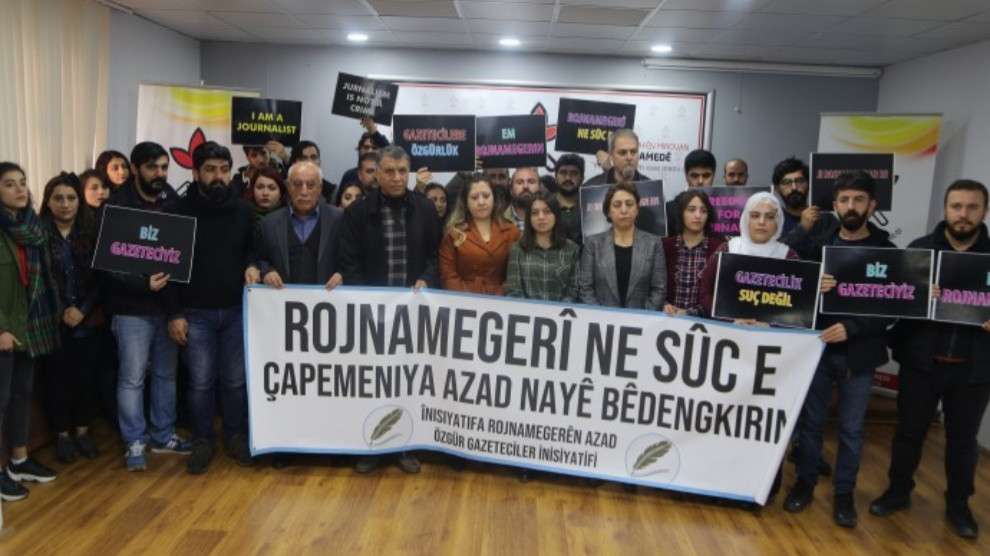 Mesopotamia Women Journalists Platform (MKGP), Free Journalists Initiative (OGD) and the Journalists Union of Turkey (TGS) Amed Representative, organised a meeting in solidarity with journalist Aziz Oruç, who was detained in Ağrı. The meeting was held at the IHD Amed Branch.
The press conference was attended by representatives of journalist organizations, Oruç's family, co-chair of the Democratic Regions Party (DBP) Saliha Aydeniz, Peoples' Democratic Party (HDP) MPs Dersim Dağ, Remziye Tosun.
'INTERNATIONAL CRIME COMMITTED'
MKGP spokeswoman Ayşe Güney said: "An international crime has been committed in the person of Aziz Oruç because he was tortured for days in Armenia, even though he demanded political asylum there, his request was rejected. Then he was delivered to Iran and left to die at the border. Aziz Oruç was thrown half-naked at the border wires. Aziz Oruç was left to die."
Stating that Oruç is a witness to journalism, Güney said: "I worked with him. I learned a lot from him. Oruç and those held with him should be released immediately."
'THE STATE TARGETS REAL JOURNALISTS'
ÖGİ spokesperson Hakkı Boltan stated that journalism is considered a crime by the authorities and stated that "SETA has released a research aiming at opposition. Operations continued to target journalists. The government created its own journalists and attacks real and serious journalists."
TGS Representative Mahmut Oral reminded that journalist Oruç was shown as a target.
Oruc's wife Hulya Oruç demanded the release of her husband, who, she said, is committed to real and honest journalist and for this he is being discredited.
HDP MP Saliha Aydeniz said that there are journalists trying to reveal the truth in a very tough time for democracy.