Trial against 18 journalists continues today
The first hearing of the trial against 18 journalists continues today in Amed.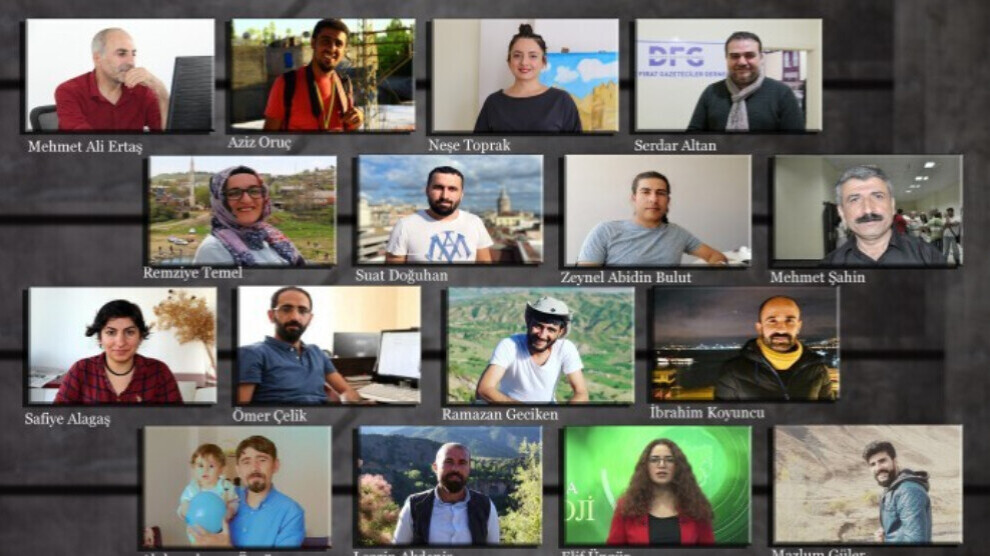 The first hearing of the case in which 18 journalists - 15 of whom are imprisoned - are standing trial, began today at Diyarbakır's 4th Heavy Penal Court.  
The hearing continues today. On Tuesday, journalists Ömer Çelik, Mehmet Ali Ertaş, Serdar Altan, Mehmet Şahin, and Zeynel Abidin Bulut (all in jail) made their defense  in Kurdish and said that on trial are the Kurdish press, Kurdish journalism, and the media that speak about the Kurdish issue. 
Serdar Altan: This is a special operation
After the summary of the indictment was read out, Serdar Altan, the co-chair of the Dicle Fırat Journalists Association (DFG), spoke for 45 minutes. He talked about the pressure against the press from the Ottoman period until today. Reminding Hasan Fehmi, killed on 6 April 1909, he said that journalists have always been under threat in this region. 
"Those who did not accept the existence of Kurds and the Kurdish press in those days, do not accept it today."
Altan said that they were detained on 8 June 2022, and remanded in custody a few days later. He added that he and his friends were unjustly detained while making preparations for commemorating their journalist friend Hafız Akdemir, killed by Hizbullah on 8 June 1992. 
Altan continued: "The fact that we have been taken into custody on the day our friend was killed shows that this was a special operation. This is not an ordinary operation. They have assigned a special prosecutor. Our detention period was extended to 8 days. A confidentiality order was imposed on the case file. The police came and did not leave the institutions where we work for one month. Journalism equipment and materials were seized and considered as elements of crime."
Altan added:"We came to the court not to give an account, but to call you to account. Why have you kept us away from our beloved, from the streets, from our occupation for 13 months?" 
Ömer Çelik: News programs considered criminal offence
Journalist Ömer Çelik also defended himself in Kurdish. He said that they do not accept the accusations and added: "I want to talk about what the indictment includes. Is broadcasting a program a crime? The prosecutor has pointed to the term "ethnic." All the six programs mentioned in the indictment are related to discussions on the Kurdish problem."
Çelik continued: "Broadcasting in our native tongue is a crime, according to the prosecutor. However, this is a global right. I have made many programs but six of them have been included in the accusations. Many of them cover the issues discussed throughout Turkey. It is a program that many politicians in Turkey have attended. How can it be a criminal offense?"
Bulut: Kurdish journalists exposed massacres
Zeynel Abidin Bulut also defended himself in Kurdish. He said that if it was not for the Kurdish journalists, none of the massacres such as that of Ceylan Önkol, Uğur Kaymaz, or Roboski would be known. These were all proven by the Kurdish journalists, Bulut told the court and said that "this was what was disturbing the government and the state."
Mehmet Ali Ertaş: On trial is the entire Kurdish people
Mehmet Ali Ertaş also defended himself in Kurdish and said: "We are here today because of the news programs we made in Kurdish. There is a single newspaper in Kurdish and it is standing trial here today. This means that it is the value of the Kurdish people that are standing trial here. We are being told that we cannot defend the values of our people." 
Journalist Mehmet Şahin, also a teacher dismissed after the attempted coup of 15 July 2015, spoke in Kurdish and said: "I am here speaking my mother's language. Kurdish journalists are suffering oppression as usual. The prosecution has taken on the task of eliminating Kurdish journalism."