Women journalists in prison send message: Solidarity makes us strong
The women journalists sent to prison along with 12 of their friends on 16 June, said that they were in good morale and were motivated in a message they sent.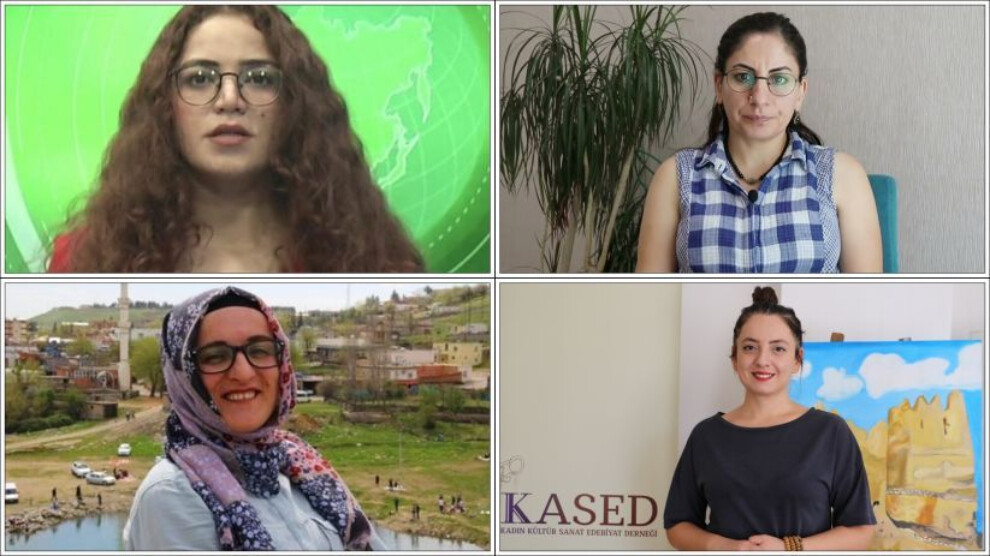 16 of 20 journalists taken into custody on 8 June as part of an investigation carried out by the Diyarbakır Chief Public Prosecutor's Office were sent to prison on 16 June.
Among the arrested women journalists are JINNEWS editor Safiye Alağaş, Neşe Toprak, Elif Üngür and Remziye Temel. The four sent a message from Diyarbakır Women's Closed Prison, where they are held.
The journalists sent their support and solidarity to the other imprisoned journalists and saluted everyone who defends journalism. Safiye Alağaş spoke about the targeting of JINNEWS, which reflects women's struggle. She wrote: "The attacks against our agency, which has made a breakthrough in women's journalism, are an indication of how much the male-dominated state fears the power of women. The main reason for suppressing JINNEWS, which is the voice of women murdered in the country, of every segment exposed to rights violations, of children and all oppressed people, is to try and silence women and their activities.
Of course, we are not strangers to this repression and we are not going to accept this situation. Where there is oppression, women always take to the streets and try to make their voices heard throughout the world. We, as journalists, were present with our cameras in every area to expose this repression. Now, it is the women's organizations turn to protect our women's news agency. We are confident that the defense and support for journalism will increase. We are waiting for the day when we will be back in the newsroom with our colleagues…"
'We will continue to write under any circumstances'
Neşe Toprak said that the support coming from abroad is very important to them and added that she spends her time reading books and drawing pictures. Underlining that she was not given crayons by the prison administration, Neşe said: "This is not so important, we will write and draw under all circumstances. Thanks to everyone who supported us…"
'We have good morale and motivation'
Remziye Temel noted that morale and motivation are high and said: "We know that we are right. We're worried about our colleagues. We need to continue our work under all conditions."
'Solidarity makes us strong'
Elif Üngür underlined that she continued her studies in prison and said: "We got over the tiredness of the first days. Solidarity makes us strong. Thank you everyone".