Ibrahim Uzun tells of the ordeal they had to go through to retrieve their son's remains
Ibrahim Uzun, whose son's body was delivered to him in a box, said that the state offered them to participate in the protest in front of Diyarbakır HDP and since they did not accept it, they were punished in that cruel way.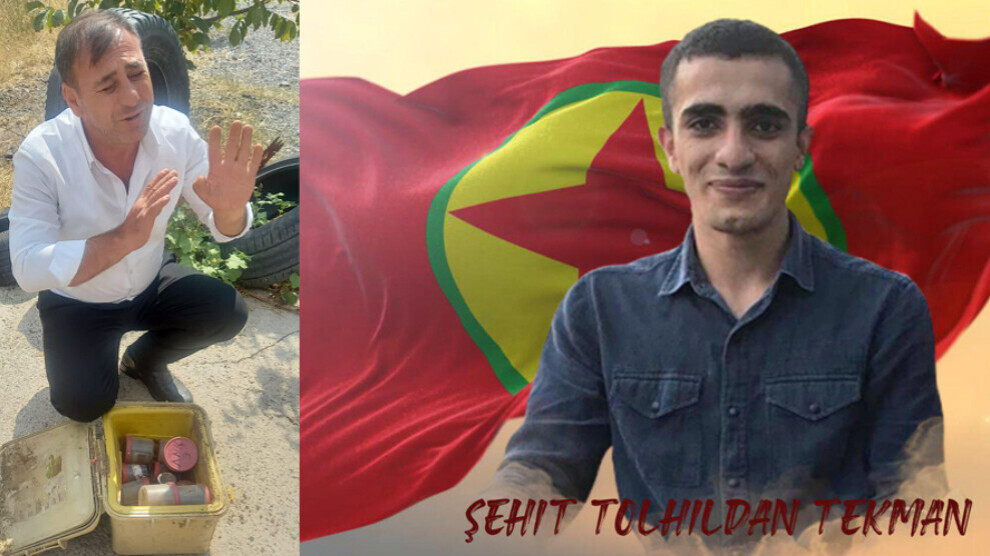 HPG member Tolhildan Tekman (Yılmaz Uzun) fell as a martyr with his 5 comrades following a Turkish air attack in Siirt in 2020. What Tekman and his family experienced is a summary of the genocide and brutality committed by the Turkish state against the Kurdish people. It reveals what this system, which doesn't respect even the dead, can do to Kurds.
The state hid Tekman's death from his family for 3 years and asked the family to join the AKP group sitting in front of the Amed HDP Provincial building. The family resisted this for years and did not give in to the blackmail. However, the response given by the state was inhumane. Tekman's remains were delivered to his family in a box after 3 years. Although a blood sample was given in 2020 to identify the body and the results were available, the family was not informed.
When Tekman was buried, the Turkish army attacked. The state blockaded the village of Bastok, and did not allow the body to be brought to the mosque or the funeral prayer to be performed. Not content with this, the state put soldiers on duty at every house in the village and did not allow attendance at the funeral.
Ibrahim Uzun, father of the guerrilla, lives in Tatos (Tekman). He spoke to ANF about what the family went through.
Uzun said that he was called by the Istanbul Police in 2020 and was told that his son had died in clashes. He was required to do a DNA test. Uzun said that he was kept waiting for weeks in Siirt, where he went for the DNA test. He had been told by the authorities that they would get in touch with him within 6 months to a year.
Ibrahim Uzun was called to Vatan Caddesi Police Station 5 months later. He was asked to join the AKP group that held a sit-in in front of the Amed HDP Provincial building. Uzun rejected this offer. The state raids Uzun's house once a week to put pressure on him and force him to accept the 'offer'. This situation turned into routine house raids, carried out almost every day, every week.
Despite the repression, the family did not give in
Uzun stated that he was offered to go to Amed before and after the DNA test, but said: "This was an immoral offer and I could not accept it. I said to them, 'You are telling me that my son is dead, but you are making such an offer.' They told me that he was alive and that if we did what they said they would convince him to come back. I told them that it was my son's free will and that I didn't interfere with that. "I would never do such a dishonourable thing. They stop calling."
Uzun learned that his son had fallen a martyr after a long period of silence, and added:    "The prosecutor's office put his death in 2021 and he was removed from the population. The state knew that he was dead, but they hid it from me. They buried him in the Siirt homeless cemetery. I applied to collect my son's remains. I opened his grave and saw a small box. I picked up my 1.85 tall son in a small box and put him in the car.
When I opened the box, I was horrified. There were small jars inside the box. They put my son's pieces in small jars. At that moment, my world collapsed and I wished the apocalypse would come. What kind of morality is this, what kind of humanity is this? I asked myself what kind of brutality it is to cut a person into pieces and put them in tiny jars. Do you have no conscience, no morals?"
Amed. Uzun said: "They asked me for a death report in Bitlis. We traveled the 6-hour journey to Siirt and Erzurum in 20 hours. We arrived at the village around 10 pm. When I went to the village, soldiers were stationed in front of every house. We were not allowed to go to the mosque, nor to perform funeral prayers there and receive the condolences of the people. The soldiers kept guard in front of every house and did not even allow the villagers to come to the cemetery. We couldn't even find an imam. But luckily, we have an imam who is a relative of ours and he came to the cemetery and fulfilled the religious duties. The village was blockaded."
The HDP delegation that went to visit Uzun managed to overcome all obstacles. Uzun added that he would take the matter to court.