IHD calls for release of Cemil Erdem, suffering from cancer
The weekly F virtual sit-in organised by the Human Rights Association (IHD) was dedicated today to 70-year-old seriously ill prisoner Cemil Erdem, who is suffering from cancer.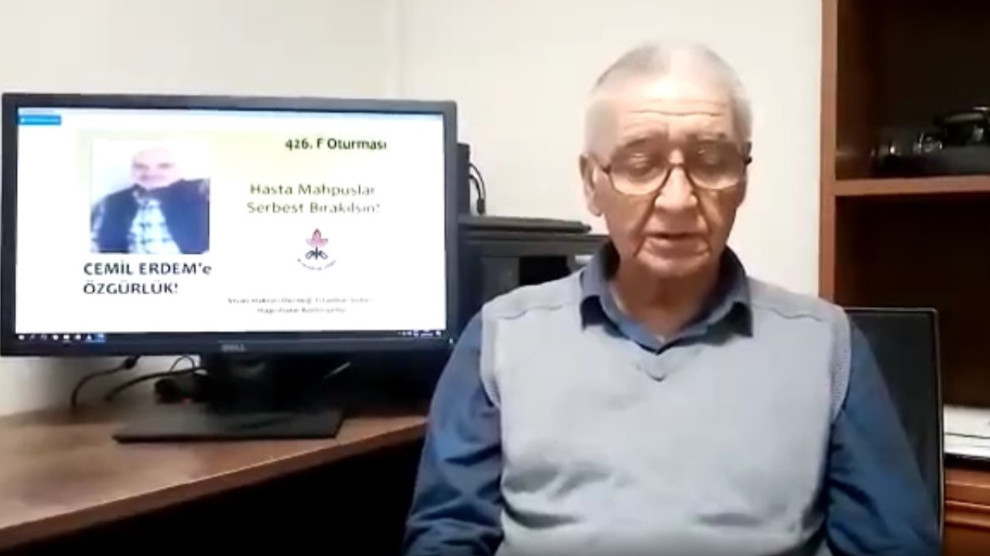 Members of the Human Rights Association (IHD) Istanbul Branch Prison Commission carried out their F virtual sit-in this week, once again through social media because of the coronavirus pandemic. The action reached week 426.
In this week's action, attention was drawn to the situation of 70-year-old Cemil Erdem, who is in Tekirdağ No 1 F-Type Closed Prison.
Mehmet Acettin, from the Commission, reminded first of all the death of Sabri Kaya the day he was released and said: "Those who did not release Sabri Kaya when he could still be treated are responsible for his death."
Acettin emphasized that "it is neither legal nor fair to leave prisoners in jail where their lives are in danger also because of the coronavirus pandemic." 
Acettin added: "Erdem is suffering from various chronic conditions such as laryngeal cancer, sugar, reflux, difficulty breathing and high blood pressure. About 5 years ago, he had surgery due to laryngeal cancer. During this surgery, the vocal cords were damaged and he can't speak."
The IHD executive also reminded that Erdem cannot live alone in prison as he is unable to deal with his daily needs on his own.