"The ill prisoners are our bleeding wound"
ANF spoke with Havva Özcan, honorary president of the prisoners' solidarity organisation MED TUHAD-FED, about the situation of ill prisoners in Turkey. She says that the government is full of hostility and hatred towards them.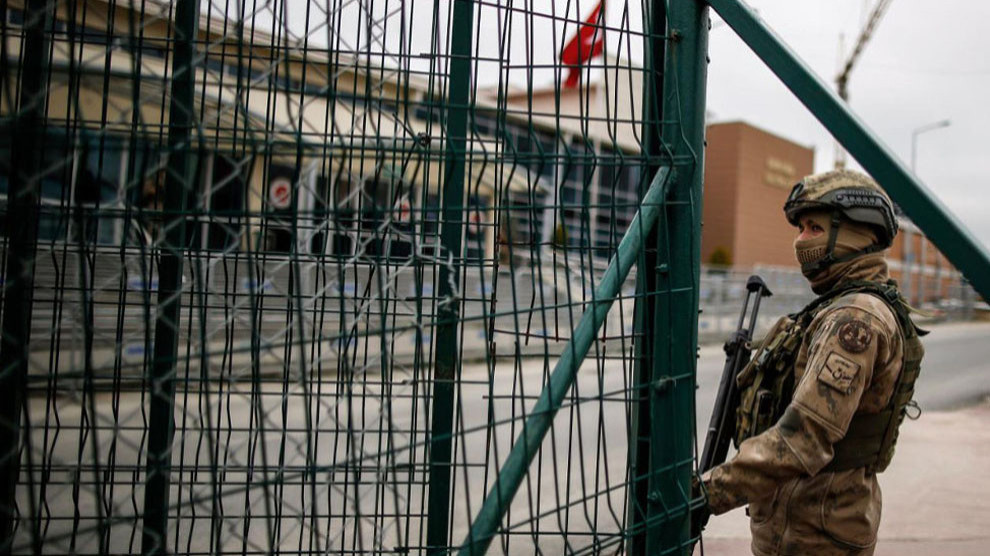 In Turkey there is no improvement in the detention situation of ill prisoners in sight. Despite being certified unfit for imprisonment, prisoners continue to be left to their certain death in the prisons instead of being given adequate medical care, says Havva Özcan, the honorary president of the prisoners' solidarity organisation MED TUHAD-FED. In an interview with ANF, Özcan commented on the already precarious situation of the ill detainees, which has drastically worsened due to the Coronavirus pandemic.
"We can say that the ill prisoners are the unhealed bleeding wound of Turkey. One of them, Vefa Kartal, recently died in the Edirne prison. Before that, we have lost Sabri Kaya. Although he suffered three heart attacks in prison, he was not released. Also sick prisoner Mehmet Emin Özcan, who is imprisoned in Amed, and Hasan Alkış in Bolu, Ergin Aktaş or Avni Uçar as well as several others, whose names all I cannot list here, are denied release," says Havva Özcan.
Havva Özcan
The activist recalls that between 2011 and 2013, some ill prisoners in Turkey were granted amnesty because of their poor health. "Unfortunately, it was too late. Because all those who were released died shortly afterwards. Like Sabri Kaya, who was released early in the morning and passed away in the late evening of the same day. Despite our efforts, these people were not and will not be released. Even though they might not have much time left to live, they could at least pass away in the circle of their own family and friends. But the state is very hateful on this issue. It is again evident that the state has a harsh policy against the prisoners, especially those who are ill. It is a hostile and vengeful policy."
Prisons in Turkey are the shame of the country
Havva Özcan also emphasises that the risk of infection with the coronavirus in prisons is still very high and yet no measures are being taken to prevent the spread of the pandemic. Sometimes thirty to forty prisoners have to share a ward and the prices for hygiene products have risen dramatically. "Before the pandemic, a bar of soap, for example, cost five liras [the equivalent of about 65 cents], but now the price is ten times as high at 40 to 50 liras. There are neither mouth-nose covers nor protective gloves. How is it possible to keep a distance in a four-meter-long room?" Özcan asks.
Özcan continues: "The state of health of some prisoners who are serving an aggravated life sentence is so critical that two to three people have to stay with them constantly. This fact makes it clear that prisons in Turkey are the "shame" of the country. The problems in the prisons are almost endless. Nobody's health can recover there. If a person is kept there for 20 years, how can he or she recover?"
Government is full of hostility and hatred
At the beginning of April, the ruling party AKP, together with its ultra-nationalist coalition partner MHP, passed an amnesty law despite fierce national and international criticism. Around 100,000 criminal prisoners have since been released from prison - officially citing the high risk of infection in the overcrowded prisons. Political prisoners, however, are explicitly excluded from the law. Havva Özcan explains that intensive efforts of her organisation to obtain the release of the sick prisoners also have so far been without result. "We have done a lot. Among other things, we have held talks with parties like the AKP, but also CHP and HDP. So far we have not been able to achieve anything. Therefore, one loss within the sick prisoners follows the next. "But we are determined to continue our struggle for them."
Özcan has difficulties to find a definition for the government's approach of leaving sick prisoners to certain death. "It is full of hostility and hatred. No matter if inside or outside (of the prisons) it does everything in its power to fight against the Kurds. But this does not stop us from continuing our resistance. As long as we fight, we will grow and become stronger."
MED TUHAD-FED
The organisation MED TUHAD-FED, based in the Kurdish metropolis of Amed (Diyarbakir), works for political and ill prisoners and their families. Since direct contact with the prisoners is not possible, the support is in most cases indirect through the family members who visit the prisoners and pass on their concerns to the association. MED TUHAD-FED advises the relatives of the prisoners and sometimes supports them financially. For example, it organises cars or tickets for prison visits, networks wealthy and poor families who can support each other and, together with the relatives, prepares meetings with the public prosecutor's office and other authorities. MED TUHAD-FED also runs projects for children of prisoners and rehabilitation programmes for released prisoners. Like other human rights organisations, MED TUHAD-FED and its employees have been subject to numerous proceedings and the organisation has been banned several times, most recently by emergency decree after the attempted coup d'état in summer 2016. Havva Özcan was last held in custody between October 2017 and January 2018. The long-time activist was investigated in connection with an anti-war demonstration in Ankara in 2016.