August martyrs commemorated in Shengal
The martyrs of August were commemorated in a ceremony held in the Yazidi town of Shengal (Sinjar) in southern Kurdistan (northern Iraq).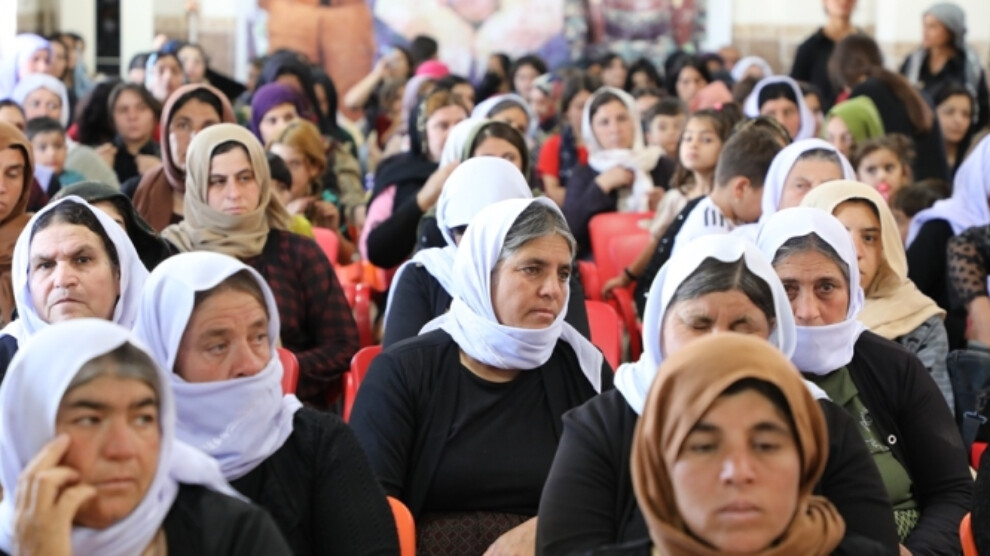 The ancient Yazidi people based in the Shengal (Sinjar) town of southern Kurdistan (northern Iraq) suffered many attacks and massacres in the month of August. The invading Turkish state took part in all these attacks. On August 14, 2007, people in Tilizêr and Siba Şêx Xidir were attacked, causing more than a thousand deaths.
On August 3, 2014, ISIS launched an onslaught on the Yazidi town and massacred or abducted thousands of members of the Kurdish community.
On August 15, 2014, a massacre took place in the village of Kocho. Thousands of Kocho residents were murdered or taken captive and sold in slave markets.
On August 15, 2018,Yazidi Coordination Member Zeki Şengali was martyred in a Turkish attack, while YBŞ (Shengal Resistance Units) commander Seid Hesen fell a martyr on August 16, 2021, as a result of an attack by the invading Turkish state. On August 17, 2021, eight YBŞ fighters and a member of the Shengal health committee were martyred in a Turkish bombing that targeted the Sikêniyê Hospital.
A commemoration ceremony was held for the martyrs at the Martyr Dilgeş and Martyr Berxwedan Cemetery on Mount Shengal. The ceremony organized by the Martyrs' Families Association was attended by hundreds of Arabs and Yazidis from Shengal, tribal notables, military officials, YBŞ and YJŞ fighters, Êzîdxan (Yazidi land) Asayish (public order units), as well as TAJÊ (Yazidi Women's Freedom Movement) and the PADÊ (Yazidi Democracy and Freedom Party).
'YAZIDI PEOPLE SHOULD BE UNITED'
Following a moment of silence, Hemed Bişar delivered a speech on behalf of the families of the martyrs, saying: "Unity is required of us today. These heroic comrades were martyred in Iraq. Why is Iraq still silent in the face of these attacks? Resistance is mounted in Shengal. We promise our martyrs that we, as women, children and parents, will expand the struggle."
Xelef Qasim made a speech on behalf of the Shengal Autonomous Administration and stated: "Everyone knows that we lost many of our prominent leaders in the month of August from the Tilizêr explosion to the latest events. Our people face torture and massacres in the camps in South Kurdistan. We call on international institutions to fulfil their responsibilities and facilitate the return of our people."
'WE WILL TAKE THEIR REVENGE'
YBŞ commander Çeko Şengali also made a speech on behalf of the YBŞ and YJŞ: "As the Yazidi people, we will not welcome the month of August with enthusiasm but with revenge. The invading Turkish state has always been hostile to our people. Our people were not supported by anyone except Egid and our heroes. Our current task is to embrace the dreams of our martyrs. We will take Seid's revenge on this land. We will stand against anyone who targets Shengal. Just as we suffered martyrs during the last massacre in August 2014, we will yield martyrs until the end, and we will not allow anyone to attack our people. As the YBŞ and YJŞ, we promise retribution and vow to follow in the footsteps of our martyrs even until there is only one fighter left."
'PKK SAVED SHENGAL'
Speaking on behalf of the PADÊ, Hisên Heci said: "When they attacked Shengal, no force came to save us except the PKK and our leaders such as Mam Zeki and Seid. They did everything for the security of Shengal, yet they were targeted in the presence of Iraq."
Kinê Xidir spoke on behalf of the TAJÊ and said: "We commemorate all our martyrs who lost their lives in the month of August. If we want to realize the dreams of our martyrs, especially those of Mam Zeki and Seid Hesen, we must work for Yazidism and strengthen our unity. We are not afraid of tanks and artillery of enemy forces. We will continue to fight relying on our will. The cries of our mothers and sisters are still echoing in our ears. We will fight and bring all those who are responsible for atrocities to account. We should embrace the martyrs and return to Shengal."
Nayif Shemo spoke on behalf of the tribal leaders in Shengal and offered condolences to the families of all martyrs, after which a documentary about the Sikêniyê martyrs, Mam Xeki and Seid Hesen was screened.