HPG: Three Turkish soldiers killed in Şırnak
Guerrillas continue inflicting blows on the Turkish army in Kurdistan.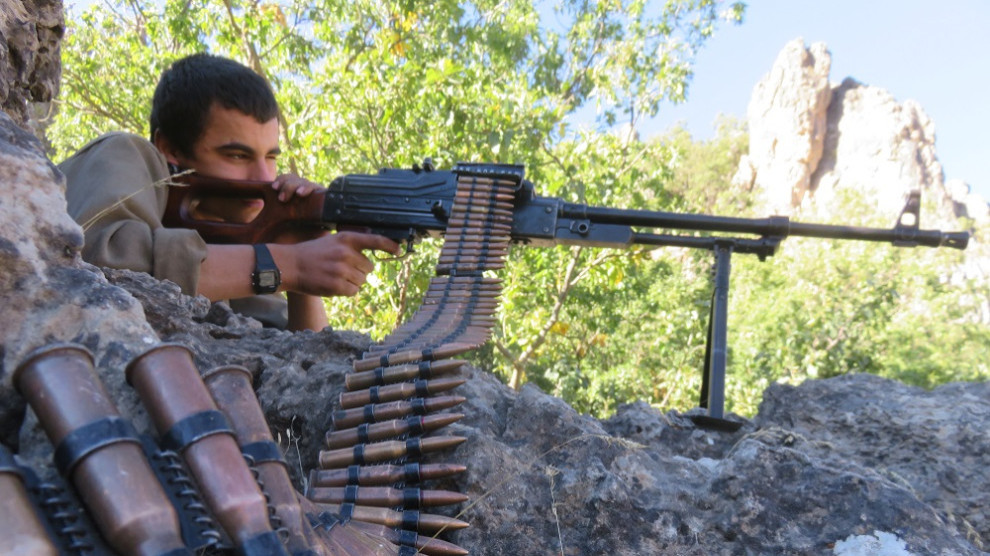 The Press Office of People's Defense Forces (HPG) released a statement on the guerrilla actions and Turkish military attacks in Kurdistan territory.
Details published by HPG Press Office are as follows:
ŞIRNAK
As part of the Martyr Medya Mawa and Martyr Rizgar Gever Vengeance Campaign, guerrillas hit a Turkish military unit in the Martyr Botan area in Şırnak's İdil district on December 9. The sabotage action left three soldiers dead, including a non-commissioned officer and a specialized surgent, while nine others were heavily wounded. The involved guerrilla unit returned to their base safely.
XAKURKÊ
As part of the Martyr Bager and Martyr Ronya Revolutionary Campaign, guerrillas targeted Turkish forces stationed on Hill Martyr Derweş in Xakurke region of Medya Defense Zones at 11:00 on December 13.
While the positions and shelters on the hill were struck effectively, the number of casualties couldn't be clarified. Following the action, the Turkish jets bombarded the area at random and the involved guerrilla unit returned to their base safely.
TURKISH AIR RAIDS ON MEDYA DEFENSE ZONES
HPG reported continued air raids by the Turkish army on Medya Defense Zones in southern Kurdistan, northern Iraq. Accordingly, details of the Turkish air raids are as follows:
The areas of Martyr Sherif and Sinine in Xakurke region were bombed at 17:00 on December 11.
The area of Hill Sor in Avashin region and the area of Shikefta Birindara in Zap region were bombarded at around 15:00 on December 12.
HPG added that the bombardments did not result in any losses in guerrilla ranks.
THREE GUERRILLAS MARTYRED
HPG announced the martyrdom of three guerrilla fighters in North Kurdistan on October 20. The guerrillas fell in a battle with Turkish forces in the area between Mardin's Derik district and Urfa's Viranşehir district, in which 14 members of the special police force were killed.
ID details of the martyred guerrillas are as follows:
Nom de Guerre: Eriş Qoser
First-Last Name: Hikmet Eren
Place of Birth: Mardin
Mother's - Father's Name: Xezali – Mehmet Beşir
Date and place of martyrdom: 20 October 2019 / Mardin
***
Nom de Guerre: Hamza Tolhıldan
First-Last Name: Mustafa Akış
Place of Birth: Urfa
Mother's - Father's Name: Zerga – Siyamend
Date and place of martyrdom: 20 October 2019 / Mardin
***
Nom de Guerre: Şervan Qerejdax
First-Last Name: Ali Derin
Place of Birth: Urfa
Mother's - Father's Name: Gülbeyan – Seydo
Date and place of martyrdom: 20 October 2019 / Mardin