Judge on Demirtas case admits: "I am not neutral"
The court's head judge admitted to being "not neutral" in the hearing of imprisoned former HDP Co-chair Selahattin Demirtas. Tensions rose in the court.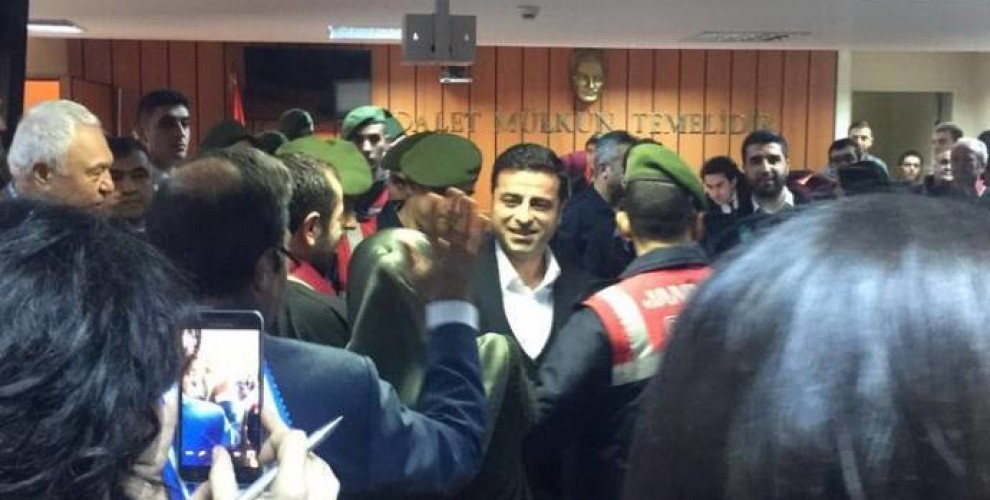 The hearing for the case Peoples' Democratic Party's (HDP) former Co-chair Selahattin Demirtas is on trial for was held in the Ankara High Penal Court No.19.
Demirtas demanded a recusation in the hearing held in the Sincan Prison Campus court hall, but the hearing continued despite the demand with the lawyers submitting their defenses.
Lawyer Mehmet Emin Aktar spoke in the hearing and said: "The most free person here gave his speech in the morning, I probably won't be able to speak as freely."
Demirtas's lawyer Aydin Erdogan said: "The implementation of the ECHR ruling doesn't require any permits or approvals. The ruling's content and attributes are certain, judiciary organs are remembered by their rulings."
Diyarbakir Bar Association President Lawyer Cihan Aydin stated that without an independent judiciary and judge's guarantee, it is not possible to talk about a rightful and just verdict.
Lawyer Aydin said: "We know it is difficult for you to issue this rejection verdict, but this must end."
Lawyer Benan Molu listed their reasons for demanding a recusation and said, "The ECHR verdict is binding as of the time it is published on the official website of the court. The ruling for Immediate Release hasn't been implemented, the rights violation has been continued with the decision to continue the arrest."
It also came to light during the hearing that some plainsclothes policemen were given journalist IDs. When lawyers were left without a seat in the court hall, there was a short tension with the court's head judge.
Mesopotamia Agency reported that a journalist following the hearing protested and said, "Policemen were issued journalist IDs, the hearing is full of plainclothes policemen."
Lawyer Alisan Sahin spoke in the hearing and said: "You took the court away from the people, hid it out here. Despite the empty chairs and the fact that we are lawyers, we can't sit!"
Lawyers continued their criticism of the less than neutral stance of the court, and the head judge said, "I am not neutral," which led to rising tensions in the hall.
The judge issued a 10 minute break in the hearing because HDP MP Ayse Acar Basaran "disrupted the order in court" when she protested the head judge.