KCK calls for action against death penalty for two in Bashur
KCK said that it is not possible for them to accept the death penalty given to two young Kurds by the KRG and called on all Kurdish people, democratic Kurdish institutions, intellectuals and artists to take action against this decision.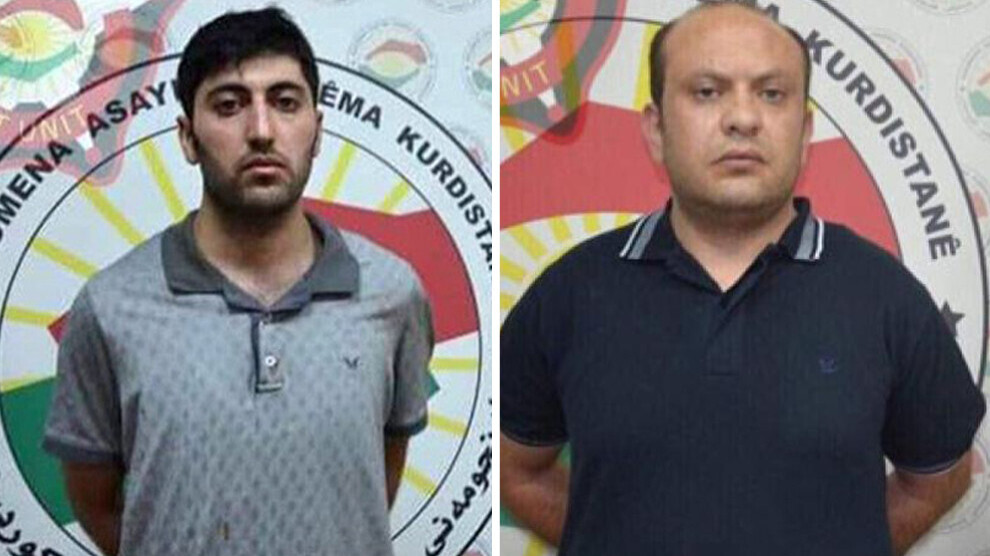 The Executive Council of the Kurdistan Communities Union (KCK) released a written statement on the death penalty given two Kurdish young men by the Kurdistan Regional Government for their alleged involvement in the killing of Osman Köse, a member of Turkish intelligence service (MIT) in capital Hewler (Erbil) on July 17, 2019.
KCK remarked that the death penalty was given on July 17, 2019 during a show trial and the court hearings were concluded within a very short time due to an instruction given to satisfy Turkey. With this verdict, it was declared to be the biggest crime to shoot a member of MIT, sent by anti-Kurdish Turkey to massacre Kurdish politicians and revolutionaries in Southern Kurdistan (Bashur). Whether this murderer, who came to Bashur to organize murder and worked under the protection of the Bashur government, was killed by these two persons in question is not clear; nor is the reason if they indeed killed him.
However, it is not strange that any Kurdish youngster would want to shoot the murderers who want to subject the Kurds to genocide. It is obvious that such murderers walking freely in Kurdistan in a comfortable life under protection will be considered a provocation by all Kurdish youth. In this respect, even if these young people did the shooting, it is unacceptable for the Kurdish people and the Kurdish public to accept the death penalty given to these young persons. Especially those who exercise their jurisdiction on behalf of the Kurdish people can neither take nor issue such a decision. In this respect, the death penalty given to these two Kurdish youth hurt all our people in four parts of Kurdistan and caused reactions."
The KCK statement continued as follows:
"First of all, this person who was killed deceived the Bashur government. With his diplomatic identity, he worked on gathering intelligence and murdering Kurdish politicians and revolutionaries. Diyar Xarib (Helmet), a member of the KCK Presidential Council, was also martyred as a result of such activities. Later, our companions Demhat, who was engaged in diplomacy in Sulaymaniyah, and Cemil who lost a foot in the war and involved in medical assistance, were killed as a result of the intelligence provided by such murder networks. The person killed in Hewler also committed crimes against the laws of Southern Kurdistan by carrying out activities under consular immunity to carry out such murders. Crime of killing Kurds with the means provided by the Kurds...
If some patriotic Kurdish youth acts out of anger towards the enemy who is the head of a criminal network which does not recognize laws, rules and human values, this would only delight the people of Kurdistan. The Kurds would be proud and honored to have such young people. Any Kurd adopts this approach to such an incident.
DEATH PENALTY NOTHING BUT TO PLEASE TURKEY
As the Kurdish Freedom Movement, we have declared since the very first day that we have no relation with the shooting. No reasonable Kurd could associate the young people with our Movement just because they are from Northern Kurdistan. Giving death penalty to these young people has no explanation other than to please Turkey. Probably, it is going to be the first in history that two Kurdish youth receive death penalty by a Kurdish government for political reasons.
It is not possible for a criminal who tries to kill Kurdish politicians and revolutionaries by saying that he is conducting a diplomatic mission in Bashur to be treated as an individual who should be protected by law. He was a person who prepared and executed assassination plans against Kurdish politicians illegally and secretly. In this respect, he was an active member of a Kurdish enemy force. The killing of such a person by patriotic youths should be regarded as the killing of a murderer who wants to use the lands of Kurdistan to murder people. In this respect, these two young people cannot be given months-long prison sentences even, let alone death penalty.
THEY SHOULD BE RELEASED IMMEDIATELY
These two young people should be released immediately in accordance with the laws of war. Even to say that the death penalty should not be executed would mean normalizing the actions of this murderer and legitimizing the death penalty. The great patriotic feelings and conscience of the Kurdish people would never accept such a situation. In this respect, the Southern Kurdistan administration, relevant institutions or courts should release these two young people.
A Kurdish government's decision to execute two Kurdish youth cannot and should not be accepted by any Kurd. If two Kurdish youth are under threat of death for political reasons, it means offending the conscience of the Kurdish people and the public. It is in no way acceptable for the Kurdish people to do this at the request of a state that is notoriously hostile to the Kurds.
ACTION SHOULD BE TAKEN AGAINST THIS DECISION
The declaration of the families of these two young people is a call to the Kurdish people and the Kurdish public to release these young people. Therefore, all Kurdish people, democratic Kurdish institutions, intellectuals and artists who are the conscience of the Kurdish people, and all the politicians representing the patriotic will of the Kurds should oppose such a decision that would cause an irreparable wound in terms of Kurdish political history and take action for the release of the two Kurdish young men.
As the campaign "Stop isolation, fascism, occupation, time to realize freedom" continues, attitudes and efforts should be made to release these young people as a part of this campaign.
It will be the best attitude for the KDP to release these two young people so that they do not fall into this situation that serves pleasing the Republic of Turkey, which will be a historic mistake for them.
It is not possible for us to accept such a decision. We know that all Kurdish political forces, especially the people of Southern Kurdistan, the Kurdish people and the Kurdish public will not accept it, and we call on everyone to do their part so that these young people meet with their families as soon as possible."
RELATED NEWS: