12-year-old killed, three injured in ongoing attacks on Kobanê - UPDATE
Turkish artillery attacks continue to target the centre of Kobanê and the immediate surroundings of the city. According to initial reports of casualties, a twelve-year-old was killed, two adults and a two-year-old injured.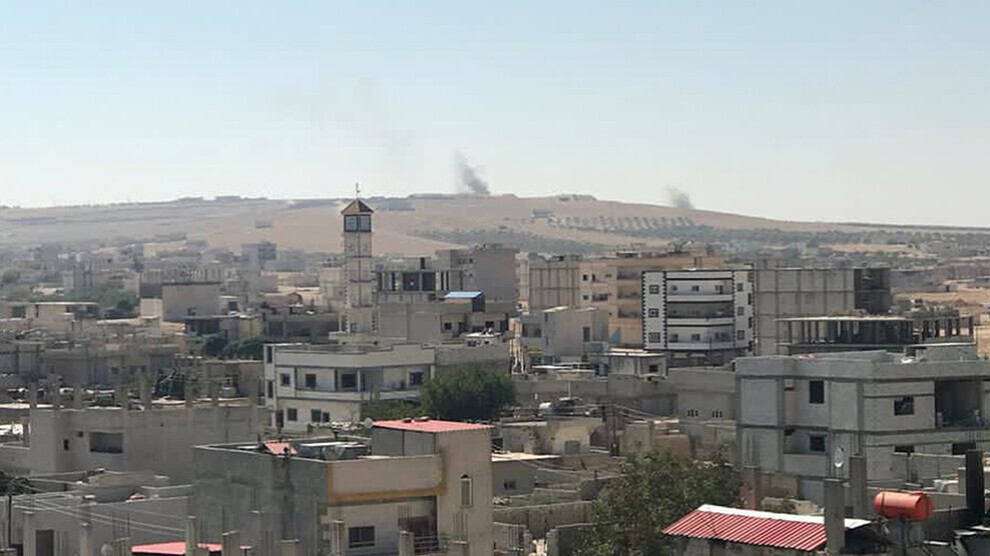 Since 10.00 a.m. local time, artillery shells of the Turkish army have been hitting the city centre of Kobanê, the Miştenûr hill and the road to Aleppo. The attacks are becoming more and more massive and, in addition to the city centre of Kobanê, also affect the villages of Boban, Siftek, Selim and Aşme in the west of the city. The village of al-Shuyoukh Fawqani on the banks of the Euphrates opposite the occupied Jarablus was also hit by shelling.
According to the latest information, 12-year-old Ebid Mihemed Heci lost his life as a result of the ongoing attacks which left two-year-old Xelîl Cîhad Şêxo and 40-year-old Ebid Xelef and Merwe Hemdo injured. There was also property damage.
The villages in the east of Kobanê; Xerbîsan, Qeremox, Koran, Hêho, Elîşar, Mar Simîl (Merc Îsamaîl) are hit by heavy weaponry. All these villages are located on the border.
Simultaneous attacks target the Kaniya Kurdan neighborhood in eastern Kobanê.

Earlier in the morning, artillery attacks targeted the village of Rotan near Tirbespiyê. Three shells hit near the academy of the Sotoro, the Syriac security forces. According to the local military council, the villages of Cat and Masî near Manbij were also shelled. The shelling into the area, which is densely populated by civilians, continues. In addition, the village of Cirnik near Amûdê and the village of Çetel near Dirbêsiyê were attacked with artillery shells.
The shelling of the region is reaching ever new levels of escalation in recent weeks. The Turkish occupation forces and the mercenaries it controls carried out more than 600 attacks on northern and eastern Syria from 1 to 13 August. In these attacks with drones, artillery and howitzers, 15 people were killed and more than 20 people were injured.
As a result of these attacks, the Syrian Democratic Forces (SDF) carried out three retaliation operations on 8 August. The strikes killed a total of 23 soldiers, wounded two soldiers and destroyed three armoured vehicles.