KONGRA- GEL calls for action for Maxmur under siege
KONGRA- GEL appeals to the Iraqi government and the UN officials that remain silent in the face of the measure against Maxmur which is against international law and human rights.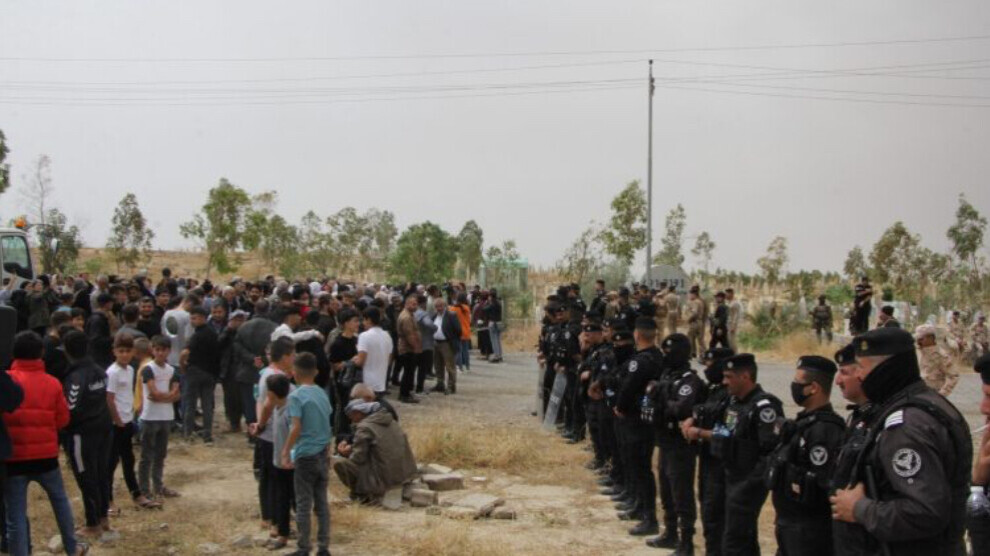 KONGRA- GEL Co-Presidency Council released a statement about the latest aggression against the Kurdish refugee camp in Maxmur, southern Kurdistan (northern Iraq) where the Iraqi army has taken action to fence in and isolate the self-governing camp with barbed wire and towers.
KONGRA- GEL pointed out that a refugee camp under United Nations' protection is intended to be turned into an open prison on demands from the AKP-MHP government (of Turkey) and the KDP (the ruling party of the Barzani clan in South Kurdistan), defining this attempt as "unacceptable."
According to KONGRA- GEL, the measure against Maxmur comes on the eve of the presidential election in Turkey scheduled for May 28, and seeks to support Erdoğan to win the election as he is in a bit of a jam in the runoff.
"The attempt to besiege the Maxmur Camp is a part of the plan to lay siege to free Kurds. This is a plan to besiege the free life and free future of our people. The measure is directed against the entire Kurdish people outside of the Barzani family who have completely surrendered to the Turkish state politically, militarily and economically and thus act according to their plans and ambitions," said the statement.
KONGRA- GEL pointed out that: "The people of Maxmur represent the resilient spirit of the Kurds and no force can cow it into submission. The Turkish state and its collaborators fear that the gradual rise of this spirit can not be stopped. Under the leadership of Maxmur People's Assembly, all the residents of the camp, including women, children and youth, are resisting together. We salute the resistance of our people in Maxmur Refugee Camp."
KONGRA- GEL called on the people in four parts of Kurdistan and abroad, and their friends, to embrace the honorable resistance of Maxmur Refugee Camp, to show that the camp residents are not alone, and to be the voice of Maxmur people in domestic and foreign diplomacy.
"We appeal to the Iraqi government and the UN officials who remain silent in the face of these developments: the measure against Maxmur is against international law and human rights. It is unlawful, tyranny, torture and cruelty. The people will not accept this repression and injustice. Problems should be resolved not through repression and threats, but through dialogue with the elected representatives of the camp."
The statement concluded: "We once again salute the resistance of Maxmur people who raise the hope for freedom with their determined stand. Resistance will prevail, fascism and collaborators will lose."