Seeking to dismantle Maxmur camp, Turkey threatens Iraq with 'water war'
Parties call for international action for the Maxmur refugee camp which has been under a military siege by Iraqi forces for four days.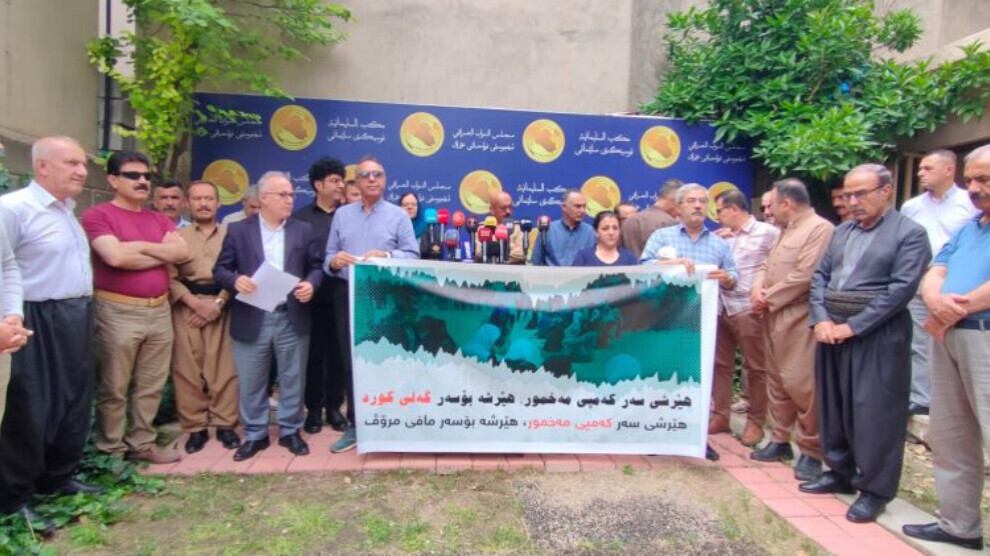 In a statement concerning the Iraqi blockade of the Maxmur refugee camp, Tevgera Azadî (Freedom Movement) said that the Turkish state threatened Iraq with "water war".
The press statement was made in front of the Iraq Office in Sulaymaniyah to the accompaniment of political parties and activists.
The statement noted that the Iraqi army went into action to surround the Maxmur refugee camp with barbed wire on May 20 and injured two camp residents during the ensuing crackdown.

CAMP RESIDENTS CANNOT ENJOY REFUGEE RIGHTS
Recalling that the people of Maxmur had to migrate from North Kurdistan 29 years ago due to persecution and attacks they suffered at the hands of the Turkish state, the statement said: "The governments of the Kurdistan Region and Iraq are constantly cracking down on this camp in an unlawful way. The residents of the camp cannot enjoy refugee rights."
Tevgera Azadî noted that the Turkish state has carried out airstrikes on the camp dozens of times so far, which killed or injured numerous people. It added: "The duty of the regional and central governments is to protect the camp residents and prevent these attacks."
TURKEY THREATENED IRAQ WITH 'WATER WAR'
According to the statement, during the talks held in the last three days, Iraqi officials told the camp administrators that Turkey had threatened to launch a water war against Iraq if the camp was not dismantled.
THEY WANT TO DISMANTLE CAMP
"They want to isolate the camp with barbed wire and towers at Turkey's request. They want to implement all these plans in cooperation with the KDP, Turkey and Iraq and to dismantle the camp over time."
Tevgera Azadî noted that the refugees in the Maxmur camp had been living there for 29 years. It emphasized that although the Iraqi and regional governments checked every single house in the camp dozens of times, they did not find any single illegal activity. 
KDP BLOCKADED THE CAMP INSTEAD OF SERVING ITS RESIDENTS
"Instead of serving the camp residents, the KDP has closed their roads for 4 years. They don't even allow pregnant women to go to Hewlêr and Sulaymaniyah hospitals. As the Kurdistan Community Freedom Movement, we condemn the Iraqi government. The people of Maxmur demand that the government resolve the issues through political and international means," stated Tevgera Azadî.
A statement was made afterwards on behalf of the Kurdistan Democratic People's Party, the Workers' Party and the Kurdistan Communist Party.
The statement called on the central Baghdad government and all related circles to stop efforts to take control of the camp. The three left-wing parties called on the United Nations to fulfil its duty to protect the camp.
KNK: KURDISTAN UNDER THE THREAT OF A MAJOR INVASION
On behalf of the Kurdistan National Congress (KNK), Salar Mehmudi, appealed to all freedom supporters and friends of humanity, saying: "The Kurdistan region is under the threat of a major invasion. Together with its partners in Iraq, the Turkish state is trying to stifle pro-freedom groups."
Mehmudi called on the Iraqi state to treat the Maxmur camp in accordance with international law: "Attacking and blockading a refugee camp under UN protection indicates an enormous danger directed against humanity and Kurdistan."
OMAR: RECENT ESCALATION CONCERNS SAFETY AND WATER ISSUES
Iraqi Parliament Immigration and Migrants Committee Member Soran Omar said: "We have already been working on this issue. We have been in dialogue with the relevant parties about Maxmur's problems for some time. What is happening in Maxmur is caused by the joint plan of Iraq and Turkey. The recent escalation concerns security and water issues."
Omar pointed out that the crackdown on the camp was politically motivated, stemming from Turkey's pressures on Iraq. He said: "Civilians, women and children reside in this camp, which cannot be put under pressure at Turkey's request. We will do our best."
MAXMUR IS A NATIONAL ISSUE
Drawing attention to the drone attacks by the Turkish state, Omar said: "We will do whatever it takes for the Maxmur camp, because it is a national issue. All parliamentarians in Baghdad must raise their voices."