Signature Campaign: Stop Turkish aggression against North-East Syria
17 civil society institutions in North-East Syria demand that the UN fulfills its humanitarian and human rights responsibilities to stop a planned Turkish invasion in North and East Syria and to protect the lives of civilians.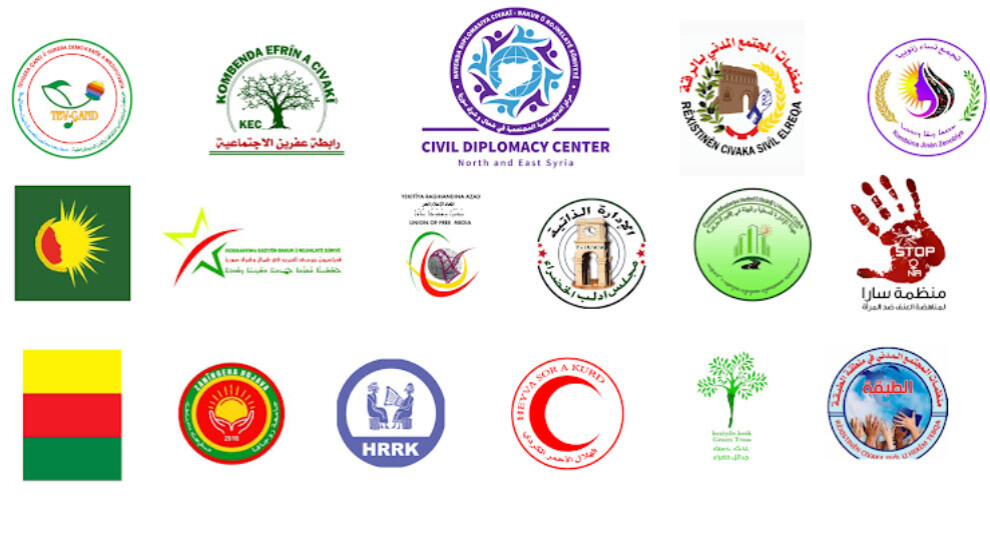 17 civil society institutions in North-East Syria launched a campaign to collect signatures from civil society institutions in the Middle East and the world, to demand to stop Turkish aggression against North-East Syria.
The campaign letter addressed to the United Nations Secretary General, Antonio Guterres, includes the following:
"At midnight on November 20th, the Turkish state launched an aerial military operation, under the name "Operation Claw-Sword", targeting vital civil infrastructure, military sites, civilians and journalists in North and East Syria with air planes and drones. The initial attacks included the areas of Kobane (Ain al-Arab), Derik (al-Malikiya), al-Shahbaa region, Ayn Issa, and Zirgan in al-Hasaka. In addition to military casualties, 16 civilians, including one journalist, lost their lives in the first night of the attacks, and dozens were left wounded.
Furthermore, Turkish airstrikes and artillery attacks, that continue to this day, target critical civil infrastructure. More than 45 infrastructure locations, especially power and petrol stations, oil and gas fields, silos as well as hospitals and schools have been destroyed.
Turkey is deliberately violating International Humanitarian Law. The killing of civilians, as well as attacks against civilian infrastructure, are war crimes.
Moreover, Turkey's current aggression against North and East Syria is neither legitimate nor legal. The Turkish government is justifying its continuing attacks with the Istanbul bombing on November 13th, for which it blames the self-defence forces of North and East Syria, without providing any evidence and despite indications that this attack was self-fabricated by elements of the Turkish state. Beyond that, in order to launch a military attack based on Article 51 of the UN Charter as 'self-defence', official approval by the UN Security Council is needed. But until now the issue has not even been put on the agenda of the UN by Turkey.
Turkey is not acting in self-defence but, on the contrary, attacking North and East Syria based on domestic political calculations. Moreover, it is permanently violating the ceasefire agreements signed in October 2019 between Turkey and Russia and Turkey and the USA. Unfortunately, these violations remain without consequences for Ankara.
While continuing their airstrikes and artillery attacks, the Turkish President Erdoğan has announced a new ground operation that aims to invade and occupy further places in the region. Such an invasion of Syrian territory would constitute another serious crime and humanitarian catastrophe with countless civilian casualties and further displacement.
Moreover, Turkey's attacks are already deteriorating the security situation in the region, providing the ground for a re-consolidation and reorganisation of ISIS. In this sense, Turkey is undermining joint efforts to combat terrorism, which affects regional as well as global security and safety.
We, the undersigned, representing the civil society in the Middle East and the world, call on the Secretary-General and relevant institutions and organisations of the United Nations to take action against Turkey's illegitimate and unlawful attacks against the people of North and East Syria. We demand that the UN fulfills its humanitarian and human rights responsibilities to stop a planned Turkish invasion in North and East Syria and to protect the lives of civilians."
The civil institutions are:
1. Civil Diplomacy Center
2. Tev-Dem, Democratic Society Movement
3. Union of Civil Society Organizations-Raqqa
4. Union of Civil Society Organizations-Tabqa
5. Kongra Star
6. Zenobia Women's Assembly
7. Organization Against Violence-SARA
8. Free Media Union
9. Intellectuals Union of West Kurdistan
10. University of Rojava
11. The Culture and Art Movement
12. The Municipalities and Environment Committee in al-Jezeera Region
13. Afrin Social Association
14. Idlib Green Council
15. Federations of War Wounded in NES
16. Green Braid Organization
17. The Kurdish Red Crescent
The campaign was launched on December 1st 2022 and will be signed electronically at the following link:
https://docs.google.com/forms/d/1D7GDBpe59jlzlqVMYMlaO-MBMH_8fuidqIvaelF_Y54/viewform?edit_requested=true