Thousands bid farewell to DBP politician who died in prison
Kurdish politician Mehmet Candemir, who died yesterday in a Turkish prison in Giresun, was buried with great sympathy in his birthplace Batman.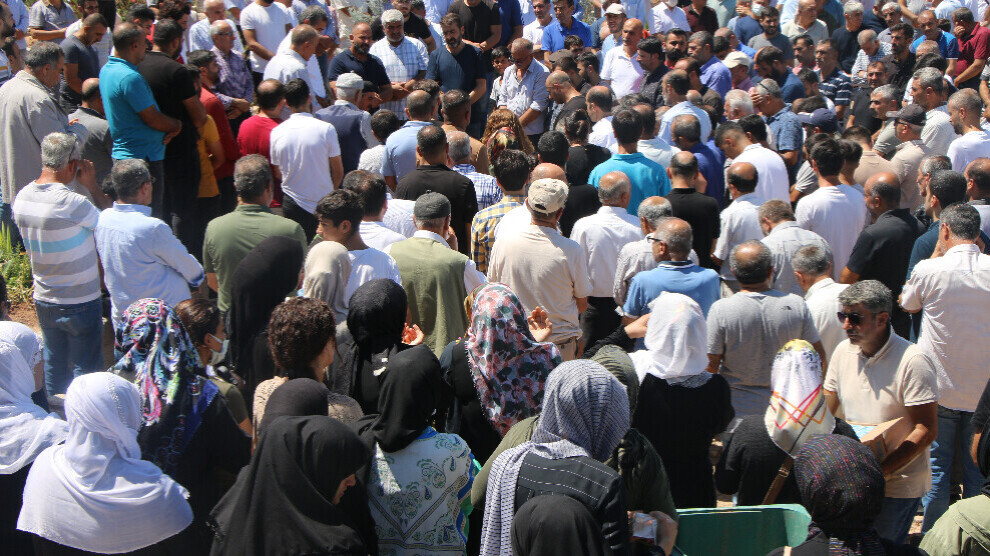 DBP (Democratic Regions Party) politician Mehmet Candemir was accompanied on his last journey by thousands of people in Batman. The Kurdish politician died in Giresun-Espiye prison on the Black Sea coast. According to the prison management, the 60-year-old suffered a fatal heart attack in his cell. It was not known that he might have suffered from heart problems. "We were still on the phone with my brother last Friday. He said that he was fine and that we should not be worried about him," said Ahmet Candemir. Mehmet Candemir had already been in prison once, in 2015. During the almost one-month pre-trial detention in a prison in Kırıkkale, the politician was tortured by the guards.
Candemir's body, which was picked up by his family on Monday evening, was transferred by convoy from Amed to Batman. The convoy was stopped by soldiers in the village of Girêsîra and prevented from continuing its journey. Following the protest of those present, the soldiers had to clear the road. 
Candemir's body was taken to the Asri cemetery and greeted by thousands of people with the slogan "Şehîd namirin" (Martyrs are immortal). After the religious rituals, the body was taken to the cemetery. The funeral was attended by numerous people including Candemir's family, the Free Women's Movement (TJA), DBP chairpersons Saliha Aydeniz and Keskin Bayındır, HDP (Peoples' Democratic Party) Women's Council spokesperson Ayşe Acar Başaran, HDP MPs Feleknas Uca and Mehmet Rüştü Tiryaki, mayors Songül Korkmaz and Mehmet Demir, representatives of the Association of Peace Mothers, the Association of Families who Lost Relatives (MEBYA-DER), the Solidarity Association of Families of Prisoners (TUAY-DER), as well as other representatives of civil society organisations and many people from the city.
DBP Co-Chair Saliha Aydeniz pointed out that thousands of people were imprisoned under enemy law and said: "Our friend Mehmet was killed in prison where he was held hostage. He lost his life for his people. As a result of the AKP's genocidal mentality, our comrade died in prison. We will continue the struggle in his spirit and lead his struggle to victory. We will have to fight for this constantly. Şehîd namirin!"
Over 80 prisoners dead within a year
Political prisoners die weekly in prisons in Turkey. "Suicide" or "death by disease" are the diagnoses given by Turkish forensic medicine. But there are massive doubts about the causes of death. Family members and human rights organisations repeatedly report that most of the deceased prisoners were either executed or driven to suicide by repression, torture and threats. According to the Human Rights Association (IHD), 87 prisoners died in Turkish prisons between 2021 and 2022 (as of July 2022).