120 French personalities call on US President Biden to remove PKK from terrorist organisations list
120 French trade unionists, activists, artists, journalists and academics called on US President Biden to remove the PKK from the terrorist organisations list.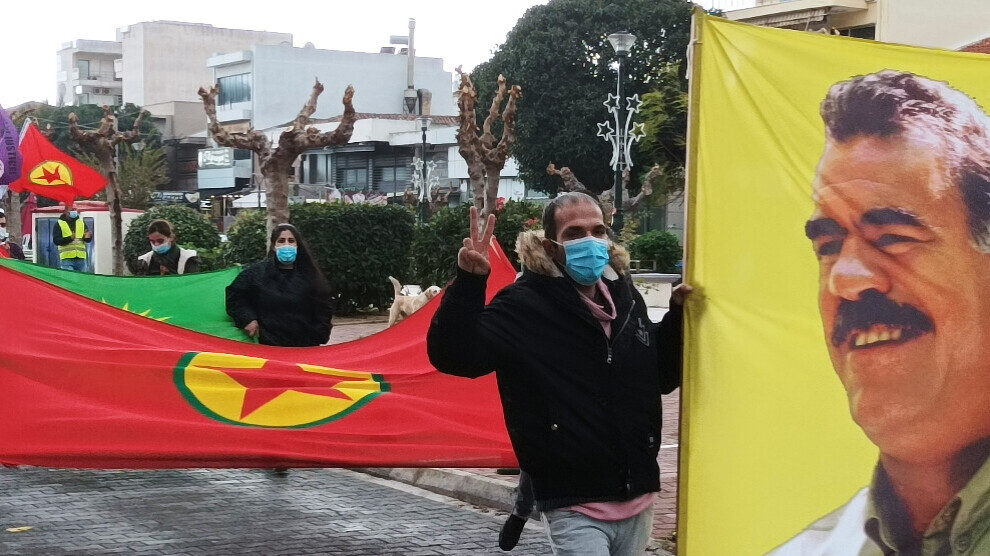 120 elected unionists, activists, artists, journalists and academics from the Occitan and Provence regions of France issued a call to the President of the United States, Joe Biden, calling for the PKK to be removed from the list of terrorist organizations.
The text of the call was published in the regional newspaper La Marseillaise, founded in 1943 by the insurgents during the occupation of France.
The text of the call reads as follows:
"Mr. President of the United States of America,
The PKK is still on the list of terrorist organizations to this day, while the PKK has never committed any violent act against American or European interests, or anywhere in the world. Turkey for its part supports the terrorist group Daesh, persecutes the Kurds, imprisons intellectuals, opponents and has expansionist aims on Syria, Iraq, Libya, Greece...
The Kurds fought Daesh alongside coalition forces including American forces and they continue to wage this fight. Tens of thousands of young fighters gave their lives to defeat this fascist organization, not to mention hundreds of wounded who are now physically disabled. In Sinjar [Shengal] in northern Iraq, they saved thousands of Yadizis from Daesh, always at the cost of their lives.
The PKK is also fighting against Turkey's expansionist policy. In Turkey, the Kurds are persecuted, arrested, their elected representatives, deputies, mayors are imprisoned under the pretext that they are terrorists. The Kurds are fighting against Erdogan's fascism, for democracy, for women's rights, for peace. The PKK wants a political solution, it has already made many proposals to this end to the Turkish government.
The Belgian Court of Cassation, on 28 January 2020, ruled that the PKK was involved in an internal conflict in Turkey and therefore could not be considered a terrorist organization.
Mr. President, do not let down the Kurds, the only bulwark in the Middle East against the terrorist organization Daesh, and your only true allies. We ask you to remove the PKK from the list of terrorist organizations."
Signatories: 
ABOURS Micheline Teacher, historian, BDR; ALGRIN Guillaume, Nurse, trade unionist, BDR; AMENDOLA Pierre artist, painter, Var; APEL-MULLER Patrick, former managing editor of L'Humanité; ARABIA Eulalie, Communist activist. Manager of the Catalan Worker, Eastern Pyrenees; ARGANT Thierry, Archaeologist, Municipal Councilor in Décines-Charpieu (Rhône); ASCARIDE Ariane, actress, Paris; AUBRON Cathy Peace Movement, BDR; BACCHI Jéremy, senator, BDR; BACHMAN Pierre Retired engineer, BDR trade unionist; BARBANCEY Pierre, senior reporter, Alpes Maritimes; BARBERA BOYER Myriam, Honorary Journalist, Honorary Member of Parliament; BARROTIN Paul, retired schoolteacher, Fontenay le Comte, Vendée; BARTOLI Georges, Photographer reporter, Pyrénées Orientales; BASTIDE Serge, SNCF pensioner, Perpignan, Pyrénées Orientales; BERNIER Patrick Retired Supervisor. Ivry sur Seine, Val-de-Marne; BERZURO Louise health sector trade unionist, BDR; BLANC Hélène PCF activist, Draguignan, Var; BONNAUD Olivier from trade union radiology, BDR; BOUFFARTIGUE Paul, sociologist, CNRS, BDR; BRITTEN Claire, retired, BDR; BRONCHU Alexandra president of Femmes Solidaires, Aubagne, BDR; BRUNEEL Alain, deputy, North, CAPELL Pierre Education Nationale, BDR; CAUBERE Philippe, actor, author and director, CAZORLA Gérard, trade unionist SCOP-TI, BDR, CERMOLACCE Marie José, Honorary regional councilor, Marseille borough councilor, trade unionist, BDR; CHABBI Anissa, Union nurse, BDR; CHAUVELOT Guy, sculptor, BDR; CHAUVELOT Thierry, painter, BDR; CHOLLON Alain, Retired journalist, Bordeaux, Gironde; COLLAS Marianne, PCF feminist activist, Var; COPPOLA Jean-Marc, Deputy town hall of Marseille, BDR; CORRADINO Gaëlla, PCF activist, Draguignan, Var; CRESENZO Carole, Nurse, BDR; DASPRE Pierre, PCF Var Secretary; DESMERO Isabelle, actress, BDR; DE UBEDA André, municipal councilor of Toulon, Var; DIENI Domenico, Ladispoli Rome, Italy; DIEUDONNE Philippe, League of Human Rights, Marseille, BDR; DOMART Jean-Marc, Paris XI; DUCLOS Daniel, PCF and CGT activist; DURRIEU Josiane, member of the PCF 13 management, BDR; DUTTO Joel, president of the Kurdistan national solidarity committee, BDR, EL HAMZAOUI Mohammed, photographer journalist, BDR; ESPOSITO Jean Gérôme, actor; FESSIN Stéphanie, Nurse AP-HM BDR; FORT José, honorary journalist; FOULQUIER Luc, Research engineer, BDR; FOURNIER Carole, Hospital Pharmacy Assistant, BDR; FRANCIA Magali, CGT trade unionist, Var; GERBAULT Dominique, member of the PCF 66 management, Pyrénées Orientales; GERBAULT Eve, communist activist, Pyrénées Orientales; GIORGETTI Martine, BDR; GIORGETTI René, Honorary Regional Councilor, BDR; GONCALVES Antony, doctor, BDR; GUEDIGUIAN Robert, film director, Paris; GUIMOISEAU Dany, Nursing assistant, BDR; GUZMAN Marie Chantal, territorial agent, Federal Co-Secretary PCF 06, Alpes Maritimes; HALOUI Fabienne, Municipal Councilor of Orange, Vaucluse; HAUFFMAN Jackie, MEP, former parliamentarian; HAYOT Alain, Honorary Regional Advisor, University, BDR; HUET Yvon, journalist and trade unionist Pyrénées Orientales; JAVALOYES Brice Militant PCF, Fréjus, Var; JEANROY Séverine, Nursing assistant, BDR; JEROME Marie, Teacher, PCF activist, BDR; JEROME Philippe, Retired journalist, Var; JOURDAN Pascale, Union nurse, BDR; KANTARJIAN Patrice, union activist, BDR; KARKAR Hassane, Retired University Paris 7th BDR; LACAZE Pierre, PCF manager, Haute-Garonne; LAFFARGUE Frédéric, journalist, Alpes Maritimes; LAMBRECHTS Alain, retired engineer, BDR; LAROUZE Pauline, Nurse anesthetist, AP-HM, BDR; LE FLOCH Pascale, La Farlede, Var; LE FLOCH Patrick La Farlede, THE POPE Florian, councilor for the Marseille boroughs, BDR; LECOQ Catherine, actress, BDR; LECOQ Jean-Paul, deputy Seine Maritime; LEIDET Gérard, retired teacher, historian of the workers' movement, BDR; LIBERTI François, honorary deputy, former vice-president of the Departmental Council of Hérault, honorary mayor of Sète; LUCAZEAU Julie, actress; MAGRO Patrick, Municipal Councilor Septèmes les Vallons, BDR; MARCHAND Claude, retired reporter; MATEU Olivier, Secretary General, UDCGT 13, BDR; MATHEVET William, PCF activist, Renault retiree, Var; MAURICE Pierre, militant Left Party, BDR; MEKRELOUF Horiya, President of MRAP 13, BDR; MENECEUR Myriam, Nursing Assistant, BDR; MEYLAN Gérard, actor, BDR; MEZOCAZES Corinne, Nurse, BDR; MUSSOU David, SNCF driver, Var; NOGUERES Dominique, Human Rights activist; NOUARI Marie Laurence, retired National Education executive; OLIVE Christophe, CGT union representative, Perpignan, Pyrénées Orientales; PAZ PAREDES Armando, Surgeon, Hospital Practitioner, BDR; PIAZZOLI Gilles, Secretary Local Union CGT, Draguignan, Var; PICARD Maxime, BDR; PINERO Maité, journalist, Pyrénées Orientales, POYARD Pierre-Olivier, CN member of the Peace Movement and author of "DARE TO PEACE"; REYNIER Jacqueline, Visual artist; ROSSI Robert, singer, writer, BDR; SABATINO Paul, 1st Deputy, town hall of Rove, BDR; SAMOUELIAN Annick, president of "Solidarity and Freedom", BDR; SAMARBAKHSH Lydia, PCF International Relations Manager, SANCHEZ Richard, General Secretary of the PCF Veterans Association, Pyrénées Orientales; SOLER Armand, Retired teacher, activist, Pont en Royan, Isère; SPANO Pierre, municipal councilor of Aix, BDR; SURIN Lionel Retired Chartres Eure-et-Loir; TEALDI Jean François, honorary journalist, CGT trade unionist, Alpes Maritimes; TEPFER Vera, retired, BDR; TESSIER David, Teaching trade unionist, BDR; TESTE Virginie, trade unionist, BDR; VACHER Henri, communist activist, Corrèze; VISINE Pascal, retired CNRS engineer, Ex. Deputy Director of Culture in Villejuif; ZAMICHIEI Igor, PCF national leader.