Call for enhanced struggle against the isolation of Öcalan
The reason for the crises in the Middle East is the unlawful isolation of Abdullah Öcalan in Imrali Prison," said DBP Co-Chair Saliha Aydeniz, calling for enhanced struggle against the isolation policy imposed on the Kurdish leader.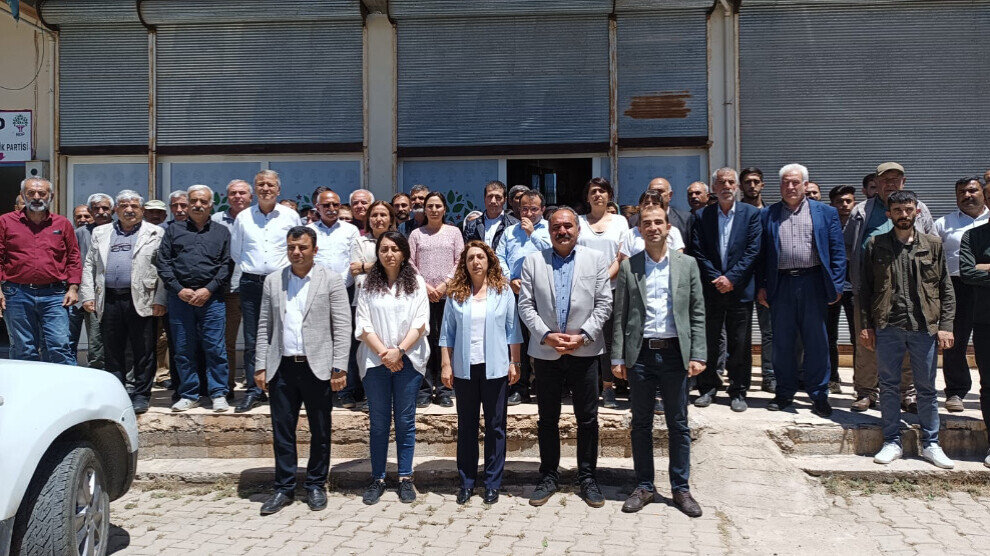 Earlier this morning (May 20), the Democratic Society Congress (DTK), the Free Women's Movement (TJA), the Democratic Regions Party (DBP), and the Peoples' Democratic Party (HDP) organized a march to the Amara village in Halfeti district, the birthplace of Kurdish leader Abdullah Öcalan, to protest the isolation imposed on him in Imrali Prison for 23 years. The protestors coming from various cities were blocked by Turkish soldiers at the checkpoints set up at the town and village entrances, and prevented from entering Amara.
While Turkish authorities cited a 'ban on the visit' introduced by the governor's office, a delegation from the group, who included deputies, made a press statement in front of the HDP Halfeti District office to raise concern on the isolation in Imrali.
Abdullah Öcalan's legal guardian Mazlum Dinç, DTK Co-Chair Bedran Öztürk, DBP Co-Chair Saliha Aydeniz, HDP Party Spokeswoman Ebru Günay, HDP Deputy Co-Chair Tayip Temel, HDP deputies Ömer Öcalan, Ayşe Sürücü, Pero Dündar, Dersim Dağ , Remziye Tosun and Mahmut Toğrul, ÖHD Co-Chair Bünyamin Şeker and members of the Urfa Peace Mothers Initiative and dozens of other people attended the event.
'THE GOVERNMENT'S DESPERATION'
Speaking here, Abdullah Öcalan's nephew and HDP Deputy Ömer Öcalan said: "They did not allow our guests to enter the village. No one is allowed to visit Mr. Öcalan's village. This is the desperation of the state. They should stop doing this. Mr. Öcalan's house will always have guests. Our door is open to everyone, and anyone can visit. No one can prevent this through cruelty and lawlessness. We will promote his paradigm. Mr. Öcalan's door is always open to those who love him. We do not accept this obstruction. They are afraid of us. Amara will always play its role. I would like to welcome everyone who has arrived to pay a visit to Mr. Öcalan's district and participated in the action."
'ÖCALAN IS ESSENTIAL FOR DEMOCRACY'
Speaking after, DBP Co-Chair Aydeniz said the following regarding the denial of access to Amara, "This is the desperation of the government. Today, we wanted to show how indispensable a political figure Mr. Öcalan is for Turkey's democracy. The whole world is aware of what Mr. Öcalan has suggested to the peoples. Not only the Kurds, but all the peoples of the world are fighting for Mr. Öcalan's freedom and the construction of democracy."
Pointing to ongoing campaigns for the physical freedom of Abdullah Öcalan in many parts of the world, Aydeniz continued, "Everyone knows that Mr. Öcalan's philosophy is an alternative to the existing political system. The AKP-MHP fascist government wants to aggravate the isolation and spread chaos in Turkey and the Middle East. They seek to maintain their power through war and plundering. Today, we see that Turkey is facing several crises in every field. We see that the current political system described as the 'one-man regime' is the sole cause of these crises, stemming from the isolation and hostility towards Kurds. We think that the future of the peoples of Turkey is heading to a deadlock."
'CRISES CAUSED BY IMRALI ISOLATION'
Aydeniz called for an end to the 23-year isolation of Öcalan in Imrali Prison, stating, "The isolation of Öcalan must be lifted as soon as possible. All anti-democratic methods were first employed in Imrali and then spread to all prisons and peoples over the years. The reason for the crises in the Middle East is the lawlessness practiced in Imrali prison. The common ground that should be reached by all peoples should cover the fight against Öcalan's isolation. If the isolation continues, everywhere will turn into open prisons. We will fight until the isolation is over. Every day and hour, we will inform the public that Imrali isolation is the biggest obstacle to peoples. We will remain focused on Amara from everywhere. We will continue our social and democratic struggle until the policies of isolation, plunder and war are brought to an end. This isolation policy should be abandoned as soon as possible."